Microsoft is adding a fourth channel to the Windows Insider Program, the Canary Channel, which will feature Windows changes that need more testing time and will be available shortly after they are built. In addition, the company is "rebooting" the Dev Channel to focus on new features, it announced in a blog post today.

The Canary Channel, which will have the highest build numbers in the 25000 series, is being pitched as featuring builds that are "hot off the presses" with little to no documentation available before being sent to Insiders.

Canary is for highly technical users. "These builds could include major issues that could result in not being able to use your PC correctly or even in some rare cases require you to reinstall Windows," Windows Insider head Amanda Langowski wrote in the post. As a result, Microsoft is automatically moving current Dev Channel Insiders to the Canary Channel today, though the post states that "Insiders moved to the Canary Channel will receive notifications of this migration in the OS and via email and can take steps to clean install to pick a different channel if they choose."
All of this is to say that if you're not ready to test fresh changes to the Windows Kernel and new APIs, move now before you're switched automatically — do not pass Go, do not collect $200.

Additionally, while Microsoft releases its blog posts for every flight of the Dev, Beta and Release Preview channels, it will only do so for some flights of the Canary Channel if there are new features. It's possible that features that do pop up in Canary will never ship, or won't ship for several versions of Windows.
While Microsoft calls the Dev Channel's changes a "reboot," there's not much to it. It will still be the tier for Insiders who want to see new features before being released in Windows (many of these features may not be tied to any planned release). The Dev Channel will receive 23000 series builds, and for the first time, Microsoft is suggesting that "most Insiders" join it (though a graphic with the release suggests your feedback will still be the most affecting in the Beta channel).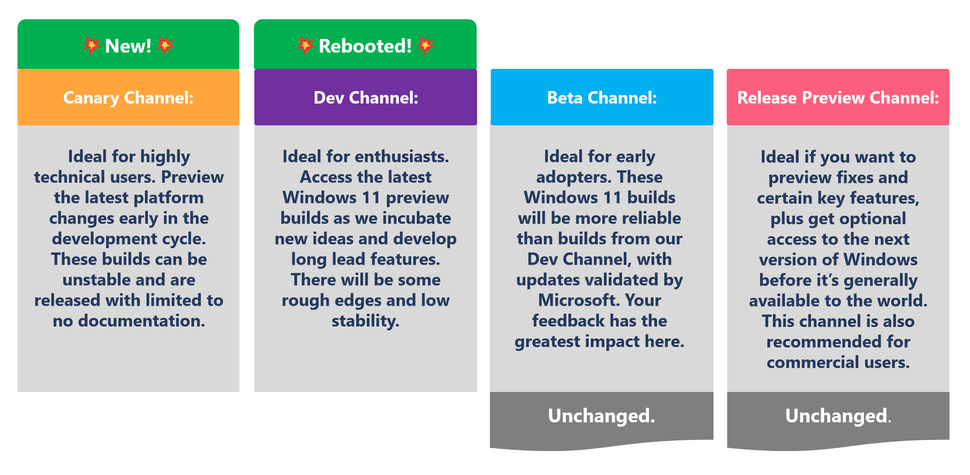 Langowski's post suggests that now is as good a time as any to consider which Channel you prefer. The post states that beta channel users who want new features faster may want to bump up to the Dev channel, though those users may experience more stability issues.

However, because you can't switch to a channel with a lower build number than what's on your machine, you'll need to clean install Windows 11 to get to a lower rung. The blog post also mentions a "clean installation kit" that those unable to use Microsoft's official guide can order, but it didn't provide further details. This means that users in the existing Dev Channel, which will translate to the Canary Channel, will have to reinstall Windows to get to the new Dev Channel. Beta Channels will have 22000 series build numbers, while the Release Preview tier will get the numbers of versions of Windows 10 or 11 that have already been released

The Beta Channel, which doesn't get new features as soon but is more stable with more validation and the Release Preview Channel, which lets you check out the next version of Windows before its full release, remains unchanged.

This isn't Microsoft's first time using the Canary label. Microsoft's Edge Insider program for its browser already has Beta, Dev and Canary channels, with the latter being updated automatically on an almost nightly schedule.