The 14 and 16-inch MacBook Pros, with M2 Pro and M2 Max offer incredible power and long-lasting battery life. Add best-in-class speakers and gorgeous Mini-LED screens and you have some of the best laptops on the market, if you're willing to pay for their high price tags.
Pros
+

Powerful performance

+

Long battery life

+

Best speakers on a laptop

+

Beautiful Mini-LED display

+

Color matching MagSafe charger for Space Gray
Cons
-

Notch in display is distracting, with no facial recognition

-

RAM and SSD upgrades are very pricey
Why you can trust Tom's Hardware Our expert reviewers spend hours testing and comparing products and services so you can choose the best for you. Find out more about how we test.
The 2021 redesign of the MacBook Pro supercharged the lineup, adding Apple Silicon, plenty of ports, a 1080p webcam and even made it thicker to accommodate it all. It was a bold move (and in some cases, a big reversal for Apple). Now, the new 14-inch and 16-inch MacBook Pros maintain everything that was great about that design, but updates them to the M2 Pro and M2 Max chips, adding more power and endurance than before.

These are still some of the best ultrabooks, with gorgeous Mini-LED displays, excellent speakers and functionality that feels worthy of professionals and hobbyist creators alike.

Upgrades to the highest-performance parts, including RAM and storage, will cost you a serious chunk of cash over the base models, but you should seriously consider them, because Apple's design doesn't allow for internal upgrades down the line. If you're ever going to want 96GB of RAM with your M2 Max, consider emptying your bank account at the point of purchase.

With M2 Pro and M2 Max, the MacBook Pro is more powerful than ever, and is an alluring replacement for lots of aging.
MacBook Pro (2023) Design
The new 14 and 16-inch MacBook Pros have the exact same chassis as last year's redesign. They still feel new and fresh, and they still allow for a solid port selection and plenty of power, so I'm OK with this decision. Both options have boxy sides combined with rounded corners to mix pro functionality with Apple sheen.

We tested the 14-inch MacBook Pro in silver and the 16-incher in space gray (which I prefer), but the colors aren't that dissimilar. At least this year, the notebooks come with color-matched MagSafe power cables. Either size or color has Apple's logo in a tone-on-tone mirror finish on the lid, but is otherwise minimalist.
Image 1 of 5
Whether you have the 14.2-inch or 16.2-inch Liquid Retina XDR display, it's going to have a notch in the top of it, similar to the iPhone 14 and 14 Plus (the 14 Pro line switched to a pill-shaped cutout last year). This allows Apple to fit a 1080p camera in there. Early last year, I bought a 14-inch MacBook Pro with M1 Pro, and, unlike with my iPhone, I have never stopped noticing the notch. That's the case for me with this year's Pros, as well as the M2 MacBook Air. The screens are actually taller than the usual 16:10, so you don't lose any usable space versus previous models. But if you're annoyed like I am, you might want to look into software fixes, like TopNotch, which make the menu bar black to help make the notch blend in. And yes, the mouse can still go underneath the notch, which seems like an oversight.
All of the other improvements from last year's redesign, however, still feel great. There are full-sized function keys, Touch ID on the power button and plenty of ports.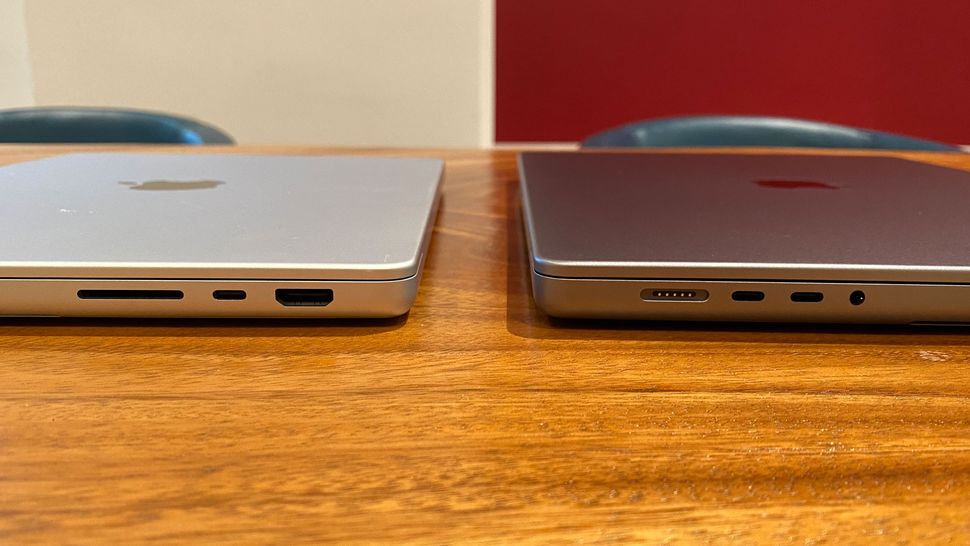 Both the 14-inch and 16-inch MacBook Pros have the exact same ports. On the left side, there's a MagSafe 3 charging port, a pair of Thunderbolt 4 ports and a 3.5 mm headphone jack. The right side has an SDXC memory slot, a third Thunderbolt 4 port and the HDMI port. That HDMI port has been improved from the prior models, allowing 4K support at 240 hz or 8K at 60 Hz, as well as variable refresh rate. We didn't have a 4K 240 Hz monitor to test with (those are pretty rare), but we're curious to see how it holds up.

The 14-inch MacBook Pro measures 12.31 x 8.71 x 0.61 inches and weighs 3.5 pounds, while the 16-inch MacBook Pro is 14.01 x 9.77 x 0.66 inches and, with the M2 Max, weighs 4.8 pounds. Comparatively, the popular Windows-based Dell XPS 15 (9520) is 13.56 x 9.06 x 0.73 inches and weighs 4.31 pounds.
MacBook Pro (2023) Specifications
Swipe to scroll horizontally
| Header Cell - Column 0 | 14-inch MacBook Pro | 16-inch MacBook Pro |
| --- | --- | --- |
| CPU | Apple M2 Pro (12-core CPU) | Apple M2 Max (12-core CPU) |
| Graphics | 19-core GPU | 38-core GPU |
| Memory | 16GB unified memory | 96GB unified memory |
| Storage | 1TB SSD | 4TB SSD |
| Display | 14.2-inch Liquid Retina XDR display, 3,024 x 1,964, 120 Hz ProMotion | 16.2-inch Liquid Retina XDR display, 3,456 x 2,234, 120 Hz ProMotion |
| Networking | Wi-Fi 6E, Bluetooth 5.3 | Wi-Fi 6E, Bluetooth 5.3 |
| Ports | 3x Thunderbolt 4 over USB Type-C, HDMI, SDXC card slot, 3.5 mm headphone jack, MagSafe 3 | 3x Thunderbolt 4 over USB Type-C, HDMI, SDXC card slot, 3.5 mm headphone jack, MagSafe 3 |
| Camera | 1080p FaceTime HD camera | 1080p FaceTime HD camera |
| Battery | 70 WHr | 100 WHr |
| Power Adapter | 96 W | 140 W |
| Operating System | macOS Ventura | macOS Ventura |
| Dimensions (WxDxH) | 12.31 x 8.71 x 0.61 inches (312.6 x 221.2 x 15.5 mm) | 14.01 x 9.77 x 0.66 inches (355.7 mm x 248.1 mm x 16.8 mm) |
| Weight | 3.5 pounds (1.6 kg) | 4.8 pounds (2.16 kg) |
| Price (as configured) | $2,499.00 | $5,299.00 |
Productivity Performance on the MacBook Pro (2023)
Apple's M2 Pro and M2 Max are both powerhouses. And both MacBook Pro configurations we tested: a 14-inch Pro with an M2 Pro, 16GB of RAM and 1TB SSD and a 16-inch Pro with a whopping 96GB of unified memory and 4TB SSD both performed admirably in our testing.

The M2 Pro in our 14-inch review unit has 12 CPU cores - eight performance cores and four efficiency cores. The M2 Max has an identical CPU core setup to the Pro we reviewed. But the M2 Pro has a 19-core GPU, while the Max has a 38-core GPU. Both also include a 16-core Neural Engine and dedicated media engines for encoding and decoding in H.264 and HEVC or accelerating ProRes.

Both the Pro and the Max also have faster access to memory. Apple claims the updated architecture allows for 200 GB/s of bandwidth on M2 Pro and up to 400 GB/s on M2 Max.

Needless to say, both machines were overkill for my workload, which involves lots of web browsing for research, writing and photo editing, often with music and social media apps in the background and some light gaming (I still leave my intense gaming to PC and consoles.)
Image 1 of 5
On Geekbench 5, the M2 Max-based laptop won with a single-core score of 1,993 and a multi-core score of 15,173, with the M2 Pro just a few points behind. It's a nice jump over the M1 Max we tested back in 2021, as well as the Intel Core i7-12700H in the Dell XPS 15 (9520), though we haven't seen what Intel's 13th Gen Core mobile processors can do just yet.

The 14-inch laptop copied 25GB of files at a rate of 1,917.69 MBps, tied with the previous-gen 16-incher. This year's M2 Max-based 16-inch Pro came in at 1,789.85 MBps, which represents being one second behind. It should be noted that there have been reports that entry-level MacBook Pros are reportedly seeing worse SSD performance, Teardowns suggest Apple has used fewer NAND modules on those devices.

The 16-inch Macbook Pro with M2 Max made its strongest showing on Handbrake, transcoding a 4K video to 1080p in 3 minutes and 59 seconds. That's seven seconds ahead of the M2 Pro-based system (4:06) and well ahead of the M1 Max and the XPS 15.

On the Xcode Benchmark, which we're using for the first time here, we found that the similar CPUs meant similar scores. The 14-inch MarBook Pro with M2 Pro took 85 seconds, while the 16-inch Mac with M2 Max completed the task in 83 seconds.

To stress test the systems, we ran each through 20 runs of Cinebench R23 multi-core. Because the laptops have the same CPU cores, it's not surprising that they both shared scores in the mid to high 14,700's. Both had some peaks and valleys as the chips cooled off, but they largely operated in a similar fashion. Notably, the 14-inch MacBook Pro's fans started earlier and were louder to my ears than the 16-inch MacBook Pro, which was far quieter until the eighteenth run, where I really noticed it.

During the stress test, I used TG Pro to track CPU core temperatures. (Apple doesn't make clock speeds available to the software. For what its worth, Cinebench R23 lists estimates that the M2 Pro has a 3.2-GHz single-core clock, the M2 Max has a 3.4-GHz single-core clock, and both chips have 3.3 GHz multi-core clock speeds. Take that for what you will.) The M2 Pro's CPU efficiency cores ran at an average of 94.44 degrees Celsius, while its performance cores measured 99.02 C. The M2 Max's efficiency cores ran at 92.98 C and its performance cores averaged 97.62 C.

The M2 Max may have run cooler because it's in the 16-inch chassis, with more room for heat and, likely, a larger cooling system.
Gaming and Graphics on the MacBook Pro (2023)
The full-fat M2 Pro has a 19-core GPU, while the M2 Max gets 38 cores. For many creatives, those cores will be put to work in rendering, motion graphics, illustration or other artistic pursuits.

It won't come as a huge surprise that we focus a lot on gaming as a show of graphical prowess here at Tom's Hardware. In Apple's case, newer games are being built on the Metal 3 API, including MetalFX Upscaling to render scenes more quickly with temporal or spatial algorithms. More and more games, especially those on Apple Arcade, are using Metal 3. The biggest example of a major game coming to Apple's App Store with native support for Apple Silicon is Resident Evil Village.

I was eager to test the M2 Max's 38-core GPU and 96GB of unified memory, so when I played Resident Evil Village, I set the resolution to 3456 x 2160 and set the graphics preset to max. The game typically ran between 50 and 60 frames per second (higher in daylight scenes with less action, less in darker scenes with more detail), though it did achieve a flat 60 fps a few times. With MetalFX upscaling set to "quality mode," it often stayed at a locked 60 fps. Using these settings took up 12.54GB of RAM out of the 70GB or so that the game can reserve.

On the M2 Pro's 19-core GPU and 16GB of RAM, I tried some more reasonable settings, using the "prioritize graphics" preset at 1080p. In a dark, haunting scene early in the game, the MacBook with the M2 Pro ran Village around 80 frames per second, but in the daylight scenes, where more details in the game's namesake village and surrounding forests needed to be rendered, it ran between 60 and 70 fps. With MetalFX scaling, the game often jumped to the high 70s or even 80 fps in the same scenes.

In an attempt to try some more conventional settings, I set the resolution to 2560 x 1440 and chose the "prioritize graphics" preset. I was able to get over 100 fps in game play, and that's before MetalFX upscaling.

There's power on Apple Silicon for gaming, but more developers have to be on board. I would love to see more games on Metal, but Apple will need to do some serious developer relations to get more native development released.

That's not to say the new Macs can't game over the Rosetta instruction set. On the (admittedly old) Rise of the Tomb Raider, the M2 Pro reached 49 frames per second at 1920 x 1200, while the M2 Max reached 92 fps at the same resolution. The M2 Max even achieved a palatable 32 fps at 3456 x 2234.
Display on the MacBook Pro (2023)
The screens on both the 14-inch and 16-inch MacBook Pro are excellent. Apple labels them "Liquid Retina XDR," which effectively translates to high resolution mini-LED panels with HDR support and adaptive refresh rates up to 120 Hz using Apple's ProMotion technology.

The 14.2-inch laptop uses a 3024 x 1964 resolution screen, while the 16-inch notebook has a 3456 x 2234 resolution panel. Either way, the first episode of The Last of Us on HBO Max looked great. In a scene late in the episode in which Joel and Tess explore a darkened building with flashlights, the beams made a horrific infected body pop, and the shadows added a ton of atmosphere while not appearing too dark to actually see.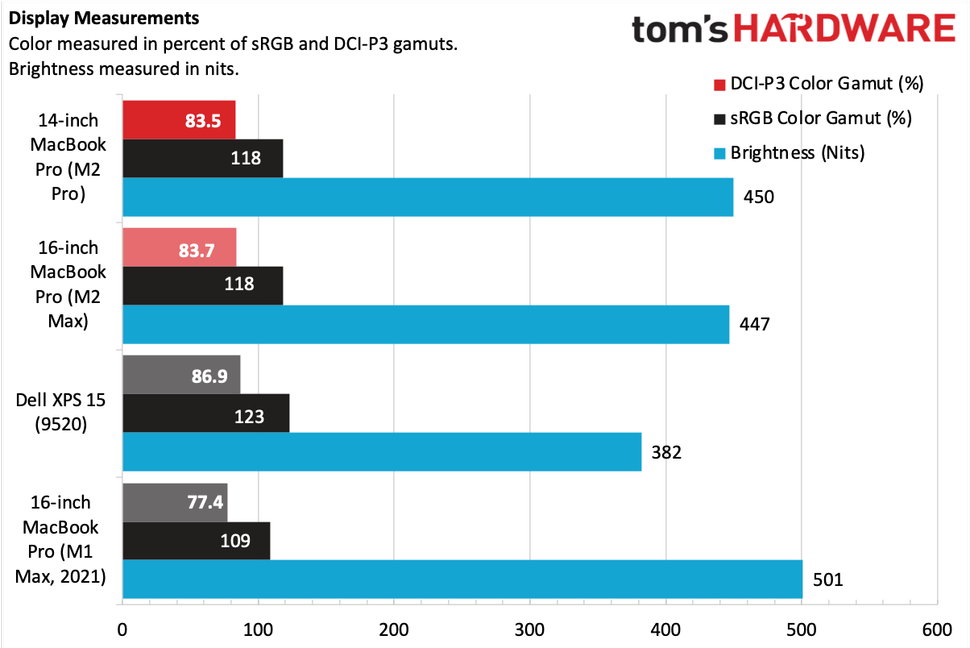 On our colorimeter, we found the screens to be largely identical for SDR content. They both covered 118% of the sRGB gamut and over 83% of the DCI-P3 gamut, and were around 450 nits of brightness. Those colors are better than the prior-gen 16-inch MacBook Pro, though seemingly at the expense of some brightness, though I certainly didn't have any issues.

Some in the PC space have made the move to OLED, which Apple hasn't done on its Macs yet. The Dell XPS 15's OLED touchscreen covered slightly more of both color gamuts, though it wasn't as bright as Apple's displays (the 14-inch MacBook Pro reached 450 nits, the 16-inch laptop hit 447 nits).

In HDR content, the Macs could climb higher. At 40% coverage, the 14-inch laptop hit a peak brightness at 1,491 nits, while the 16-inch notebook hit 1,470.

By default, Apple uses a feature called True Tone to make the display adapt to different lighting conditions, which is great for watching movies or browsing the web. If you're working with photos, graphic design or videos, though, you may want to turn it off for the most accurate rendition of your work.
Keyboard and Touchpad on the MacBook Pro (2023)
The scissor switches on the MacBook Pro are solid, and in the exact same layouts on both the 14 and 16-inch MacBook Pro. You get backlit keys in a black well, which looks sleek. The full-sized function keys are a welcome reprieve from the ones on the Intel-based models (or the Touch Bar).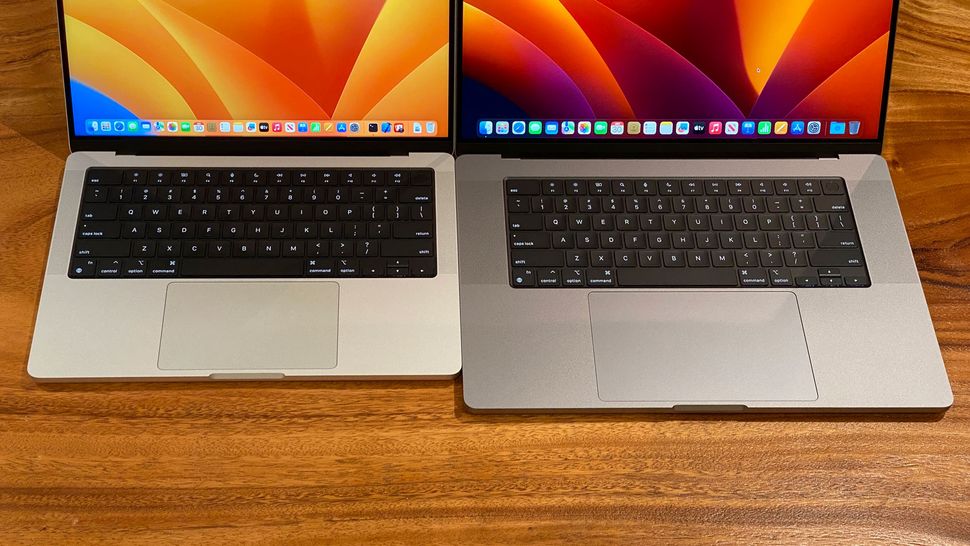 On the monkeytype typing test, I reached 120 words per minute using the 16-inch laptop's keyboard, with a standard 2% error rate.

Macs continue to have best-in-class trackpads. The 14-incher's Force Touch trackpad is 5.1 x 3.2 inches, while the 16-incher has a gargantuan 6.3 x 3.9 inch touchpad. Both use haptic feedback, so you can click anywhere on the touchpad. Both laptops have plenty of room for macOS gestures, even the ones that require three fingers.
Audio on the MacBook Pro (2023)
The 16-inch MacBook Pro continues to have my favorite speakers on any laptop, especially outside of gaming. Both the 14-incher and 16-incher have a six-speaker sound system, but for my money, the 16-incher just sounds slightly more detailed.

Both get loud and can fill a room with sound. Fall Out Boy's "Love From The Other Side" was balanced and detailed on the 16-inch Pro, with well-leveled guitars, vocals, drums and bass. It sounds excellent on the 14-inch model, too, and if they weren't together, I wouldn't notice the slight differences. I found the 14 didn't get quite as loud, and that the bass and drums sounded ever-so-slightly better on the bigger model.
Both laptops support Apple's spatial audio on supported apps, and also allow for Dolby Atmos on supported movies and TV. You can also get spatial audio over AirPods, and Apple claims that the 3.5 mm headphone jack offer pros "advanced support for high-impedance headphones."
Upgradeability of the MacBook Pro (2023)
While all that separates you from the inside of your MacBook Pro are eight pentalobe screws, don't expect to be making any upgrades here.

Firstly, pentalobe screws aren't terribly common. But more importantly, the RAM is part of the M2 Pro and M2 Max system on a chip, while the SSD is soldered to the motherboard. Configure your laptop with the memory and storage you're going to need to make it last.

As of this writing, some manuals for the new MacBook Pros are available through Apple's website and Self Service repair, but the full repair manuals have not been uploaded. Some teardowns have shown that there are some internal changes, including around the cooler and layout of the RAM and SSD on the motherboard.
Battery Life on the MacBook Pro (2023)
Apple likes to tout the efficiency of its systems, and for good reason. Both the 14 and 16-inch MacBook Pros proved to be long-lasting on our battery test, which continuously browses the web, runs OpenGL tests and streams video, all while connected to Wi-Fi with the screen set to 150 nits.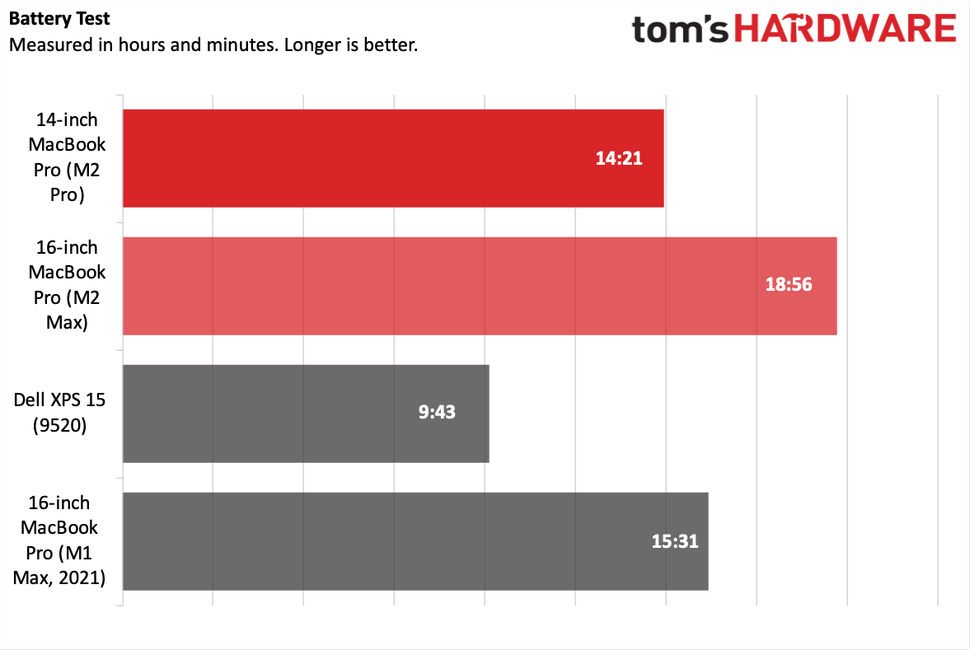 The 16-inch MacBook Pro, with its 100 WHr battery, ran for 18 hours and 56 minutes — more than 3 hours of improvement over the 2021 version. The 14-inch MacBook Pro, with a 70 WHr battery, lasted 14:21. The Dell XPS 15 ran for 9:43, though its OLED panel is likely a factor in its shorter runtime.
Heat on the MacBook Pro (2023)
We ran our heat test on the MacBook Pro while running our Cinebench R23 gauntlet to get a sense of how hot the chassis gets to the touch during a stressful multi-core workload.

On the 14-inch MacBook Pro, the center of the keyboard reached 45.8 degrees Celsius (114.4 degrees Fahrenheit), while the trackpad was a cooler 30.9 C (87.62 F). On the 16-inch laptop, the center of the keyboard hit 43.1 C (109.58 F), while the touchpad hit 29.9 C (85.82 F). The 16-inch clearly kept these common touchpoints cooler, though neither seemed too uncomfortable to use.
Image 1 of 2
The hottest point on the bottom of the 14-inch Mac measured 41.7 C (107.06 F), while on the 16-inch laptop it reached 43.7 C (110.66 F), reversing the trend from the keyboard and touchpad.
Image 1 of 2
Webcam on the MacBook Pro 2023
Apple's FaceTime HD camera hasn't changed much since Apple redesigned the MacBook Pro in 2021, and that's largely good. The 1080p webcam is color accurate and catches great detail. Even in challenging light, the camera captured my royal blue sweater (and differentiated from the blue in my eyes), and showed detail in my hair and skin. I was near a window, and the lighting didn't blow out the image.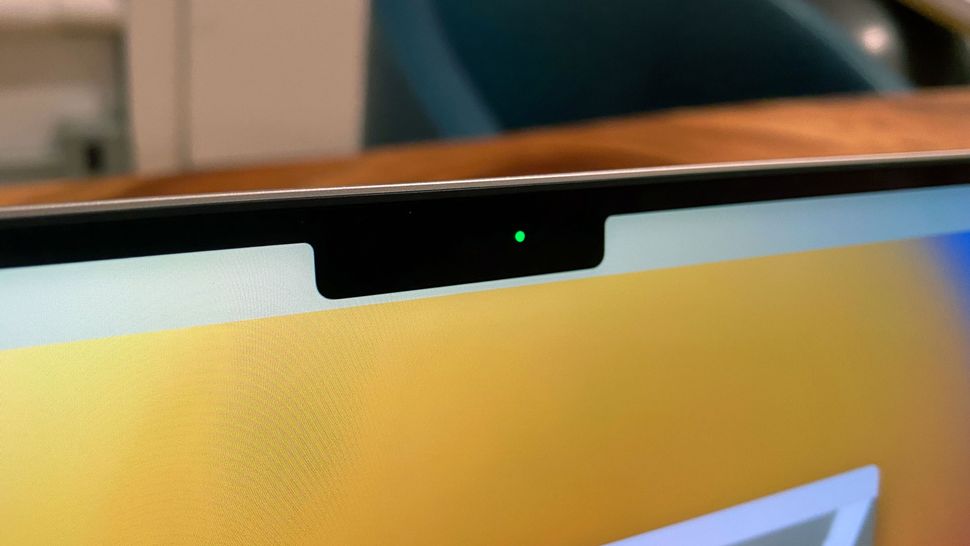 That may be in part due to Apple's Neural Engine on the M2 Max and M2 Pro, which the company says use "computational video" to improve output on the webcam and use machine learning to reduce noise in the image. It's definitely not as extreme as what I see on some of my iPhone photography — it's all pretty natural looking.

But I said it in 2021, and I'll say it again: I wish the notch that the camera is housed in also supported Face ID. I imagine the engineering to get the facial recognition that's already in the iPhone crammed into a thin laptop lid would be challenging, but many of Apple's competitors running Windows use facial recognition with IR cameras. Touch ID is accurate, but that notch really makes it feel like Face ID is something that's missing from the Mac.

If you need an even better webcam, macOS Ventura also lets you connect your iPhone to your laptop with a feature called Continuity Camera (see below), though I don't think that will be necessary for most. That's a feature that feels meant more for the older Intel or Apple M1-based laptops that run Ventura and don't have 1080p webcams.
macOS Ventura and Software
The new MacBook Pros ship with macOS Ventura (version 13) installed. Ventura launched in the fall of 2022.

New features include some long-needed features in mail, like undo and schedule send; improved image search in Spotlight; Passkeys that never leave your device for more secure sign-in; editable messages in iMessage; Stage Manager, a way to organize windows in an attempt to better stay focused; Continuity Camera, which lets you use your iPhone as a webcam; and redesigned System Settings, which take some getting used to but more resemble what's on iOS.

Unlike with Windows machines, there really isn't any bloat in macOS. The software includes Mail, Messages (great for syncing with your iPhone or iPad), Notes, Maps, FaceTime and Safari. There are also dedicated apps for subscription services like Apple Music, Apple TV, Apple News and Podcasts. Productivity apps like Numbers, Pages and Keynote are also free.

Rosetta 2 is still around to translate apps designed for Intel x86 programs so that they can run on Apple Silicon, but more and more programs are now native for M-series chips or are using universal binaries. A small group of games, like Resident Evil Village, Disco Elysium , RollerCoaster Tycoon 3 and Minecraft all have native Apple Silicon support and run using Apple's Metal API.
MacBook Pro 2023 Configurations and Warranty
We tested two MacBook Pros for this review. A 14-inch MacBook Pro with M2 Pro (12-core CPU and 19-core GPU), 16GB of RAM and a 1TB SSD in a silver chassis; and a 16-inch MacBook Pro with M2 Max (12-core CPU and 38-core GPU), 96GB of RAM and 4TB of SSD in a space gray finish. The 14-incher costs $2,499.00, while the 16-inch version with all of that RAM and storage, is $5,299.00.

The 14-inch MacBook Pro starts with a cut-down M2 Pro with a 10-core CPU and 16-core GPU, along with 16GB of RAM, 512GB SSD and a 67-watt USB-C charger for $1,999. It's cheapest M2 Max option, with a 12-core CPU and 30-core GPU, along with 32GB of RAM and 1TB SSD is $3,099.

Apple's 16-inch MacBook Pro starts with an M2 Pro (!2-core GPU, 19-core GPU), 16GB of RAM and a 512GB SSD for $2,499. The way we reviewed it was effectively maxed out, unless you want to bump to 8TB of SSD storage, making it a whopping $6,499.

The prices to bump up RAM and storage are jaw-dropping. It's $400, for instance, to move a base 14-inch MacBook Pro with M1 Pro from 16GB to 32GB of RAM. With an M1 Max, it's $400 to move from 32GB to 64GB, or $800 to get to 96GB like in our review unit.

To get from 512GB to 1TB is $200, and it's $400 on top of that to reach 2TB. If you're a pro who wants 8TB of on-board storage, that's going to be $2,400 in storage upgrades.

Apple offers a one-year warranty on its MacBook Pros, unless you pay for AppleCare Plus. That starts at $99.99 annually for the 14-inch MacBook Pro, or $279 for three years. Coverage for the 16-incher costs $149.99 annually or $399 for three years.
Bottom Line
The 14-inch and 16-inch MacBook Pros aren't huge changes over the previous generation, but that's largely not an issue. The design still feels new, the displays, while not OLED, are excellent, the speakers are the best I've heard and, perhaps most importantly, performance and battery life are excellent.

For most, I suspect the M2 Pro is going to be enough, but if you're doing serious graphics work, the M2 Max's extra GPU cores and higher memory bandwidth may be worth it.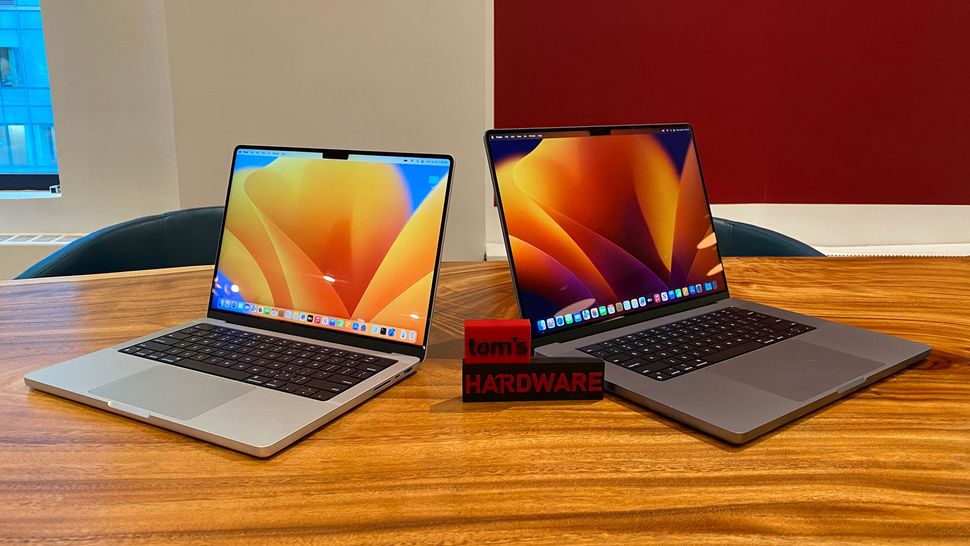 The Dell XPS 15, the representative Windows-based sample here, didn't benchmark as well as Apple's latest, though it's using a 12th Gen Intel Core chip, with 13th Gen Core shipping shortly in a wide variety of notebooks. Those laptops still have more configuration options, including OLED, touch screens and in many cases, upgradeable RAM and storage. And Windows supports far more games, if that's a priority for you.

The new MacBook Pros take all of the design's existing strengths and add better chips with updates to Wi-Fi and HDMI. If you're coming from a 2021 model, that may not be much, but these will prove incredibly enticing to anyone coming from an Intel-based MacBook Pro or looking to make the jump from Windows.
MORE: How to Buy a Gaming Laptop
MORE: Best Gaming PCs
Andrew E. Freedman is a senior editor at Tom's Hardware focusing on laptops, desktops and gaming. He also keeps up with the latest news. A lover of all things gaming and tech, his previous work has shown up in Tom's Guide, Laptop Mag, Kotaku, PCMag and Complex, among others. Follow him on Twitter: @FreedmanAE