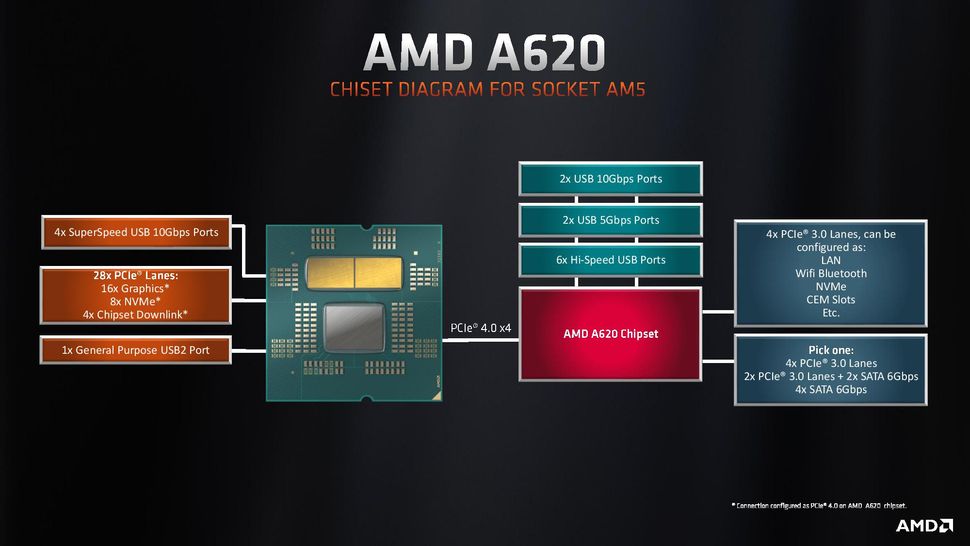 AMD has curiously taken a decidedly low-key approach to launching its value-centric A620 motherboards, burying the news of its A620 announcement late on a Friday night, but the company has finally shared the full details and slide deck with us about its new range of value-geared motherboards. To reduce pricing, the motherboards will not support the full range of Ryzen 7000 processors at their full power levels by default — none of the Ryzen 7000 X-series processors are guaranteed to be fully supported by default. These boards also eliminate some features of the more expensive AM5 motherboards, like overclocking and faster USB connectivity, in exchange for a lower price point.

Even though AMD's Ryzen 7000 lineup currently tops our list of the best CPUs for gaming, the supporting AM5 motherboard platform and required DDR5 memory have earned a reputation for egregiously high pricing. AMD even recently ran a promotion that gave you up to $125 off if you purchased a chip, motherboard, and memory, but that has expired today.
That makes for a well-timed release of AMD's budget A620 platform with at least one motherboard that will retail for $85, but early indications point to pricing exceeding $100 for several new boards. Unfortunately, that means the overall A620 lineup will likely also be more expensive than expected.
We don't have US pricing for most of the A620 motherboards, but while ASRock has one board for $85 and another for $99, ASUS announced EU pricing for three of its motherboards, with conversion to USD netting pricing of $151, $161, and $183. That's above what we expect for budget-class boards with reduced feature sets. We'll follow up with more US pricing as we receive it, but it seems there will only be a few truly budget-class boards with this generation of the A-series motherboards.
AMD's B-series motherboards are designed to support every Ryzen 7000 model at its full TDP range, sometimes resulting in seemingly ridiculously overpowered boards for the lower-end chips. This results in superior performance and forward compatibility, but also high pricing for B-series motherboards compared to Intel's competing chipsets. In contrast, Intel doesn't require its B-series motherboards to support the full peak power limits of its more power-hungry high-end chips, so vendors can cut back on power delivery (VRMs, etc.) to reduce pricing. Naturally, this results in reduced performance with the highest-end Intel chips on its budget boards.

AMD is now taking a similar approach with AM5. The A620 motherboards are designed to support chips with a 65W TDP, meaning models with a peak power consumption of 88W (PPT). Motherboard makers have the option to make more expensive models with support for higher power levels, but at its base, the A620 spec allows for a peak of 88W of power delivery.

For those base models, you can install chips with higher TDP ratings into an A620 motherboard, and it will boot if the BIOS supports it, but the chip will not operate at its full peak power consumption (PPT). This means the highest-end chips will lose some performance in heavily-threaded applications due to VRM limitations on some boards, but AMD expects the reduced power delivery will not impact gaming much.

In either case, this means that most bargain-basement A620 motherboards will only fully support non-X Ryzen 7000 models, as even the X-series Ryzen 5 chips all come with a 105W TDP. Not only do the boards not even support the base 105W TDP for the lowest-end Ryzen 5 X-series chips, but the 142W peak (PPT) is also 20% higher than the supported peak 88W PPT. That's a significant 76W delta.

This approach falls outside AMD's standard AM5 policy thus far, but it mostly makes sense. Higher-end chips aren't a good fit for this class of lower-end motherboards, and the lower power delivery will ultimately reduce pricing for budget builds. Users can choose to step up to higher-end A620 models if they want support for an X-series chip to run at its full TDP.

Additionally, this is the same approach that Intel uses for its lower-end fare. However, the fact that the X-series Ryzen chips all start at 105W means that the lowest-end A-series boards are significantly limited in their appeal.
Swipe to scroll horizontally
AMD Socket AM5 TDP and Maximum Power Ratings

| Header Cell - Column 0 | 65W TDP | 105W TDP | 120W TDP (X3D) | 170W TDP |
| --- | --- | --- | --- | --- |
| Socket Power (PPT) Watts | 88W | 142W | 162W | 230W |
| Peak Current (EDC) Amps | 150A | 170A | 180A | 225A |
| Sustained Current (TDC) Amps | 75A | 110A | 120A | 160A |
Overall, the new motherboards will fall into a lower price range than their B-series counterparts, but as you can see in the full slide deck we've included above, there are other sensible tradeoffs in features, with the boards stepping back from B650's one USB 20Gbps and six 10Gbps ports to two USB 10Gbps and two 5Gbps ports.

A620 provides a x16 PCIe 4.0 connection but doesn't allow that to operate in a 2x8 mode like B650. A620 also supports a direct-to-CPU x4 PCIe 4.0 connection for an M.2 SSD port, but doesn't have the option for a PCIe 5.0 M.2 port like B650. This is a nice step up from the x16 PCIe 3.0 supported on the previous-gen A520, though.
Of course, many bargain-basement A620 boards will only have one M.2 slot, but A620 has the same support for four SATA ports as B650. That's also two more SATA ports than the previous-gen A520 chipset.
Swipe to scroll horizontally
| Header Cell - Column 0 | A620 | A520 | B650 |
| --- | --- | --- | --- |
| CPU Graphics Support | 1x16 PCIe 4.0 | 1x16 PCIe 3.0 | 1x16 or 2x8 PCIe 4.0 |
| CPU Storage Support | 1x4 PCIe 4.0 | PCIe 3.0 | 1x4 PCIe 4.0 / 5.0 |
| CPU Chipset Uplink | 1x4 PCIe 4.0 | 1x4 PCIe 3.0 | 1x4 PCIe 4.0 |
| Overclocking Support | No | No | Yes |
| Full TDP CPU Support | 65W | Up to170W | Up to 170W |
As before, the A620 chipset doesn't support manual overclocking, so changing voltages and frequencies or auto-clocking via Precision Boost Overdrive (PBO) is off-limits. Unsanctioned BCLK overclocking was possible on at least one A520 board, but for now, it's anyone's guess if that will be possible with A620. The A620 motherboards support memory overclocking via EXPO profiles up to DDR5-6000, but we're unsure if manual memory tuning is allowed.

From what we've gleaned, these motherboards use the Prominitory 21 (PROM21) chipset, the same silicon used for AMD's X670 and B650 motherboards. The AM5 platform leverages a new chiplet-based approach for its chipsets, sometimes using two PROM21 chips for higher-end chipsets, but A620 will only include one chip. Surprisingly, AMD didn't develop lower-end chipset silicon for these budget boards, but re-use helps reduce design costs. It can also deliver cost benefits from higher-volume production. We have seen signs of a PROM22 chip that will come later, but with the same features as PROM21.

Motherboards are coming from all of the usual suspects, including ASRock, ASUS, Gigabyte, MSI, and Biostar, but US pricing hasn't been announced for all of the A620 boards yet. We'll follow up with more details as they become available.