When shopping for the best gaming CPU, you'll want to balance performance and features with your PC budget. Our tips and picks below will help you choose the best CPU for gaming. You can also see how all of these processors stack up in our CPU Benchmarks Hierarchy. But for detailed help on picking the best processor for your gaming rig, you can check out our 2021 CPU Buying Guide. And if you're on the fence about which CPU company to go with, our AMD vs. Intel feature dives deep and comes up with a winner.

AMD's Ryzen 7 5700G and Ryzen 5 5600G APUs came to market recently, shaking up the entry-level graphics scene. We found that the duo has the fastest integrated GPU on the market, offering nearly twice the performance of Intel's integrated graphics. The Ryzen 5000G series is now the uncontested champ for extreme budget gaming, small form factor, and HTPC rigs. The 5000G could also slot in as a temporary solution for enthusiasts that can't find a graphics card at reasonable pricing during these times of severe graphics cards shortages.

However, the Ryzen 5 5600G, which now joins our list of Best CPUs for Gaming, is the best pick for that task. The $259 Ryzen 5 5600G's iGPU performance lands within 4% of the $359 Ryzen 7 5700G but for 30% less cash, making it the best value APU for gaming on the market. We also recently tested the Ryzen 3 5300G, but that chip remains OEM-exclusive, meaning that you can't buy it at retail.
At launch, AMD's Zen 3-powered Ryzen 5000 processors took the lead as the fastest gaming CPUs on the market, but Intel's Rocket Lake chips tightened the race and actually took the lead in the mid-range, as you can see with the Core i5-11400.
Our AMD Zen 3 Ryzen 5000 article has all the details on AMD's new CPUs, but you can check our full lineup of detailed reviews of each model, like the Ryzen 9 5950X and Ryzen 9 5900X, Ryzen 7 5800X, and Ryzen 5 5600X for the detailed rundown.

Intel's Rocket Lake processors have arrived, too, as you can see in our Core i9-11900K and Core i5-11600K, Core i5-11400 and Core i7-11700K reviews. Rocket Lake comes with Intel's first new architecture in the last six years, albeit with the caveat that the company still uses the 14nm process, and the chips top out at eight cores.
Intel has its Alder Lake processors waiting in the wings for later this year, portending even bigger shakeups to our list of best CPUs for gaming, especially given the extremely promising early test results we've seen crop up.

AMD also has its new CPUs with 3D V-Cache headed to production later this year. Those chips will bring up to 15% more gaming performance courtesy of up to an almost-unthinkable 192MB of L3 cache bolted onto a souped-up Zen 3 processor. So as you can imagine, it won't be long before we have the full scoop on performance.
Best CPUs for Gaming at a glance (more info below):
Overall Best CPU for Gaming:
AMD Ryzen 5 5600X
Alternate: Intel Core i5-11600K

High Performance Value Best CPU for Gaming:
AMD Ryzen 9 5950X
Alternate: AMD Ryzen 7 5800X

Overall Value Best CPU for Gaming:
AMD Ryzen 9 5900X

Mid-Range Best CPU for Gaming:
Intel Core i5-11400

Budget Best CPU for Gaming:
AMD Ryzen 3 3300X

Entry-Level Best CPU for Gaming:
AMD Ryzen 5 5600G
Choosing the Best Gaming CPU for You
For a list of all processors by performance, check out our CPU Benchmarks Hierarchy for CPU comparisons backed by processor benchmarks. We also maintain a list of best CPUs for workstations, for those who frequently tackle high-end content creation, or other tasks that benefit from high core counts. Higher-end chips benefit the most from the best thermal paste, so check out our guide if you're shopping for a new processor. But if you're after the best gaming CPU, you're in the right place.

If your main goal is gaming, you of course can't forget about the graphics card. Getting the best possible gaming CPU won't help you much if your GPU is under-powered and/or out of date. So be sure to check out Best Graphics Cards page, as well as our GPU Benchmarks Hierarchy to make sure you have the right card for the level of gaming you're looking to achieve.
CPU Gaming Benchmarks
Image 1 of 8
Image 2 of 8
Image 3 of 8
Image 4 of 8
Image 5 of 8
Image 6 of 8
Image 7 of 8
Image 8 of 8
We rank all the Intel and AMD processors based on our in-depth CPU benchmarks. You can see some of those numbers in the charts above, including overclocked performance results (marked as PBO for AMD processors).
This group of results comprises only the chips that have passed through our newest test suite, while the tables in our CPU benchmark hierarchy include rankings based on past CPU benchmarks, and also include breakdowns of single- and multi-threaded performance across a broad spate of processors. Finally, the pricing in the charts above represents MSRPs. Given the current state of chip shortages, you likely won't find many of these chips at these prices at retail.
Quick Shopping Tips
When choosing a CPU in 2021, consider the following:
You can't lose with AMD or Intel: We recently pointed out that AMD makes better CPUs overall these days in our AMD vs. Intel feature. But so long as you're considering current-generation parts, the performance debate is basically a wash, particularly when it comes to gaming. Some of the most-expensive mainstream Intel processors do slightly better on gaming, and AMD handles tasks like video editing quicker (thanks largely to extra cores and threads).
For gaming, clock speed is more important than the number of cores: Higher CPU clock speeds translate to snappier performance in simple, common tasks such as gaming, while more cores will help you get through time-consuming workloads faster. In the end, the fastest CPUs of any family of processors have the highest clock speeds.
Overclocking isn't for everyone: If you want to just get to gaming, it might make more sense to spend $20-$60 more and buy a higher-end chip, rather than spending money on a higher-end cooler.
Best Gaming CPUs for 2021
The AMD Ryzen 5 5600X takes the top spot in the gaming PC market with a solid blend of Intel-beating performance in both gaming and application workloads. The six-core 12-thread chip lands at $299, a $50 price hike over its previous-gen counterpart, but brings more than enough extra gaming and application performance to justify the premium. The Ryzen 5 5600X even beats the Intel Core i9-10900K at gaming, which is an incredible feat given its price point. Not to mention that it's the most power-efficient desktop PC processor we've ever tested.
AMD's Zen 3 microarchitecture results in a stunning 19% increase in IPC, which floats all boats in terms of performance in gaming, single-threaded, and multi-threaded applications. In fact, the chip generally matches the gaming performance of its more expensive sibling, the $449 Ryzen 7 5800X. That makes the 5600X an incredibly well-rounded chip that can handle any type of gaming, from competitive-class performance with high refresh rate monitors to streaming, while also serving up more than enough performance for day-to-day application workloads.
The Ryzen 5 5600X has a 3.7 GHz base and 4.6 GHz boost clock, but with the right cooling and motherboard, you can expect higher short-term boosts. The chip also has a 65W TDP rating, meaning it runs exceptionally cool and quiet given its capabilities (the previous-gen model was 95W). Existing AMD owners with a 500-series motherboard will breathe a sigh of relief as the 5600X drops right into existing 500-series motherboards. You can also drop the chips right into 400-series motherboards. If you need a new motherboard to support the chip, both 400- and 500-series motherboards are plentiful and relatively affordable, with the B550 lineup offering the best overall value for this class of chip.
Read: AMD Ryzen 5 5600X Review
At $270, Intel's speedy Core i5-11600K doesn't claim outright benchmark supremacy over the Ryzen 5 5600X. Still, you probably won't notice the relatively slight differences in gaming when you pair the chip with a mid-range GPU or play at heightened fidelity settings.
The Core i5-11600K is incredibly competitive in both gaming and multi-threaded work and comes with a friendly price tag. Also, keep your eye out for the $237 version, the Core i5-11600KF, which comes without integrated graphics. If you plan to use a discrete GPU, the KF model is your chip, as it is functionally the same as the standard model but comes at an absolute steal at $237. That is if you can't find a Ryzen 5 5600X in stock, of course.
The 11600K boosts to a peak of 4.9 GHz on two cores and can maintain a 4.6 GHz all-core frequency. The chip drops readily into either Z490 or 500-series motherboards and comes with an unlocked multiplier, meaning you are free to overclock. In fact, after tuning, the 11600K matches the Ryzen 5 5600X in gaming. It also supports PCIe 4.0 for the graphics card and a single M.2 slot.
The catch? The 11600K comes with a 125W PL1 (power Limit 1) rating, the same as the previous-gen 10600K, but has a 251W PL2, a whopping 69W increase compared to the previous 182W limit. That means you'll need a capable cooler to deal with the extra heat. Intel's K-series chips don't come with a cooler, so you'll have to budget one in if you pick the 11600K and also be willing to overlook its comparatively high power consumption.
Read: Intel Core i5-11600K Review
High end desktop processors have long offered the ultimate in performance, as long as you were willing to pay the price. Aside from high MSRPs, the chips also require expensive accommodations, like beefy motherboards and the added cost of fully populating quad-channel memory controllers. Add in the inevitable trade-offs, like reduced performance in lightly-threaded applications and games, and any cost-conscious users who could benefit from the threaded horsepower of a HEDT chip just settle for mainstream offerings.
AMD's Ryzen 9 5950X, with 16 cores and 32 threads, expands on its predecessors' mission of bringing HEDT-class performance to mainstream motherboards, lowering the bar for entry. The 5950X carries a $799 price tag, but that's downright affordable compared to competing HEDT processors that don't offer the same class of performance.
We generally don't recommend HEDT processors for enthusiasts that are only interested in gaming. Gamers are best served by mainstream processors (with fewer cores and higher clocks) that are often faster in games; the Ryzen 9 5950X also falls into the same category - AMD's lesser 5000-series models are a better value for gamers. However, if you're after a chip and platform that can do serious work seriously fast, but still be nimble enough to deliver high-refresh gameplay at the end of the day, the Ryzen 9 5950X fits the bill like no other CPU before it.
Read: AMD Ryzen 9 3950X Review
The Ryzen 7 5800X provides a great blend of both gaming and application performance, but our initial concerns with the chip centered around shortage-induced pricing concerns. The Ryzen 7 5800X has been reliably in stock for nearly a month now and retails for $25 less than the official $450 suggested pricing. That reduction goes a long way to addressing our pricing concerns.
The Ryzen 7 5800X offers the same level of gaming performance as the Ryzen 5 5600X. If gaming is your primary intention, the Ryzen 5 5600X is a much better value and remains our top pick for gaming. However, if you're looking for more of an all-rounder that offers a bit more grunt power for applications, the Ryzen 7 5800X is your chip.

The Ryzen 5 5800X's suggested pricing lands at a $50 premium over the competing 11700K, but it has sold for ~$25 below that mark for the last month, and it's available now. This chip consumes much less power than the 11700K, resulting in more forgiving cooling requirements and the ability to run the chip on less expensive motherboards that don't require the full-fledged power circuitry needed to extract the best performance from the 11700K. Both of these factors reduce the 5800X's overall platform costs. Additionally, you can step up to 12- or 16-core Ryzen 5000 models in the future with 400- and 500-series motherboards.
Read: AMD Ryzen 7 5800X Review
If you're truly only concerned about the best gaming CPU and basic productivity tasks, you should go with the Ryzen 5 5600X and save yourself some money. But if you're looking for the uncontested fastest gaming chip on the market, or thinking of getting into game streaming, occasionally edit video, or just like the idea of having more threads available when you need them, AMD's Ryzen 9 5900X is an incredible value.
The 12-core 24-thread Ryzen 9 5900X is rated for a 3.7 GHz base and 4.8 GHz boost, but we clocked it in at 5.0 GHz during our own testing. The 5900X offers the ultimate in gaming performance - it is the uncontested gaming chip on the market, but it is a bit overkill if gaming is all you do. However, if you feel the need for speed in productivity workloads, this chip's 12 cores will chew through those workloads with aplomb.
There's also support for PCIe 4.0 and overclockability to consider. The Ryzen 9 5900X drops into existing 500-series and 400-series motherboards. You'll need to bring your own cooler, and the bigger the better - cooling definitely has an impact on performance with the higher-end Ryzen 5000 processors. However, if you're looking at the no-compromise chip for gaming, this is your chip.
Read: AMD Ryzen 9 5900X Review
The Core i5-11400 is the best budget chip on the market, largely because AMD's only competing chip comes in the form of the two-year-old Ryzen 5 3600 that can't compete with the more modern 11400. In gaming, the $182 Core i5-11400 delivers a blowout victory over the Ryzen 5 3600 that often retails for $200 or more. In fact, you can pick up the graphics-less Core i5-11400F for $157, which is a steal given this level of gaming performance. (Remember, the 11400F will perform the same as the non-F model, but you lose QuickSync.)
Taken as a whole, the Core i5-11400 has a better blend of performance throughout our full suite of application tests, too. The 11400's large lead in single-threaded work is impressive, and its only deficiencies in threaded work come when it is topped with its stock cooler. The 11400 roughly matches the 3600 in threaded work with a better cooler, even with the power limits strictly enforced, while removing those limits gives the 11400 uncontested lead.
The Core i5-11400 supports the PCIe 4.0 interface. Additionally, B-series motherboards, which make the best pairing with this chip, support both memory overclocking and lifting the power limits, both of which yield huge dividends with this chip while also giving enthusiasts room to tinker. You'll have to overlook the higher power consumption if you go with the Core i5-11400, especially if you remove the power limits. Intel's stock cooler is also largely worthless for enthusiasts, so you should budget for a better cooler.
Read: Intel Core i5-11400 Review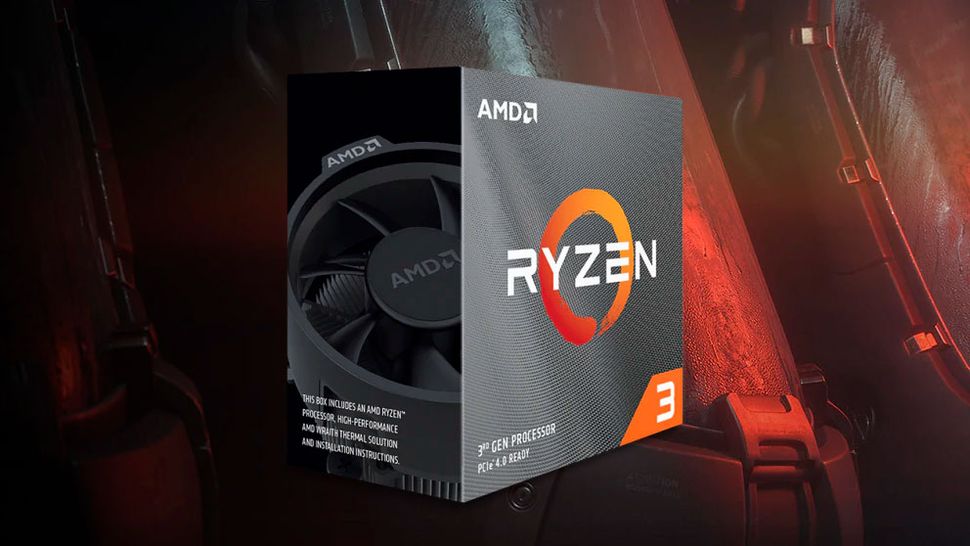 The Ryzen 3 3300X is a hard chip to find because it is simply such a great deal. But if you do manage to nab one anywhere near its $120 MSRP, it's impossible to beat at its price point. The chip unlocks a new level of performance for budget gamers with four cores and eight threads that can push low- to mid-range graphics cards to their fullest. This new processor wields the Zen 2 architecture paired with the 7nm process to push performance to new heights while enabling new features for low-end processors, like access to the speedy PCIe 4.0 interface. The 3300X's four cores tick at a 3.8 GHz clock rate and boost to 4.3 GHz, providing snappy performance in lightly threaded applications, like games.
AMD includes a bundled Wraith Spire cooler with the processor. Still, you might consider budgeting in a better low-end cooler to unlock the full performance, particularly if you are overclocking. Speaking of which, the Ryzen 3 3300X can overclock to the highest all-core frequencies we've seen with a Ryzen 3000-series processor, making it a great chip for enthusiasts. Unlike AMD's other current-gen Ryzen 3 processors, you'll need to pair this processor with a discrete GPU, but the low price point leaves extra room in the budget for a more capable graphics card.
You can stick with the value theme and drop this capable chip into existing X470 of B450 motherboards, but you'll lose access to the PCIe 4.0 interface in exchange for a lower price point. Better yet, AMD has its new B550 motherboards on offer. These new motherboards support the PCIe 4.0 interface but provide lower entry-level pricing that's a better fit for this class of processor.
Read: AMD Ryzen 3 3300X Review
The Ryzen 5 5600G comes to market during the worst GPU shortage in history, so many users will upgrade to this chip and use its potent integrated graphics for gaming until GPU pricing improves. The Ryzen 5 5600G lives up to that bill, too, stepping into the arena as the new value champ for APUs, which are chips that come with strong enough integrated graphics that they don't require a discrete GPU for light gaming, albeit at lowered quality settings.
At $259, the Ryzen 5 5600G gives you 96% of the gaming performance on integrated graphics than its more expensive sibling, the $359 Ryzen 7 5700G, but for 30% less cash. That makes it the best value APU on the market. As long as you're willing to sacrifice fidelity and resolution, and keep your expectations in check, the Ryzen 5 5600G's Vega graphics have surprisingly good performance in gaming. The 5600G's Vega graphics served up comparatively great 1280x720 gaming across numerous titles, but options become more restricted at 1080p. Of course, you can get away with 1080p gaming, but you'll need to severely limit the fidelity settings with most titles.
With eight cores and 16 threads that operate at a 3.9 GHz base and boost up to 4.4 GHz, the Ryzen 5 5600G also offers solid performance for its price point in standard desktop PC applications. The chip also comes with a bundled Wraith Stealth cooler, sweetening the value prop, and drops into existing 500-series and some 400-series motherboards, though support on the latter will vary by vendor.
Read: AMD Ryzen 5 5600G Review
If your budget is tight and you're looking to build a system for modest gaming, you should check out our Best Cheap CPUs feature. Some of those chips can deliver passable gaming performance without a graphics card, and their prices start at just $55 (£40).
Deals on the Best CPUs
Whether you're buying one of the best CPUs we listed above or one that didn't quite make the cut, you may find some savings by checking our list of coupon codes, especially our lists of Newegg promo codes and Micro Center coupons.