The best budget CPU landscape was barren for quite some time due to shortages, but the current oversupply means there are plenty of deals to be had for budget CPU models.
Intel's 13th-Gen Raptor Lake processors face off with AMD's Ryzen 7000 lineup, with both vying to offer the best blend of pricing and performance to lead our best CPU for gaming list.
If you're looking to spend at the upper end of the budget spectrum, the Ryzen 5 5600 proves it has an exceptional blend of price and performance, thus earning it the top spot on our list of best budget CPUs. This chip comes with plenty of cores that not only offer leading performance in gaming at its price point, but are also adept enough to chew through intense productivity workloads.
Intel's new 13th-Gen chips only consist of refresh models for the lower-end Core i3 chips, so the Core i3-13100 that falls into the budget price range delivers nearly the same performance as its exceptionally-impressive predecessor, the Intel Core i3-12100.
AMD's Renoir chips take a new approach of using Zen 2-powered APU silicon with disabled integrated graphics units to tackle the low-end. We reviewed the Ryzen 5 4500 and Ryzen 3 4100 and found that the Zen 2 architecture simply doesn't hold up against today's more modern chips, like the Core i3 models. We can't recommend either of those new AMD chips due to the severe performance and connectivity tradeoffs.
Quick Shopping Tips
Why you can trust Tom's Hardware Our expert reviewers spend hours testing and comparing products and services so you can choose the best for you. Find out more about how we test.
You can't lose with AMD or Intel: Both companies offer good budget chips, and overall CPU performance between comparative parts is closer than it's been in years. You can see how the chips stack up in our CPU Benchmarks hierarchy.
Clock speed is more important than core count: Higher clock speeds typically translate to snappier performance in simple, common tasks such as gaming, while extra cores will help you get through time-consuming workloads faster.
Overclocking a CPU can squeeze more performance out of a budget offering. Intel doesn't have overclocking-capable processors for the sub-$125 market, but AMD's processors allow for tuning, and in most cases, the bundled AMD cooler is sufficient for the task. Automated overclocking features in most motherboards make the process easy, so even the least tech-savvy users can enjoy the benefits.
For even more information, check out our CPU Buyer's Guide, where we discuss how much you should spend for what you're looking to do, and when cores matter more than high clock speeds. If you can expand your budget and buy a mainstream or high-end processor, check out our lists of Best CPUs for Gaming and Best CPUs for Workstations. Below, you'll see our favorite budget picks.
Best Budget CPUs in 2023 at a Glance:
Best $100-$140 Budget CPU Pick:
1. Ryzen 5 5600

Best $85-$100 Budget CPU Pick:
2. Intel Core i3-13100F
Alternate: Core i3-12100F

Best $60-$85 Entry-Level Budget CPU Pick:
3. Intel Core i3-10100F

Best Under $60 Entry-Level Budget CPU Pick:
4. AMD Athlon 200GE
Best Budget CPUs 2023
We tend to define our budget range as $100 to $130, but the $140 AMD Ryzen 5 5600 deserves special consideration. This chip takes the top spot as the overall best budget AMD CPU for gaming with a solid blend of performance in both gaming and application workloads, bringing a new level of value to the Zen 3 lineup. It does come with a higher cost of entry than the $110 Core i3-13100F, but is more than worthy given its higher level of performance — the Ryzen 5 5600 is 8% faster than the 13100.
If you're fine sticking with the previous-gen AM4 motherboard, the Ryzen 5 5600 makes a great budget build. The primary trade-off for the AM4 platform is that you're limited to DDR4 (a good thing given DDR5 pricing) and you don't have access to PCIe 5.0 (very few SSDs are even available at this speed, and GPUs don't need it), but this isn't a problem at this price point. The Ryzen 5 5600 also makes an absolutely unbeatable deal if you're updating an AM4 first-gen Ryzen system.

The 5600 unseats the Ryzen 5 5600X, a long-time favorite. The 5600X is only ~1% faster in gaming and multi-threaded PC work than the Ryzen 5 5600 but maintains a 4% advantage in single-threaded work. That said, the practical differences between the two chips will be almost imperceptible to the overwhelming majority of users, but the Ryzen 5 5600X costs $30 more. As such, consider the Ryzen 5 5600 the 5600X-killer.

You can find the six-core 12-thread Ryzen 5 5600 at $140, a deep discount brought on by competitive pressure from Intel. In fact, our testing shows that the Ryzen 5 5600 generally matches the gaming performance of its more expensive sibling, the ~$240 Ryzen 7 5800X. That makes the 5600 an incredibly well-rounded chip that can handle any type of gaming, from competitive-class performance with high refresh rate monitors to streaming, while also serving up more than enough performance for day-to-day application workloads. As with all AMD CPUs for gaming, you can fully overclock the CPU.

The Ryzen 5 5600 has a 3.7 GHz base and 4.6 GHz boost clock. The chip also has a 65W TDP rating, meaning it runs exceptionally cool and quiet given its capabilities. Existing AMD owners with a 500-series motherboard will be happy, as the 5600X drops right into existing 500-, 400-, and 300-series motherboards. If you need a new motherboard to support the chip, AMD's AM4 motherboards are plentiful and relatively affordable, with the B-series lineup offering the best overall value for this class of chip.
Read: AMD Ryzen 5 5600 Review
The Core i3-13100F comes to market using the same winning formula that propelled the previous-gen Core i3-12100 to the top of our recommendations for budget systems, making it a shoo-in for the best budget CPU in its price class. This chip delivers exceptional gaming performance along with good-enough performance in productivity applications given its price point.
The Core i3-13100 comes with six p-cores and 12 threads that operate at a 3.4 GHz base and 4.5 GHz boost clock rate, but it doesn't come with e-cores for background tasks like the Core i5 models do. It also comes with 12 MB of L3 cache. The 13100 has a 60W / 89W processor base/max turbo power, 16 PCIe 5.0 lanes and four PCIe 4.0 lanes, and support up to DDR4-3200 and DDR5-4800 MT/s (caveats apply to DDR5 support). Intel's non-K models don't allow overclocking of the CPU cores, but they do support memory overclocking.

The Core i3-13100F also comes with Intel's new improved cooler, saving you some cash. Like the non-F model, the Core i3-13100F comes with a 60W PBP (base) and 89W MTP (peak) power rating, so it's easy to cool with the included cooler.

Intel's Raptor Lake drops into Socket 1700 motherboards from the 600-series or 700-series, including the Z-, H- and, B-series boards. The Core i3-12100 is a locked chip, meaning it isn't overclockable. However, Intel supports memory overclocking on Z-, B-, and H-series motherboards (Z-Series doesn't make sense for this class of chip, though).

Read: Intel Core i3-13100F Review
The Core i3-12100F slots in as a lower-cost alternative to the Core i3-13100F listed above, but it delivers nearly the same performance, making it a viable alternative. The Core i3-12100F comes with all of the hallmarks of the full-fledged Core i3-12100, but Intel has disabled the integrated graphics engine (iGPU). Intel cuts the pricing to compensate, making for a great deal right at the $100 price point, but you do lose the ability to use the chip's iGPU for troubleshooting tasks or for a basic display output if you don't plan to use the chip for gaming.

That said, you won't get much meaningful gaming performance from the full-featured 12100 with the iGPU, so you aren't missing much. However, AMD doesn't have a comparable value in this price bracket, handing the win to the Core i3-12100F. This chip offers the same performance as the Core i3-13100 that easily leads our CPU benchmark hierarchy in the $105 to $130 bracket, so it has the same potent combination of price and performance. It also comes with Intel's new improved cooler, saving you some cash.

Like the non-F model, the Core i3-12100F comes with a 60W PBP (base) and 89W MTP (peak) power rating. The chip clocks in with a 3.3 GHz base and boosts up to 4.3 GHz. It also comes with 12 MB of L3 cache. Intel's Alder Lake drops into Socket 1700 motherboards from the 600-series or 700-series, including Z-, H-, and B-series boards. The Core i3-12100 is a locked chip, meaning it isn't overclockable. However, Intel supports memory overclocking on Z-, B-, and H-series motherboards (Z-Series doesn't make sense for this class of chip, though).
Read: Intel Core i3-12100 Review
We don't often recommend previous-gen parts in our best budget CPUs list, but most of AMD's competing chips in the lower price ranges, like the Ryzen 3 3300X, have been completely absent for more than a year. Additionally, AMD's new low-end models are based on the previous-gen Zen 2 architecture that isn't as competitive in either pricing or performance as the previous-gen Intel chips.
That leaves the amazingly well-priced Core i3-10100F as the uncontested leader in the $60 to $85 price range. The Core i3-10100F features four cores and eight threads paired with a 3.6 GHz base and a 4.3 GHz boost clock rate. The 65W chip has 6MB of L3 cache, supports DDR4-2666 memory and PCIe 3.0, and is fabbed on the 14nm process. The non-F model comes with the UHD 630 graphics engine that runs up to 1.1 GHz, but you can't really game with it. Instead, you can save some cash if you have a discrete GPU and opt for the F-series model to score a pretty impressive quad-core for $68. You'll just need to make sure that you select the right series of motherboards for these chips, as the 10100 is a previous-gen offering.
Let's keep things in perspective — if you head over to our CPU benchmark hierarchy, you can see the 10100F getting over an average of 105 fps in gaming, an amazing value for $65. And that's when the chip is paired with the mighty RTX 3090, which is actually pretty ridiculous for a chip at this price point — we only test with such an expensive card to keep our results fair across all tested chips. That means these Core i3 chips can fully power the less expensive and frankly more rational GPUs befit of this price class.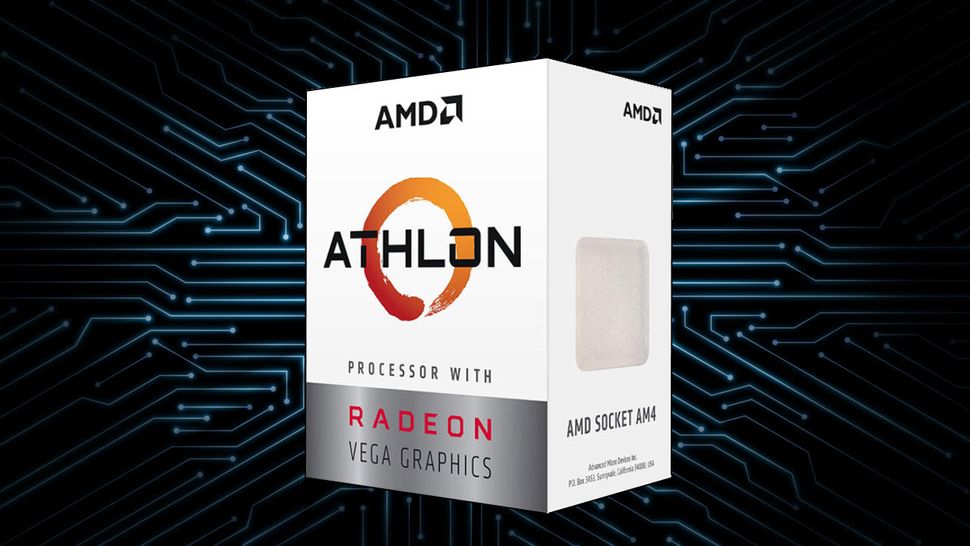 AMD's sub-$60 Zen-based Athlon is a good all-around value, thanks to its four computing threads and Vega 3 graphics that are capable of light gaming at lower resolutions and settings. Lightly threaded performance isn't great, but when you're spending this little on a CPU, you should expect compromises somewhere. And while it isn't officially supported by AMD, if you have a compatible motherboard, this chip can be overclocked to eke out some extra CPU performance.
If your build budget can swing it, the $100 Ryzen 3 2200G is a much better chip with more cores and beefier graphics. But if you can only spend $60 or less on your CPU and you aren't adding a dedicated graphics card, the Athlon 200GE is tough to beat. Intel's competing Pentiums, the Gold G5400 and G4560, deliver better CPU performance. But they have higher MSRPs, and production shortages have made them hard to find unless you're willing to spend close to $100 or more, making them incomparable in terms of budget CPUs.
Read: AMD Athlon 200GE Review