Although the Institute of Electrical and Electronics Engineers (IEEE) yet has to formally ratify the Wi-Fi 7 (802.11be) specification, the technology is coming to market. Intel has already unveiled its first Wi-Fi 7 controllers and adapters, which will be coming to the market in various forms this year.
Intel currently lists two M.2-2230 draft Wi-Fi 7 adapters (as noticed by @ghost_motley): the Intel BE200 and the Intel BE202. Both adapters support 2x2 TX/RX streams, use 2.4 GHz, 5 GHz, and 6 GHz bands, and the BE200 has a maximum speed of 5 Gbit/s, which is significantly below the maximum transfer rate supported by the standard. The exact differences between the two parts is unknown at this point, but Intel claims that the BE200 is Wi-Fi 7 pre-certified. Both Intel's BE200 and BE202 support PCIe and USB interfaces and can be used for desktop motherboards and laptops.
The BE200 will be used by the upcoming Gigabyte Aorus Z790 Master X motherboard (PCB revision 1.2), as noticed by @momomo_us. Meanwhile, some other versions of the platform will use Qualcomm's Wi-Fi 7 QCNCM865 (PCB rev. 1.0) and MediaTek's Wi-Fi 7 MT7927, RZ738 (PCB rev. 1.1). To take advantage of Wi-Fi 7, users will also need to use Wi-Fi 7-compliant routers and access points.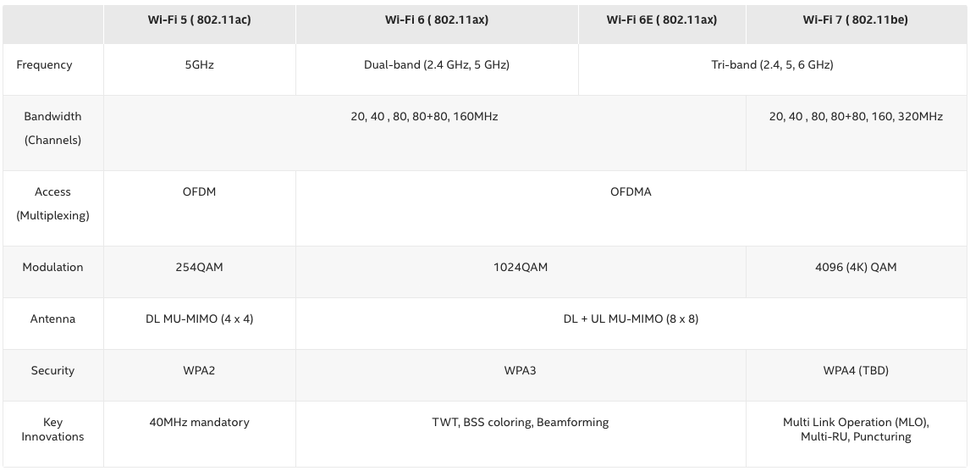 Wi-Fi 7 promises a maximum aggregated bitrate of 40 Gbit/s, positioning it as a potential successor to wired Ethernet for the majority of users. To achieve these impressive rates, Wi-Fi 7 will harness three frequency bands: 2.40 GHz, 5 GHz, and 6 GHz, will expand channel width to 320 MHz, and incorporate 4096-QAM. However, many client devices will likely operate at slower speeds, as Intel's BE200 example demonstrates.
The technology will also build upon the foundations set by its predecessors. It will mandatorily support features like MU-MIMO (Multi-User Multiple-Input Multiple-Output) and OFDMA (Orthogonal Frequency-Division Multiple Access), which were introduced and supported by Wi-Fi 6 and Wi-Fi 6E. These enhancements are expected to optimize the efficiency and capacity of wireless connections.
Intel originally envisioned Wi-Fi 7's application in bandwidth-demanding tasks, especially in augmented reality (AR) and virtual reality (VR) headsets that used Intel's WiGig technology. While the IEEE plans to formally adopt the IEEE 802.11be specification by 2025, Intel and others are optimistic about the technology's performance and have already launched their first Wi-Fi 7-compliant controllers and adapters.
That said, it will likely be years before Wi-Fi 7 devices are ubiquitous. Full certification of the spec isn't expected until sometime in 2024, with the major rollout of compatible client devices coming after that. So if you recently bought a Wi-Fi 6 or 6E router, it should serve you well for now. But a year or two down the road, you may want to consider upgrading -- especially if you have a need for wireless speed and a desire to be on the cutting edge of consumer tech.