Wi-Fi 7 is Here for Early Adopters: What You Need to Know
Wi-Fi 7 routers are available starting from $599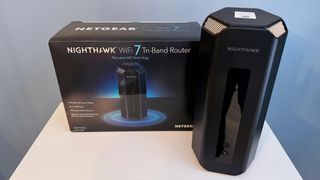 (Image credit: Tom's Hardware)
Wi-Fi 7 is the next-generation wireless standard,which is set to supersede Wi-Fi 6E. Even though Wi-Fi 7 is still in the draft spec phase and hasn't been officially certified by the Wi-Fi Alliance, there are a handful of Wi-Fi 7 routers on the market from some of the major players in the market.
We should note that these are premium entries in the sector aimed at first adopters, so the cheapest available Wi-Fi 7 routers we've seen are the TP-Link Archer BE800 and the Amazon Eero Max 7, which start at $599. However, prices escalate quickly from there. The Netgear Orbi 970 mesh Wi-Fi 7 router starts at $1,699 for a router and one satellite, while a system with a router and two satellites costs $2,299. However, the cheapest Wi-Fi 6E router we found on Amazon is the Tenda AXE5700, priced at $134.99 before a $25 coupon.
So, we must ask ourselves a few questions. What performance benefits make Wi-Fi 7 worth such a high premium over Wi-Fi 6E? What benefits (if any) will customers see by being an early adopter of Wi-Fi 7 when the ecosystem is far from being fleshed out at the moment? And when can we expect to see a proliferation of Wi-Fi 7 devices that will allow us to take advantage of the technological and performance benefits of the standard? We contacted some of the big names in the wireless arena to answer some of those questions regarding Wi-Fi 7 and where the wireless standard is heading.
First of all, what is Wi-Fi 7?
Wi-Fi 7, officially known as 802.11be, builds on the foundation laid forth by Wi-Fi 6E. That means that it supports 2.4 GHz, 5 GHz, and 6 GHz wireless bands. However, the Wi-Fi Alliance ensured that Wi-Fi 7 would offer higher transfer speeds, reduce latency and increase overall network capacity compared to Wi-Fi 6E.
To accomplish these objectives, the maximum channel bandwidth has doubled from 160 MHz to 320 MHz, while the maximum number of MU-MIMO spatial streams also increased from 8 to 16. Quadrature amplitude modulation (QAM) is a method for organizing and squeezing more data into radio signals. Wi-Fi 6 and 6E implement 1024 QAM, while Wi-Fi 7 jumps to 4098 (4K) QAM. According to TP-Link, the move from 1024 QAM to 4K QAM results in a 20 percent theoretical data rate improvement. Thanks to the greater data rates and spectral efficiency, Wi-Fi 7 routers can reliably service a larger number of wireless clients.
Swipe to scroll horizontally
Wi-Fi 6 vs Wi-Fi 6E vs Wi-Fi 7

| Header Cell - Column 0 | Wi-Fi-6 | Wi-Fi 6E | Wi-Fi 7 |
| --- | --- | --- | --- |
| IEEE Standard | 802.11ax | 802.11ax | 802.11be |
| Wireless Bands | 2.4GHz, 5GHz | 2.4GHz, 5GHz, 6GHz | 2.4GHz, 5GHz, 6GHz |
| Max Channel Bandwidth | 160Hz | 160Hx | 320Hz |
| Maximum Spatial Streams | 8 | 8 | 16 |
| Maximum Bandwidth per Stream | 1200 Mbps | 1200 Mbps | 2400 Mbps |
| Theoretical Maximum Data Rate | 9.6 Gbps | 9.6 Gbps | 46 Gbps |
| Advanced Modulation | 1024 QAM | 1024 QAM | 4K QAM |
Wi-Fi 7 also supports Multi-Link Operation (MLO), which allows routers to connect to a Wi-Fi 7 client using multiple wireless bands and channels simultaneously. For example, a Wi-Fi 7 client can connect to a Wi-Fi 7 router using a single aggregated link combining 2.4-GHz, 5-GHz and 6-GHz bands. This method offers many benefits, including lower latency, increased data rates, improved band load balancing and increased network reliability.
When all these advancements are implemented (along with others, like preamble puncturing), Wi-Fi 7 boasts a theoretical maximum data rate of 46 Gbps compared to 9.6 Gbps for Wi-Fi 6E. While real-world performance improvements won't reach those lofty levels, the potential upside for network throughput compared to Wi-Fi 6E is huge.
What are the real-world performance benefits of using a fully realized Wi-Fi 7 network over Wi-Fi 7?
We posed this question to router manufacturers, as it was the most pressing issue on our minds, given the huge price premium of early Wi-Fi 7 routers. "The performance boost using our Enhanced Dedicated Backhaul can immediately be observed even on WiFi 6 devices," said Sandeep Harpalani, VP Product Management for Netgear. "We see multi-gig speeds throughout the house. With our enhanced dedicated backhaul (using MLO to combine the dedicated 5 GHz backhaul radio and share 6 GHz for up to 10 Gbps), the backhaul throughput is 5x prior mesh systems."
The improved wireless backhaul speeds are one of the big benefits of Netgear's new Orbi 970. Netgear uses MLO to combine the 5-GHz and 6-GHz channels to provide up to a 10 Gbps backhaul. Current Wi-Fi 6E routers can use 2.4-GHz, 5-GHz or 6-GHz bands for their wireless backhaul, but only one at a time. Most Wi-Fi 6E mesh systems prefer 6 GHz for faster performance, then fall back to 5 GHz or 2.4 GHz based on various factors (congestion, interference, etc.).
While a fully wired backhaul between a router and its wireless nodes is always preferable for maximum performance in a mesh network, Wi-Fi 7's MLO capabilities make wireless backhauls a more formidable alternative.
"Wi-Fi 7 routers afford users a mature and complete Wi-Fi 6E experience while also being ready for Wi-Fi 7 as they adopt those devices," added Juan J. Guerrero, Senior Technical Marketing Manager for Asus North America. "For some users, this unlocked performance will be notable. There are also aspects like many users have superior TX/RX (send/receive) experience due to superior configurations on Wi-Fi 7, for instance, 3x3 2.4GHz, which is not common but also offered."
However, Guerrero also noted, "Consider that Wi-Fi speeds degrade over the range, unlike Ethernet. Having a higher level of bandwidth affords a superior experience for an increased number of devices demanding high bitrate transmission. The number of these devices in households is only increasing (smart cameras, phones, laptops, persistent displays etc.)."
More specifically, Guerrero explains how the greater bandwidth afforded by Wi-Fi 7 enhances the user experience. "An example would be that you can have throughput of 1000 Mbps at 10ft but, at 75ft, 200Mbps, and if you have a 1Gbps connection, comparing this to your ISP bandwidth if [you have] a common 1Gbps rating, then you cannot fully realize your ISP-supplied bandwidth."
He bluntly states that Wi-Fi 7 (or even Wi-Fi 6E) is overkill if your most demanding needs are 4K streaming. However, the latency, throughput and capacity improvements with Wi-Fi 7 mean that you'll have fewer (if any interruptions) when multiple bandwidth-hogging devices are sharing your network.
What performance improvement can users with existing Wi-Fi 6E devices expect if they purchase a Wi-Fi 7 router early?
The full range of performance benefits of Wi-Fi 7 will only be realized if you're using a compliant router and client(s). However, there are some benefits that could be reaped if you're using Wi-Fi 6E, Wi-Fi 6 or Wi-Fi 5 devices with a Wi-Fi 7 router. Harpalani notes that "WiFi 7 features like 320 MHz, 4K QAM and MLO for connections between the mesh nodes" mean that "users will see performance improvements for all their WiFi devices including prior generation WiFi devices."
Asus' Guerrero echoed the Wi-Fi 7 platform benefits but also noted hardware-level improvements coming to Asus Wi-Fi 7 routers that will benefit all wireless clients. He explained that the routers would come equipped with faster SoCs with more memory for improved performance, speedier USB ports for peripherals, multi-gig LAN ports (2.5 Gbps to 10 Gbps), multi-gig WAN ports, and enhanced range.
Wi-Fi 7 routers that incorporate some (or all) of these features are priced at the premium end of the spectrum. This is why we see the $1,699 entry point for the Netgear Orbi 970 (the router includes a 10 Gbps WAN port and four 2.5 Gbps LAN ports). The latest Wi-Fi 7 chipsets themselves are also pricey, as expected with first-generation hardware. Netgear's $699 Nighthawk RS700 also includes two 10 Gbps ports (one WAN, one LAN).
Asus acknowledges that, at least initially, Wi-Fi 7 routers won't be gobbled up by the mainstream public. Like any new, bleeding-edge hardware, the products target the hardware elite. "Current Wi-Fi 7 is not intended for the broader audience but for digital home enthusiasts who routinely purchase the latest devices," Guerrero surmised.
"Users adopting it are also considering the newest client devices and also value other features/functions and specs of the router. Due to the higher complexity/specifications of the routers, you will also see a redefining of price points, which has started with wave 2 AX-based routers and Wi-Fi 6E routers. The entry and mid-range will still largely be defined as Wi-Fi 6/6E solutions."
How long will it be before we see an influx of Wi-Fi 7-based smartphones, laptops, desktops, and USB 3.x/PCIe adapters?
Wi-Fi 7 routers are already here, but the big question is when will we see Wi-Fi 7 clients that can take full advantage of the new wireless standard? Wi-Fi 7 chipsets are already available (or soon shipping) from Broadcom, MediaTek, Qualcomm, Intel and NXP. For example, Qualcomm offers the FastConnect 7800, which offers Wi-Fi 7 support (and legacy support for Wi-Fi 6E and older standards) along with Bluetooth 5.3 support.
Some smartphones like the Sony Xperia 1 V, Motorola Edge+ and Asus ROG Phone 7 Ultimate (all with the Qualcomm Snapdragon 8 Gen 2 SoC) feature the FastConnect 7800. But while the devices have the hardware onboard to support Wi-Fi 7, they will need driver/firmware/software updates to fully enable it at a later date.
As for laptops, Intel VP of the Wireless Solutions group Eric McLaughlin, said in August, "We are currently developing Intel's Wi-Fi '802.11be' in order to obtain the 'Wi-Fi Alliance' certification, and it will be installed in PC products such as laptops by 2024. We expect it to appear in major markets in 2025."
Intel is expecting a 20 percent uplift in throughput by moving from Wi-Fi 6E to Wi-Fi 7 in laptops. "The benefit for a typical Wi-Fi 7 laptop is a potential maximum data rate of almost 5.8 Gbps," Intel notes on a website extolling the benefits of Wi-Fi 7. "This is 2.4X faster than the 2.4 Gbps possible with Wi-Fi 6/6E and could easily enable high quality 8K video streaming or reduce a massive 15 GB file download to roughly 25 seconds vs. the one minute it would take with the best legacy Wi-Fi technology."
However, several laptops have already been announced with support for Wi-Fi 7 using non-Intel chipsets. Some of those laptops include the MSI Alpha 17 C7V, Acer Swift Edge 16, and Lenovo's Legion Slim 7i and Legion Slim 7 with 13th Gen Intel Core processors.
Guerrero noted that Asus is already shipping the aforementioned Wi-Fi 7-ready ROG Phone 7 and that its motherboards with onboard Wi-Fi 7 will ship "shortly."
What about software support for Wi-Fi 7 hardware?
OK, so you have a Wi-Fi 7 router and client. That's great, but you'll still need driver/software support on the client side to get up and running.
"You will see laptops soon, but full support will be contingent on Windows OS readiness and driver support (same as it was with Wi-Fi 6e)," added Guerrero. "For instance, for Windows you will need a specific build of Windows 11 and then the corresponding driver. For other OS (OSX, Linux etc., this will also require specific software enablement) this is seen in Android as well with numerous Wi-Fi 7 phones not being enabled and pending OTA updates."
In addition, Microsoft will only support Wi-Fi 7 with its Windows 11 and successor operating systems. If you're still running Windows 10, you're out of luck. Not only are Wi-Fi 7 vendors not writing drivers for Windows 10, but Microsoft isn't baking support into the operating system.
We'd imagine that OS-level support in Linux, ChromeOS, macOS, Android, and iOS/iPadOS will arrive in 2024 or 2025 when Wi-Fi 7 hardware is more widely available.
Wrapping things up
Wi-Fi 7 is a significant upgrade over Wi-Fi 6E in several ways. We're being graced with higher throughput, lower latency, increased capacity, and faster backhaul speeds (for mesh systems). In addition, many router manufacturers are complementing these Wi-Fi 7 enhancements with hardware-level goodies like faster multicore SoCs and 10 Gbps LAN/WAN ports, among other upgrades.
However, these upgrades come at a significant cost, with the cheapest Wi-Fi 7 routers costing $600 and some hitting $1,700 and higher. At those prices, early bird purchases of these routers will come primarily from well-heeled enthusiasts who want the highest possible performance and want to be ready on day one when Wi-Fi 7 clients start flooding the market.
Throw in the driver/software requirements necessary to have a fully functional Wi-Fi 7 network and the fact that the Wi-Fi Alliance hasn't fully ratified the standard means that many things are still in flux. So, yes, Wi-Fi 7 is here, but we highly suggest that you sit on the sidelines until at least 2024 when the market is expected to start fully embracing the standard.
Join the experts who read Tom's Hardware for the inside track on enthusiast PC tech news — and have for over 25 years. We'll send breaking news and in-depth reviews of CPUs, GPUs, AI, maker hardware and more straight to your inbox.
Brandon Hill is a senior editor at Tom's Hardware. He has written about PC and Mac tech since the late 1990s with bylines at AnandTech, DailyTech, and Hot Hardware. When he is not consuming copious amounts of tech news, he can be found enjoying the NC mountains or the beach with his wife and two sons.