Despite AMD's announcement last September that motherboards for the new Ryzen 7000-series processors and AM5 platform would eventually cost $125, the high prices of AM5 motherboards have persisted even after six months since the launch, which has contributed to the slow adoption of the platform by the general public. AMD's A620 chipset promises to radically cut costs of AM5 mainboards and it looks like ASRock will be the first company to an A620-based platform.
VideoCardz on Monday published the first pictures of ASRock's A620M-HDV/M.2 motherboard revealing what is to expect from a typical platform based on AMD's low-cost platform for AM5-based machines. To cut down the cost of its A620M-HDV/M.2, ASRock equipped it with an inexpensive 3+1+1-phase voltage regulating module (VRM) that uses solid-state inductors and capacitors but which can hardly enable overclocking (even if A620 supported it), reduced the number of DIMM slots to two, and omitted PCIe 5.0 support both for graphics and for storage (as per AMD's recommendations for A620-based platforms).
While some enthusiasts may consider the exclusion of overclocking as a con, it should be noted that AMD's Ryzen 7000X3D-series do not support overclocking in general, yet offer market leading performance in games. That said, AMD's A620 platform could be a good choice for gamers in budget, especially considering that the fact that there are no client GPUs that use a PCIe 5.0 x16 interface (and it looks like they are not going to hit the market for at least a year) and PCIe 5.0 x4 SSDs do not seem bring too many benefits to DirectStorage-enabled games when compared to drives with a PCIe 4.0 x4 interface.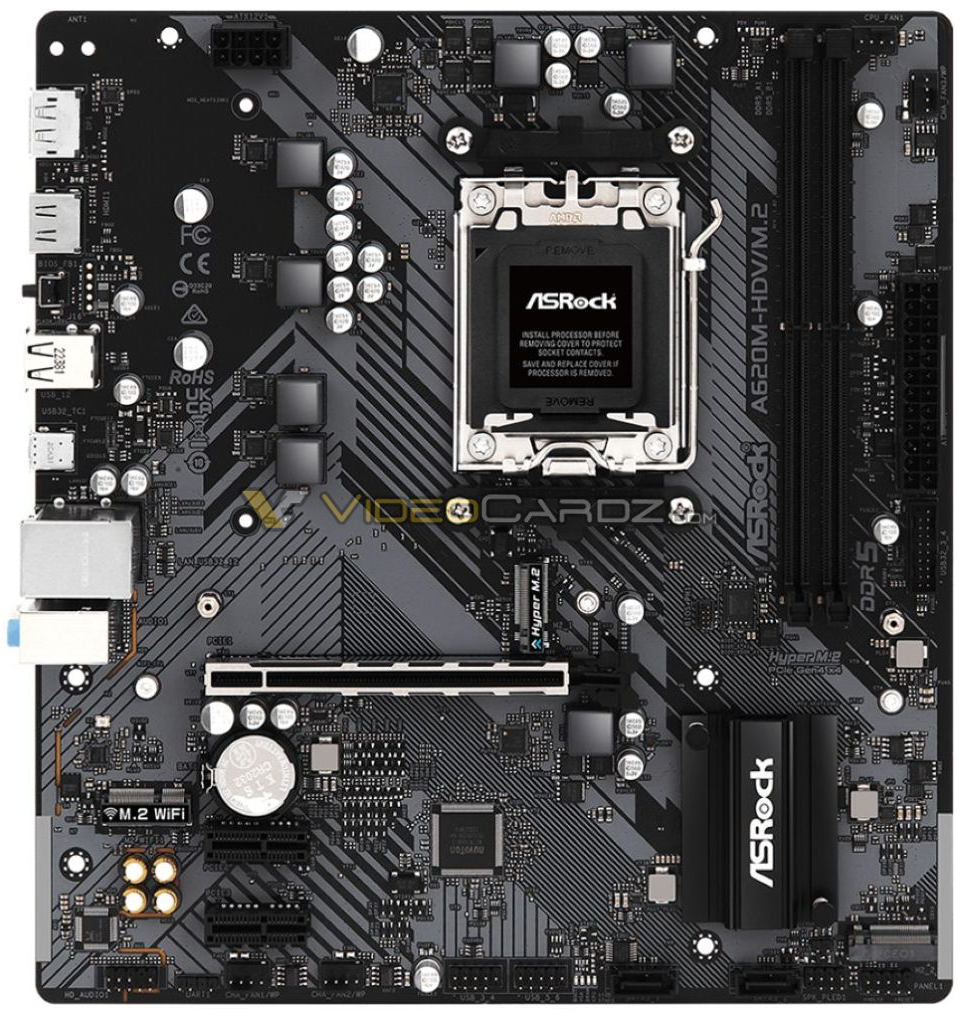 As for other expansion options available on the A620M-HDV/M.2, they comprise of a PCIe 4.0 x4 M.2-2280 slot, an M.2-2230 slot for Wi-Fi adapters, two SATA ports, and two PCIe x1 slots . In addition to these, it also features a USB 3.2 Gen 2 Type-C port, a GbE connector, four USB 2.0/3.0 Type-A ports, and audio jacks.
ASRock's A620M-HDV/M.2 will not be the company's only A620-powered solution in the company's stable. The company is prepping nine of such motherboards, according to an entry in the EEC customs database. Based on the model names of ASRock's motherboards, the company intends to offer AMD A620-based motherboards only in Micro-ATX form-factor. This seems to be a logical move as most inexpensive PCs these days use this form-factor.
As usual, there is one thing that should be noted about all EEC filings: while they may reveal products that are planned to be released, they are not indicators that these products will actually ship. Changes to the EEC customs database may be made days before launch or months before launch.