Solid-state drives with different PCIe interfaces tend to deliver very different performance times in typical applications under high workloads, due to bandwidth constraints. But it looks like the difference between PCIe Gen3 and PCIe Gen5 drives may not be that significant with DirectStorage, according to load times from a built-in Forspoken benchmark by Compusemble.
There are two key advantages that Microsoft's DirectStorage 1.1 application programming interface brings to games: faster load times, aided by asset compression/decompression algorithms handled by the SSD controller and GPU that enable them to transfer more data than the storage medium is normally capable of, as well as reduction of CPU load when dealing with NVMe requests, which allows for faster and more efficient transfer of assets from storage to the graphics subsystem.
We already know that DirectStorage can greatly alleviate data transfer rates of solid state drives, even for SSDs with a SATA interface. This reduces load times, and it also raises the question of whether SSDs with different interfaces will deliver different experiences in DirectStorage-enabled games. As it turns out — not really.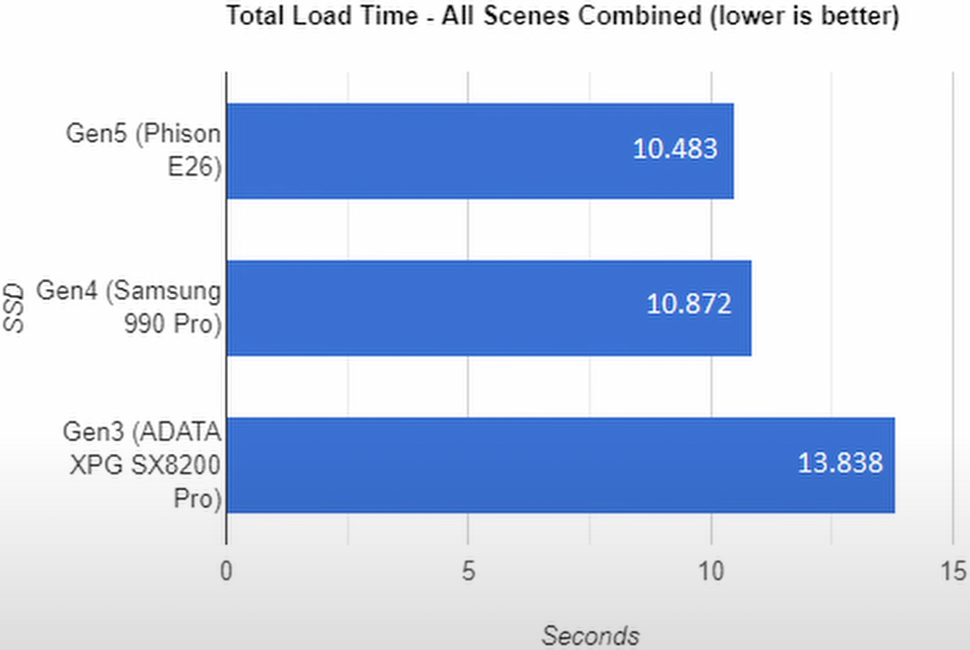 Load times in Forspoken are greatly reduced, so even when you combine the load times of seven different levels/scenes in the built-in benchmark, the difference between an advanced Phison E26-based SSD (the controller that will power the best SSDs this season) with a PCIe Gen5 x4 interface and a mature Adata XPG SX8200 Pro with a PCIe Gen3 x4 interface is a negligible three seconds.
On paper this means that the PCIe Gen3 drive is 32% slower than a PCIe Gen5 SSD, but in reality the difference is unnoticeable across seven scenes. Meanwhile, raw data throughput supported by a PCIe 5.0 x4 interface is about four times higher compared to a PCIe 3.0 x4 interface. So DirectStorage compression not only works, it also blurs the line between different SSDs.
Of course, there's only one game that supports Microsoft DirectStorage today, so it still makes sense to get a PCIe Gen5 x4 drive for a new build. But the good news is, once DirectStorage gains traction, that SSD is likely to perform on par with the next generation of drives in games.