A Tank of the Clones: A Deja Vu $750 Gaming PC
Chatreey has a familiar looking "Tank" PC on AliExpress.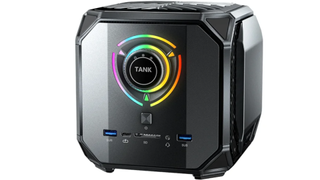 (Image credit: Chatreey via AliExpress)
Chatreey has launched a tank-style mini Gaming PC boasting a 12th Gen Intel Core i7 and an RTX 3070 at a strong price point of ~$750 via AliExpress. While this ultra-competitive pricing (spotted by Liliputing) may end up being a limited-time run, it makes Chatreey's Tank Gaming PC quite competitive with other... near-identical looking Tank Gaming PCs on the market, including the AceMagic Tank 03 we covered two weeks ago.

Wait, what? That's the exact same case!

Turns out, this is neither a coincidence nor a case of secret malice on the part of Chatreey. Chatreey is merely one of many brand names used by the previously-covered AceMagic, and their alternative brand names include NiPoGi and Kamrui as well. (If there are others, we're currently unaware of them but also wouldn't be surprised.) There may be some dodginess at play, though.

For example, an RTX 3080 version of this PC is listed with a whopping 16GB of VRAM. That should sound really odd to anybody familiar with RTX 3080, since they're capped at 12 GB VRAM. Even the 3080 Ti only has 12 GB VRAM! Only the RTX 3090 and 3090 Ti — or the more recent RTX 4080 — have more than 12GB of memory. That makes this detail in the listing more than a little questionable.

The RTX 3070 versions of this Mini PC are also being listed with 12GB of VRAM, which is actually considerably higher than 3070's actual 8GB VRAM, but in line with the 3060's 12GB VRAM. Yes, that was one of Nvidia's great moves, where we got the RTX 3060 12GB (and later RTX 3060 8GB) while the faster RTX 3070 was stuck with only 8GB of memory.

Then again, these are being sold in China, and there are more than a few interesting tweaks that have come out of the country over the years. GTX 1060 5GB cards actually exist, and apparently work. We've also heard of various mods over the years where people have doubled the VRAM on an RTX 3070 to 16GB, and likewise we've heard of RTX 3080 cards with 8GB — probably cards where 2GB of VRAM died due to crypto mining.

Combine the two and it's just barely possible that a "RTX 3080 16GB" might exist. We wouldn't count on good driver support, however, and it's far more likely an error in the listing's specs. Alternatively, the RTX 3080 Ti Laptop GPU has specs that are similar to a desktop 3080, only with 16GB on a 256-bit interface. Turning one of those into a desktop card for a mini-ITX build is another possibility. The images however clearly show an RTX 3080 Founders Edition, so we're back to dodginess.

Whatever the case, provided they actually are using RTX 30-Series GPUs, Chatreey's Tank Gaming PCs may still be worth buying. If these have inflated specifications, however, we hope they make the appropriate edits to the AliExpress listing to prevent unnecessary confusion. Caveat emptor, as usual.
Join the experts who read Tom's Hardware for the inside track on enthusiast PC tech news — and have for over 25 years. We'll send breaking news and in-depth reviews of CPUs, GPUs, AI, maker hardware and more straight to your inbox.
re the GPU: there is definitely a 16GB RTX 3080 mobile SKU.

Of course I wouldn't buy any of these unless the TGP was listed or the vendor was willing to say what it is. There's way too big of a delta for laptop GPUs.

Reply