Innosilicon showcased its Fantasy 2 graphics card at the 17th China Chip Excellence Awards Ceremony, where the consumer-targeted GPU scooped up the China Chip Excellent Technology Innovation Product Award.
Thanks to this industry event we now have some great new images of the graphics card (H/T to Twitter user @Loschzwerg_3DC). There's still no word on consumer availability of this GPU — even though it was supposed to become available last August.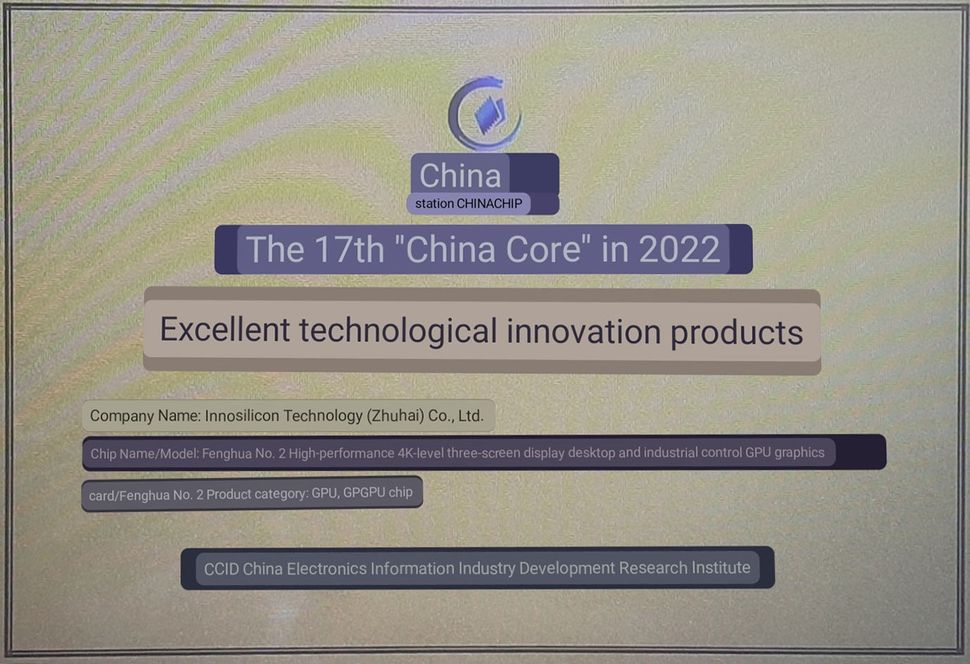 If you haven't been following the Innosilicon Fantasy 2 graphics card news closely, it's a PowerVR architecture consumer product, claimed to be capable of "4K-level high- performance rendering," while using very little power.
Don't expect too much in terms of performance from this product when it gets into the hands of reviewers, especially from the fanless model in the new images. Its 1.5 TFLOPs FP32 performance and 10 TOPS (Int8) computing power aren't exactly the stuff of gamers' dreams. That said, it's good to see PowerVR back in desktop PC products: its ultra-low power consumption (5-15W), as well as its broad graphics API (OpenGL, Vulkan, and DirectX) and OS support (Windows, Linux, Android), are particularly welcome.
Innosilicon claims that the Fantasy 2 graphics card is capable enough for "daily needs" such as office use, entertainment, CAD, and other applications. But when it says the GPU "performs well in games," we suspect it's talking about casual 2D gaming titles rather than the latest AAA 3D PC releases.
Those with the thirst for PowerVR power might be better served by the Fantasy 1, which is supposed to target GeForce RTX 3060 grade performance (take that with a big pinch of salt). This card has been confirmed by ImgTec to feature the BXT-32-1024 GPU, delivering 5 TFLOPs FP32 performance, and coming kitted out with 16GB of GDDR6X on a 128-bit interface.
Muddying the already opaque waters regarding these elusive GPUs, there are also reported to be two variants of the Fantasy 1, with the Type A (outlined above) using a single BXT-32-1024 GPU, and the Type B version featuring a dual-GPU-equipped PCB.
Chinese tech news sites, forums, and social media have almost no hands-on information regarding any of these Innosilicon Fantasy graphics cards, even though we're now firmly into 2023. As it stands with the phantom launches and no-shows, it doesn't look likely that the Fantasy 2 will make it onto our highly competitive best graphics cards list.