Less than a year after Intel began shipping its Arc Alchemist discrete GPUs for notebooks and desktops, the company's share on the market of standalone graphics processors increased so significantly that on paper it looks like it is catching up with AMD, according to numbers released by Jon Peddie Research this week. There may be a catch with Intel's discrete GPU shipments market share number though. Meanwhile, Nvidia easily held onto its discrete GPU lead, with over 80% of the market.
Three suppliers of discrete graphics processors — AMD, Intel, and Nvidia — shipped a total of 13 million standalone GPUs for desktops, notebooks, and embedded PCs in Q4 2022, according to estimates by Jon Peddie Research. This is a major drop from 26 million discrete GPUs shipped by these companies in the fourth quarter of 2021, which is not surprising as demand for PCs (especially mainstream systems) weakened in Q4 last year.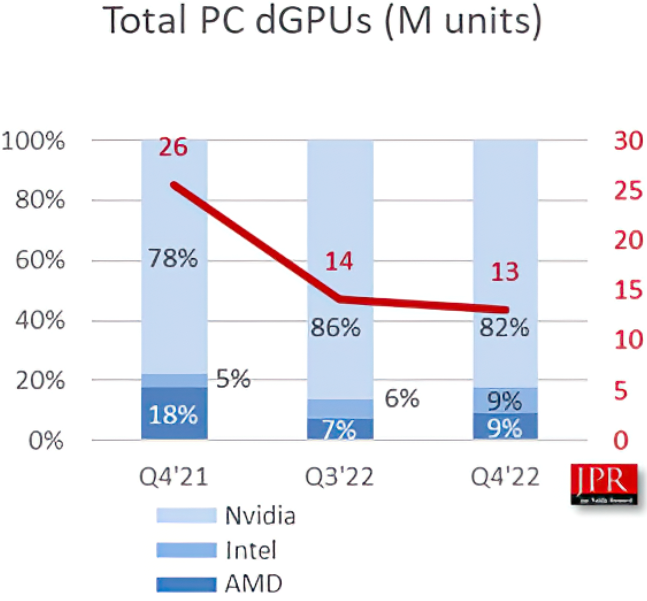 Nvidia retained its position as the world's leading supplier of standalone GPU with 82% of the market, which is not surprising as this is one of the company's main businesses. Meanwhile, AMD's share declined to 9% from around 18% in the same quarter a year before, whereas Intel's share increased to 9% from around 5% in Q4 2021. That means the two smaller GPU players shipped around 1.17 million discrete GPUs each in the fourth quarter.
While this seems like a big win for Intel and a major loss for AMD, it is not that simple. Intel's numbers are estimates based on the company's financial statements and ASPs, so they may or may not be completely accurate. In fact, AMD likely still leads Intel in terms of discrete GPU unit sales.
"The Intel numbers are an estimate based on their financial report," said Jon Peddie, the head of Jon Peddie Research. "I would not get too excited about the closeness in shipping levels as Intel's numbers are influenced by ASPs and that is soft data."

Put another way, this data represents sell-in for dedicated graphics cards into the channel. Sell-out — the number of dedicated graphics cards sold to actual consumers and businesses — would tell us what people are actually using, but we don't have that data. Right now, we know sell-in is higher than sell-out and that inventories at OEMs, distributors, and retailers have increased, but we don't know exactly how much inventory is available in the channel. It's possible, for example, that Intel has pushed a ton of Arc inventory into the channel but that it hasn't been sold yet.
Still, Intel's success on the discrete GPU market should not be underestimated. The blue company has been the biggest supplier of integrated graphics processors for a couple of decades now, but it came back to the discrete GPU market only in late 2020 with an arguably mediocre offering. But Intel's Iris Xe Max still won some designs and captured some share. With the Arc Alchemist GPUs that began shipping in early 2022, Intel won many more designs with notebook makers — and notebooks are sold in relatively high volumes.
While Intel still may not be shipping as many standalone GPUs as AMD, it's clear now that because the company addresses both desktops and notebooks with its Arc offerings, its discrete GPU shipments are indeed increasing.