Nvidia GeForce RTX 50 Blackwell GPUs rumored to come with TSMC 3nm and DisplayPort 2.1 — AMD already offers the standard on the current Radeon RX 7000 series
GeForce RTX 50 series on the latest TSMC node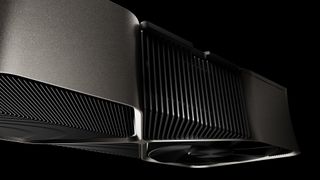 (Image credit: Nvidia)
Nvidia's GeForce RTX 40-series GPUs are already among the best graphics cards on the market. Nonetheless, rumors of the next-generation GeForce RTX 50-series (Blackwell) GPUs are already brewing, even if we may not look too keen on this upgrade path. Our friendly neighborhood leaker, kopite7kimi, with a solid track record, has provided details about Ada Lovelace's successor.
According to the leaker, the GeForce RTX 50-series graphics card will reportedly feature TSMC's 3nm process node. It makes sense since the current GeForce RTX 40-series GPUs are on the 5nm process node, so logically, the next step would be 3nm. With the 3nm process node, TSMC promises a performance uplift of up to 15% over the 5nm process node at the same power level and number of transistors.
Regarding power savings, the foundry claims that the 3nm process node could lower the power consumption by as much as 30%. But what's impressive about TSMC's 3nm process node is that the die sizes are estimated to be around 42% smaller than the 5nm process node. Therefore, it would be interesting if the improvement translates to Blackwell's silicon. For instance, the AD102, which powers the flagship GeForce RTX 4090, is a gigantic die that checks in at 609 mm². GA102, which Nvidia used for the prior GeForce RTX 3090 Ti, was on Samsung's 8nm process node and measured 628 mm²; therefore, the silicon didn't get much smaller. But this time, Nvidia's allegedly sticking with TSMC, making the 5nm to 3nm transition more interesting.
The GeForce RTX 50-series graphics cards purportedly come with DisplayPort 2.1 support. Nvidia is late to the game since AMD has already embraced DisplayPort 2.1 on the chipmaker's existing Radeon RX 7000-series products, like the Radeon RX 7900 XTX. Nvidia's current GeForce RTX 40-series graphics cards only have the DisplayPort 1.4a connection.
AMD's implementation varies between the company's consumer and workstation lineups. The Radeon RX 7000 series has UHBR13.5 support, meaning access to 54 Gbit/s of bandwidth; meanwhile, the W7000 series has the complete UHBR20 trait for 80 Gbit/s of maximum bandwidth. Unfortunately, kopite7kimi was vague in his comment and didn't specify which standard Nvidia could use on Blackwell.
Other rumors claim the GeForce RTX 50-series product will feature the PCIe 5.0 interface, which is overkill for mainstream graphics cards. What's likely is that the Blackwell will continue to use the 16-pin power connector, although it'll probably depend on the revised 12v-2x6 version.
This 12v-2x6 standard is highly anticipated to be a much safer interconnect as Nvidia has stayed mostly quiet about the 12VHPWR meltdown kerfuffle at the expense of its consumers, apart from generally blaming user error. Contrary to Nvidia's conclusion and a few others in the industry, one of many professional repair technicians who get several damaged RTX 4090 per month expressed the main root of the cause is the connector, followed by third-party adapters as a significant contributor while stressing user error is one of the possibilities if not others. It's always a good idea to take note of such industry-wide oversight. It will be appreciated if Nvidia and others who adopt this standard stress on ATX 5.0 spec to make safe third-party cables, extensions and adapters.
At this stage, nothing is certain about Blackwell SKUs. Of course, there are rumblings about more cores or GDDR7 memory on the GeForce RTX 50 series, but at this point, take everything with a bucketload of salt.
Join the experts who read Tom's Hardware for the inside track on enthusiast PC tech news — and have for over 25 years. We'll send breaking news and in-depth reviews of CPUs, GPUs, AI, maker hardware and more straight to your inbox.