Philips has just released the Evnia 42M2N8900 (opens in new tab), which becomes the flagship of its top- of-the-line 8000 series of gaming monitors. Key features of this alluring 42-inch monitor are its 4K OLED display, with its deep lush colors, and high performance for demanding gamers, as well as built-in Philips Ambiglow backlighting.
The new Philips Evnia 42M2N8900 ticks some very nice boxes, with the specs outlined above. OLED screens have a great reputation, particularly for image quality, contrast, and response time, and going by the specs this model doesn't disappoint. Philips says the anti-glare coated panel offers 10-bit color with a DCI-P3: 98.5% (sRGB 131.3%) gamut, as well as a 1,500,000:1 contrast ratio, and 0.1ms GtG response time.
As this is a gaming monitor, we should look at the specs from the perspective of game performance. We already mentioned the 0.1ms response time, which should be appreciated in fast paced titles as it translates to minimal image ghosting when movement occurs. The top 138Hz refresh rate isn't astounding in 2023, but with a 4K panel you will need a very powerful GPU to push the pixels in a modern AAA game at 120Hz or more. eSports players after the fastest refresh rates will stick to their 24-27-inch 1080p displays, with only recently signs being shown that 1440p might become popular.
Lastly, with a view to gaming, the Evnia 42M2N8900 features Adaptive Sync, to prevent screen stutter and tearing. It can adjust sync between 48 and 138Hz without fuss. Philips also says this monitor features SmartImage game picture enhancement, which will very probably be picture histogram settings customized to work with various game genres. Three-sided Philips Ambiglow backlighting will probably also be welcomed by gamers, for the greater immersion this reactive RGB lighting tech can deliver.
At 42-inches in diagonal, the 4K image isn't super-fine at 106ppi. This pixel density figure is just a smidgeon better than a 22-inch 1080p monitor (100ppi), but that may fit in with your Windows multitasking workloads in place of several smaller screens. The wide viewing angles will aid those who pixel peep, close to the screen, too.
The built-in KVM hub, where you can switch between two PCs sharing the same screen, mouse and keyboard can be a productivity boon. The KVM can work with the built-in Pip and PbP modes too – it isn't just one or the other source that exclusively hogs the screen. Also, while at work or play, the bundled height (120mm), swivel and tilt adjustable ergonomic stand is welcome. Any VESA stand can be used in its place.
Other general specs listed that are welcome include; the twin 10W DTS speakers, USB hub with USB Power Delivery v3.0 up to 90W, HDMI 2.1 x 2, DisplayPort 1.4 x 1, USB-C x 1, remote controller, and all cables are provided.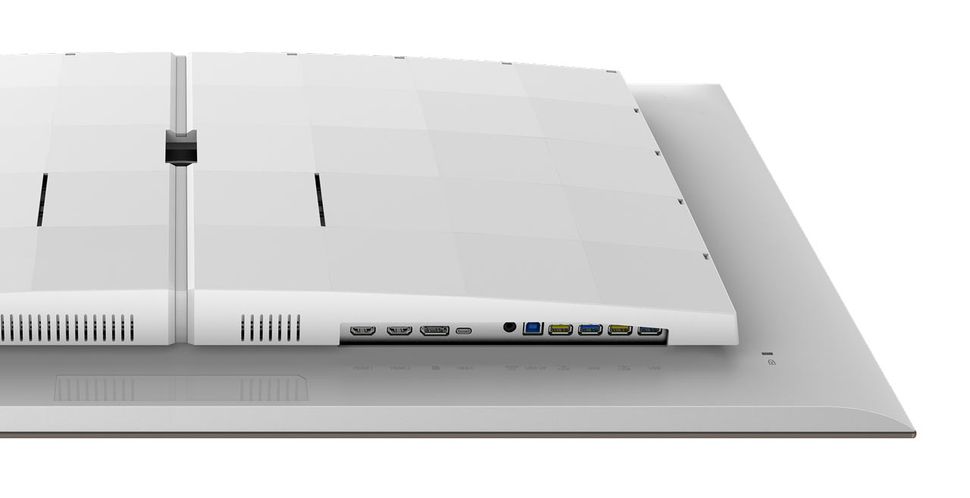 In an email we received from Philips, we were told that the Evnia 42M2N8900 is available in stores now at a price of £1,499.00 / €1,699. We don't have US availability / pricing at the time or writing. Interestingly, some accessories built specifically to enhance the abilities of Evnia monitors are promised for this summer.