Raspberry Pi 5 Scalpers Push Prices Up to 109% Above MSRP
Do you need a Raspberry Pi 5 right now?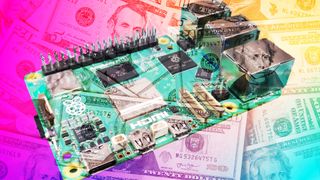 (Image credit: Future / Pexels)
Just two days after the Raspberry Pi 5 officially went on sale, the scalpers are up to their old tricks. We've been through eBay and found a few listings that are trying their luck.
The Raspberry Pi 5 was released for general sale on October 23, but it was announced on September 28, and pre-orders started from this date. All of the official resellers had some form of pre-order or notification system in place and this enabled many eager fans to grab a slice of Pi ready for the official launch.
The eBay listings are not from official resellers and this means that sellers are free to set their own price, often greater than the MSRP set by Raspberry Pi.
Image 1 of 3
Swipe to scroll horizontally
Current Raspberry Pi Scalper Pricing

| | | |
| --- | --- | --- |
| Row 0 - Cell 0 | Raspberry Pi 5 4GB | Raspberry Pi 5 8GB |
| MSRP | $60 | $90 |
| Lowest Listing Price | $64 | $76 |
| Highest Listing Price | $105 | $188 |
The golden rule with scalpers is to not buy from scalpers. During the pandemic and the global chip shortage we had multiple years where every conceivable tech product had a higher price tag. Top of the list were GPUs, PlayStation 5 and Xbox consoles, but the Raspberry Pi 4 also fell victim to those that wanted to make a quick buck. In the last few months, we have seen Raspberry Pi 4 stock levels improve, and the "unicorn" Raspberry Pi Zero 2 W has been in stock. Since its launch in 2021, the Raspberry Pi Zero 2 W has been relatively unobtainable.
So why are scalper listings popping up? That's down to the age-old story of supply and demand. The first flagship Raspberry Pi in four years, and the most powerful model yet, means that demand was always going to be high.
Pre-orders were largely a "first come, first served" process and on September 28 the 8GB model went out of stock very quickly. The 4GB model stayed in stock for a short while, but from September 29 the stock was gone.
Readers of the official Raspberry Pi magazine "The MagPi" and Hackspace were offered priority boarding slots. This bumped their orders to the front of the queue and we have seen tweets from happy customers, some before the October 23 launch date! In a blog post, Raspberry Pi CEO Eben Upton is confident that by November 5, all priority board and orders will be shipped and all of the approved resellers will receive their initial stock.
So where do we stand with Raspberry Pi 5 orders now? We took a look at two UK-based official resellers, The Pi Hut and Pimoroni. Both have been transparent with their stock.
The Pi Hut

Orders before 9/28/2023 10:00 BST will ship at the end of October / early November.
Orders between 9/28/2023 10:00 BST and 9/28/2023 20:00 BST will ship November / December.
Orders after 9/28/2023 20:00 BST will ship in early 2024.

Pimoroni

Batch 1 - End of October 2023.

4GB orders placed before 10/10/2023 12:00 BST .
8GB orders placed before 9/28/2023 00:00 BST.

Batch 2 - Late November / December.

4GB and 8GB are available to order.
We can see that the early pre-orders went fast, and it looks like that we may have a few weeks to wait until most of us can get a new Raspberry Pi. This harkens back to the original Raspberry Pi launch, where I (along with a large number of hackers and makers) sat eagerly refreshing multiple browser windows at 6am, hoping to score a unit. We did eventually score a unit, after multiple website crashes.
Is it a case of industrial users getting multiple Raspberry Pi 5? No! Raspberry Pi CEO Eben Upton, in a release day blog post stated that single-unit orders (consumer orders) "we're going to ringfence all of the Raspberry Pi 5s we sell until at least the end of the year for single-unit sales to individuals, so you get the first bite of the cherry." From early 2024 industrial customers will have access to the Raspberry Pi 5.
In another blog post, Upton provides an update on supply and it seems that the Sony UK Technology Center, where Raspberry Pi are made is working a little faster than expected and that customers in the first mass-production run will receive units very soon.
As we mentioned, priority boarding and initial reseller stock should be done by November 5. After that date, Upton states that production will be increasing with an aim to fulfill backorders and reach a point where you can pick up a Raspberry Pi 5 straight off the shelf. In the UK you can buy a Raspberry Pi 5 off the shelf, but you will need to travel to Cambridge and visit the Raspberry Pi store. US customers will be able to pick up a Raspberry Pi 5 from Micro Center from November 3.
Our parting advice is to pre-order from an official reseller. You are guaranteed to pay the MSRP and you will get support should the worst happen. Buying from scalpers will be faster, for now, but what you gain in time, you spend in money. And of course the more you feed the scalpers, the more they'll stick around.
Join the experts who read Tom's Hardware for the inside track on enthusiast PC tech news — and have for over 25 years. We'll send breaking news and in-depth reviews of CPUs, GPUs, AI, maker hardware and more straight to your inbox.
Les Pounder is an associate editor at Tom's Hardware. He is a creative technologist and for seven years has created projects to educate and inspire minds both young and old. He has worked with the Raspberry Pi Foundation to write and deliver their teacher training program "Picademy".