Taiwanese device manufacturer Sparkle, one of Nvidia's old AIB partners, has re-entered the graphics card market with a new set of Intel A series graphics cards. The A750 Titan, A750 Orc, and A380 Elf respectively feature a triple, dual, and single fan cooler designs.
Sparkle was one of Nvidia's original AIB partners starting in the 2000s, the Taiwanese company created several generations of Nvidia graphics cards including the 7900 series, all the way up until the GTX 700 series in 2013. We don't know what sparked the company's return to the GPU market, but extra competition among AIB partners is always good to see.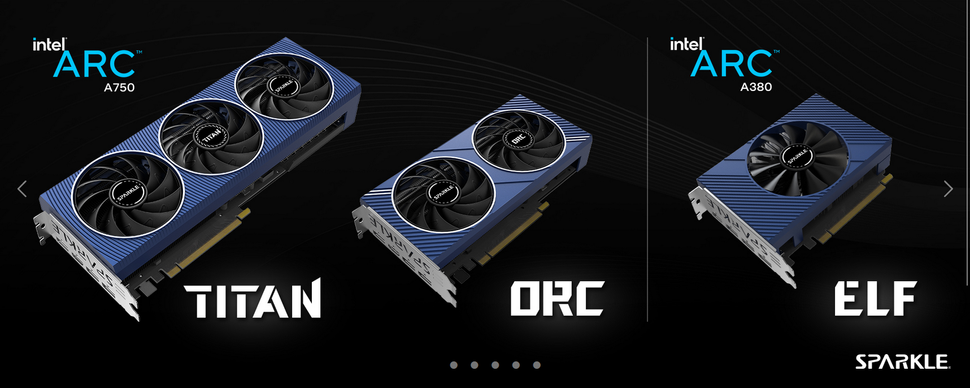 Swipe to scroll horizontally
| | | | |
| --- | --- | --- | --- |
| Row 0 - Cell 0 | Sparkle Intel Arc A750 Titan | Sparkle Intel Arc A750 ORC OC | Sparkle Intel Arc A380 Elf |
| VRAM | 8GB GDDR6 | 8GB GDDR6 | 6GB GDDR6 |
| Boost Clock | 2300 MHz | 2200 MHz | 2000 MHz |
| Xe-Cores | 28 | 28 | 8 |
For now, Sparkle has just three new graphics cards, focusing on Intel's Arc A380 and A750 GPUs. The Arc A380 variant is known as the ELF and features a small single-fan cooling solution with a standard two-slot thickness. The shroud is painted in a light blue color, and textured with grooves surrounding each side of the fan. The card comes with three DP 2.0 connections and a single HDMI 2.0 connection.
The Orc and Titan, are dual fan and triple fan versions of Sparkle's A750 aftermarket graphics cards. Both cards feature the company's ThermalSync cooling solution that comes with a patent pending heatsink design and an extra thermal sensor that monitors GPU temperatures in conjunction with GPU's RGB lighting system. Both models also come with Sparkle's Torn Cooling solution featuring 0-db AXL fans, that are equipped with stripped structures and polished surfaces for enhanced cooling performance.
The only distinction between the Orc and Titan is the dual and triple fan cooling solutions, both cards share the same shroud design as the Arc A380, and feature a two-slot thickness. The triple-fan Titan is 305.5mm long, and the dual-fan Orc is 222mm long.
Pricing and availability are unknown at this time.