Thermalright's all-copper AXP90-53 air cooler is a blast from the past for modern ITX builds
A low-profile heatsink with improved cooling thanks to copper.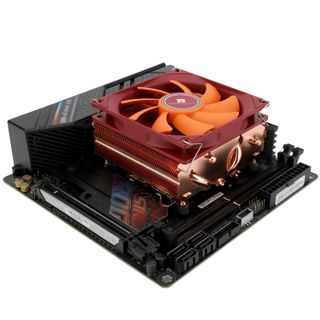 (Image credit: Thermalright)
Thermalright's AXP90-X53 air cooler is getting the company's signature all-copper design for the existing the 53mm top-flow cooler. Other than the retention clips and fan, the cooler is all-in on copper. It's pretty exciting as copper is known to be one of the best heat transfer materials, but it's usually limited to use with copper heatpipes — mixed with aluminum or nickel plated to prevent oxidation. Aluminum normally gets used for the rest of the parts, including the fin stack, but Thermaltake makes special all-copper editions for some of its CPU coolers.

The AXP90-X53 all-copper air cooler uses four 6mm heatpipes with one end connecting the C1100-grade copper base and another passing through its copper fin stacks. While the whole CPU cooler uses bare copper, the base does have a colour-matching nickel plating. The low-profile CPU cooler is made for mini-ITX systems, with a 92mm x 94.5mm length and width and a height of 38mm. The weight of the all-copper variant is 540g without a fan, while the standard nickel-plated AXP90-53 is 320g including the fan. There are two more variants as well, the AXP90-X53 black and the full black.

To blend with an all-copper heatsink tastefully, Thermalright includes a TL-90152 92mm fan with orange fan blades inside the red frame. The fan uses a fluid dynamic bearing with a max airflow rating of 42.58 CFM and a max noise level of 22.4 dbA.

We're a bit puzzled as to why Thermalright excludes the weight of the included fan in its all-copper variant while including the fan's weight in other models, but the TL-9015R fan weighs 55g, bringing the all-copper edition to 595g. Copper is heavier than aluminum so it makes sense for an all-copper version to be heavier than the standard AXP90-53. On the bright side, it's not an all-copper tower CPU cooler, so the total weight isn't obscene.
Image 1 of 6
Swipe to scroll horizontally
AXP90-X53 All Copper Specifications

| | |
| --- | --- |
| Dimensions | L94.5 mm x W95 mm x H38 mm |
| Weight (Without Fan) | 540g |
| Heat pipes | 6mm heatpipe x 4 units |
| 6mm heatpipe x 4 units | C1100 Pure Copper nickel plated |
| TL-9015R Fan Specifications | |
| Dimensions | L92 mm x W92 mm x H15 mm |
| Rated Speed | 2700 RPM±10% (MAX) |
| Noise Level | 22.4 dBA |
| Air Flow | 42.58 CFM (MAX) |
| Air Pressure | 1.33 mm H2O (MAX) |
| Ampere | 0.18A |
| Connector | 4 Pin (PWM Fan connector) |
| Bearing Type | S-FDB V2 Bearing |
All variants of the AXP90-53 CPU cooler are compatible with LGA115x/1200/1700 sockets for Intel, and AMD AM4/AM5 mounts. The LGA1200 and LGA115x mounting holes are the same, and the installation instructions cover the details. Thermalright doesn't seem to limit its users to pairing its low-profile CPU cooler with CPUs under a certain TDP, something most low-profile coolers typically do. That's likely the benefit of the superior heat conductivity of copper.
Does it make a difference?
The pricing and performance of the AXP90-53 is not known, but Thermaltake has another all-copper low-profile CPU cooler, the AXP90-47. According to tests done by a user, the Thermalright AXP90-47 full-copper hit 60C with a 105W TDP CPU using an AMD Ryzen 7 3800x, while its nickel-plated variant reached 67.5 degrees Celsius, both with 100% fan speed and excluding ambient temperature. For a low-profile CPU cooler, the difference between the variants looks significant. We'd be interested in seeing tests with a higher power Intel CPU like the Core i9-13900K, or even the previous gen 12900K.

The difference between the AXP90-53 and AXP90-47 is that the new model is 38mm tall, while the AXP90-47 is shorter at 32mm. It will also be interesting to see how these all-copper versions compete with other low-profile air coolers and liquid coolers made for mini-ITX systems. The Noctua L9x65 certainly comes to mind.
Love and obsession with all-copper CPU coolers
The love for the all-copper CPU coolers has a cult-like following because of what Thermalright has done in the past. It started perhaps with the legendary Thermalright Ultra 120 Extreme, colloquially called TRUE120-E. Apart from its vast cooling advantage in comparison to the standard variant, the cooler was equally well-known for its 1.9kg weight — without fans. That tower of power required a horizontal mount so as to avoid breaking the motherboard supports.

The Noctua NH-D15s had a dual fin stack and a 140mm fan and 'only' weighed 1150g, much lighter than TRUE-E all-copper. Those were the good old days, when Noctua was relatively new in the market with the U12P and the well-known U12P-SE2 CPU cooler taking the crown away from most 120mm fan tower coolers. Nobody sold closed loop liquid coolers at the time. Other all-copper variants included the Thermalright AXP-100 with fancy designer ends on the copper heatpipes.

The main caveat of copper is that it oxidizes relatively easily, hence the use of nickel plating on copper surfaces on CPU coolers. Some CPU cooler manufacturers use copper-composite heatpipes to ensure the copper 'shine' sticks around. We typically saw these coolers paired with an Intel Q6600 quad-core CPU, or later the Core i7-920. CPU enthusiasts wanted the extra overclocking performance, and it was worth the effort of cleaning off the copper oxidation on occasion.

Where might Thermalright go next? Would it be too crazy to see its HR-10 2280 M.2 cooler get an all-copper treatment? Probably not, considering Phison E26 PCIe 5.0 controllers are known to get pretty hot. Thermalright already has multiple variants of that cooler, including one with a pre-installed fan.

Thermalright hasn't listed the price for its AXP90-53 all-copper CPU cooler. But as a benchmark, the AXP90-47 Black costs $18.32 while the all-copper version costs $37.99. We'll have to see where the AXP90-53 copper variant lands before we can answer the question of whether it's worth purchasing or not.
Join the experts who read Tom's Hardware for the inside track on enthusiast PC tech news — and have for over 25 years. We'll send breaking news and in-depth reviews of CPUs, GPUs, AI, maker hardware and more straight to your inbox.