Benchleaks on Twitter (opens in new tab) shared Geekbench 5 benchmark (opens in new tab) results of a mysterious low-power Ryzen 7000 mobile Phoenix CPU ("Mayan-PHX" in this case) that was never announced during AMD's press event at CES 2023. The new chip is called the Ryzen 5 7640U, featuring AMD's bleeding edge Zen 4 architecture and an RDNA3 760M graphics engine. The chip will reportedly come with six cores, twelve threads, and a 4.9GHz boost clock if Geekbench 5's spec sheet is true.

The new chip brought home a score of 1,869 points in the single-core benchmark, and a result of 8,853 points in the multi-core test. Compared to the chip's predecessor, the Ryzen 5 6600U, the Ryzen 5 7640U is 33% faster in the single-core benchmark and 50% faster in the multi-core benchmark.

For reference, we took the first page of Ryzen 5 6600U results and averaged them out to a single score. This netted us a result of 1,404 points in single-core and 5,916 in multi-core. This helps track how the chip is performing overall, and factors in different notebook chassis where the chip might be operating in different power envelopes. However, keep in mind that Geekbench 5 scores aren't a highly accurate way to measure real-world CPU performance.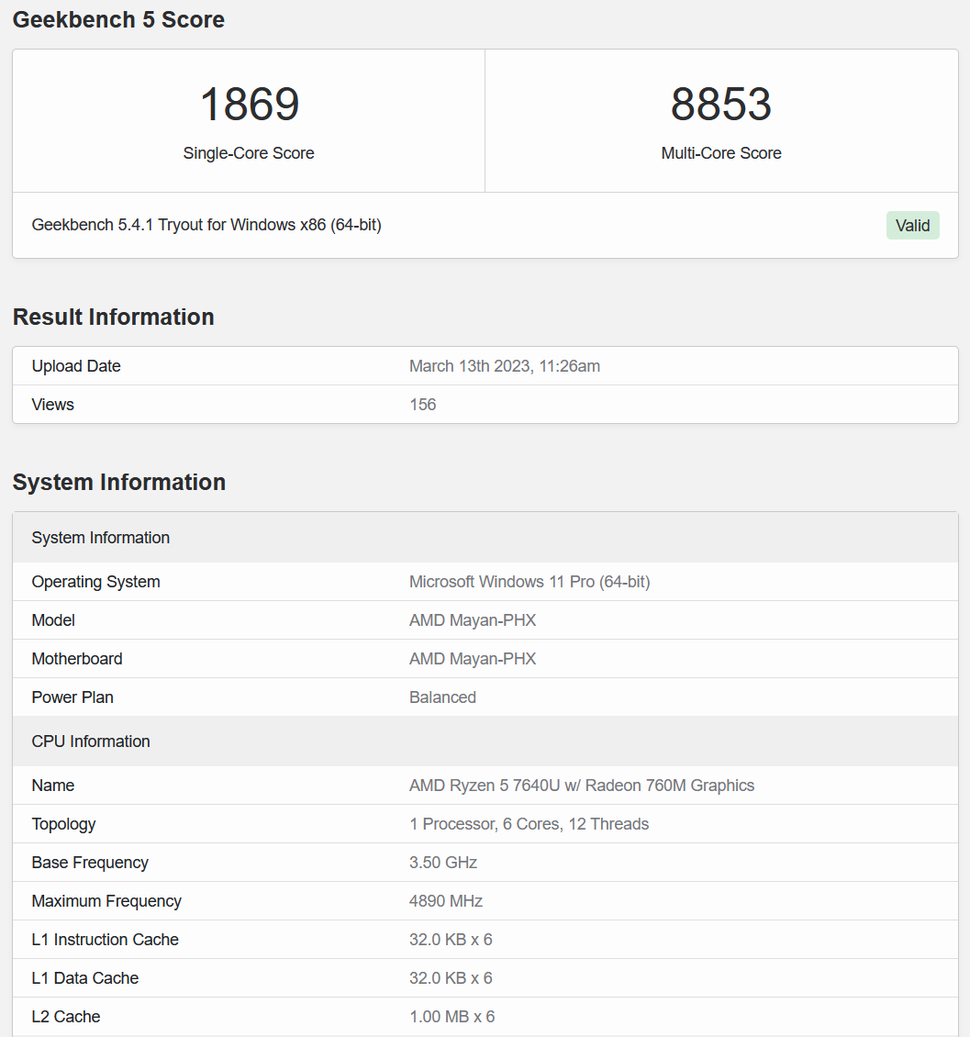 AMD's Ryzen 5 7640U is the first U-series part we've seen so far that features AMD's Phoenix design language. Ironically, though the 7640U model name was used to represent AMD's new nomenclature for its Ryzen mobile processors going forward, it was never announced as an actual SKU — it was only an example. Or so we thought.

AMD's Phoenix CPU design is the most-bleeding edge design in the Ryzen 7000 brand right now. The architecture includes AMD's Zen 4 architecture that operates on TSMC's 4nm manufacturing node, the smallest lithography brought to Ryzen so far. It's also the only design to incorporate AMD's new Radeon 700M series of RDNA 3 architecture integrated graphics units, which provide a healthy upgrade over the previous generation RDNA 2 solutions. On top of this, Phoenix is also the only Ryzen 7000 design today that includes optional support for AMD's Ryzen AI engine.

The only chips AMD has announced in the Ryzen 7040 class so far are its HS SKUs, including the Ryzen 9 7940HS, Ryzen 7 7840HS, and Ryzen 5 7640HS. These all feature TDPs of 35–45W. AMD's Ryzen 5 7640U meanwhile looks like it will be one of the first Zen 4 Phoenix-class chips to feature a TDP of 28W or less, due to the "U" series nomenclature.

If Geekbench 5's numbers resemble any real-world performance figures, this chip will be a substantial upgrade over its Ryzen 5 6600U predecessor. AMD's Phoenix-class of CPUs, among other mobile designs such as Rembrandt-R, Barcelo-R, and Mendocino, are slated to arrive this year, so we should see the 7640U-equipped notebooks very soon.
[GB5 CPU] Unknown CPUCPU: AMD Ryzen 5 7640U w/ Radeon 760M Graphics (6C 12T)Min/Max/Avg: 4710/4890/4868 MHzCPUID: A70F41 (AuthenticAMD)Scores, vs AMD 5800XSingle: 1869, +8.2%Multi: 8853, -17.6%https://t.co/J9HNlwiPjjMarch 13, 2023