Xbox Series X/S SSD Cards Will Cost $220, Only External Way to Play Next-Gen Games
They'll also be the only way to play next-gen games without internal storage.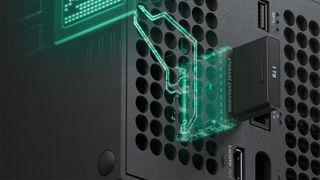 (Image credit: Microsoft)
Microsoft's upcoming $300 Xbox Series S might be the cheapest way to start playing next-gen games, but the company revealed on its blog this afternoon that if you want to increase its SSD storage up from 512GB, you're going to pay more in total than you would for a $500 Xbox Series X. That's because its proprietary SSD expansion card, which is 1TB and will be the only way to play next-gen games without using internal storage, will cost $220.
Swipe to scroll horizontally
| | | |
| --- | --- | --- |
| Row 0 - Cell 0 | USB 3.1 HDD | SSD Expansion Card |
| Store any Xbox game | Yes | Yes |
| Plays Xbox One, Xbox 360, and original Xbox games | Yes | Yes |
| Play games optimized for Xbox Series X/S | No | Yes |
| Replicates speed and performance of internal SSD | No | Yes |
Microsoft announced the custom external SSD cards, which the company is partnering with Seagate to make, back in March. We didn't know how much they would cost back then, but given comparable products for previous consoles, we predicted they would probably be pricey. $220 is as much as USB Xbox One SSDs cost back when first wrote about these proprietary cards, so this price point is keeping in line with previous accessories. Those consoles, though, had the advantage of letting you use third-party solutions to both store and play games.

With the Xbox Series X/S, that's only partially true. If $220 is too much, Microsoft has confirmed that you'll be able to use a standard USB 3.1 HDD with the Xbox Series X/S as well, but there is a catch. We've known USB drives would be at least somewhat compatible with the new consoles since the proprietary SSD cards were announced, but the price reveal today also came with a chart and an FAQ that confirmed our biggest fears - proprietary SSD cards will be the only way to play next-gen titles (and Xbox One games that use next-gen features) without using internal storage.

In other words, while playing original Xbox, Xbox 360 and Xbox One games (that aren't optimized for Series X/S) will be as "easy as unplugging your existing external USB 3.1 HDD or SSD from your Xbox One and connecting it to your Xbox Series X | S," playing next-gen games and next-gen optimized Xbox One games will require you to either transfer them to internal storage, or store them on a proprietary SSD card first.
That's because Seagate's custom Xbox Series X/S SSD expansion cards will be the only storage accessories compatible with the "Xbox velocity architecture" that the systems' internal storage counts on to play next-gen and next-gen optimized titles. So while you can store next-gen and next-gen optimized games on a USB hard drive, you won't be able to play them from anything that doesn't use the Xbox velocity architecture.

The upside to this is that Seagate's SSD cards are structurally identical to the console's internal storage, meaning you'll get identical performance across both. The cards will also work on both Xbox Series X/S, and connect through an easy plug and play slot on the back. If you miss just slamming Nintendo cartridges into your system, these cards will let you recapture that feeling. They're also pretty spacious at 1TB.

Still, the included FAQ doesn't give any compelling answers as to why Xbox couldn't (or wouldn't) make next-gen games work with third-party SSDs, or why the company isn't releasing smaller-capacity versions of these proprietary cards that would cost less. Still, the FAQ does hint at potential "additional capacities and implementations in the future."

For now, if you want to increase your Xbox Series X/S SSD storage, these cards will be your only option. They'll launch on November 10 alongside the Xbox Series X/S consoles, and you can pre-order them in the Microsoft store now.
Join the experts who read Tom's Hardware for the inside track on enthusiast PC tech news — and have for over 25 years. We'll send breaking news and in-depth reviews of CPUs, GPUs, AI, maker hardware and more straight to your inbox.
Michelle Ehrhardt is an editor at Tom's Hardware. She's been following tech since her family got a Gateway running Windows 95, and is now on her third custom-built system. Her work has been published in publications like Paste, The Atlantic, and Kill Screen, just to name a few. She also holds a master's degree in game design from NYU.