GPD Win Max 2 Handheld Gaming PC Benchmarked With RTX 3070 eGPU Over OCuLink and Thunderbolt 3
Comparing connection standards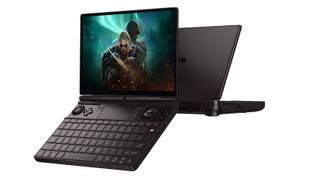 (Image credit: GPD.HK)
The GPD Win Max 2 is a curious laptop "handheld," with a built-in gamepad, that boasts compatibility with external GPUs through OCuLink or Thunderbolt 3. The maximum potential of the Max 2 should, in theory, only be limited by its own CPU and the limitations of your given eGPU connection standard, as well as the eGPU you end up using.
Following some extensive benchmarking done by RkBlog.dev, we can actually start quantifying the differences in eGPU performance between OCuLink and Thunderbolt, as well as gauge how much performance can actually be improved by an eGPU. Here are a few of the core benchmarks and what they mean for real-world performance.
First up, let's take a look at how the GPD Win Max 2 is performing in synthetic benchmarks (and Final Fantasy XIV) with a different GPUs. For the most part, results here were generally within expectations, but the RTX 3050 and RTX 3070 seemed to have awfully close scores in Final Fantasy despite a significant gap in the other benchmarks.
The reason for this was actually a CPU bottleneck incurred by the mobile Ryzen 7840U CPU inside the Win Max 2. Were the RTX 3070 not bottlenecked by the CPU in this testing, it should be capable of netting a significant lead over the RTX 3050's performance in Final Fantasy (as it does in the GPU-centered synthetic tests).
While gaming performance talks are often centered around GPU power, GPU power doesn't matter if your CPU can't feed information to it fast enough. Fortunately, most modern CPUs are more than adequate for entry-level 60 FPS gaming, but real-time ray-tracing and high refresh rate gaming (or both) can significantly raise CPU requirements. This is important to keep in mind, especially if you plan on using a setup with an external GPU in the future — the onboard CPU still needs to have the muscle for your favorite games.
Settling on the RTX 3070 as a testing GPU, RkBlog moved onto Cyberpunk 2077 as a testing ground for an OCuLink vs. Thunderbolt 3 comparison. In other tests, TB3 remained decently competitive with OCuLink, but the sheer CPU and GPU punishment doled out by Cyberpunk 2077 revealed the limitations of TB3 compared to OCuLink, particularly at high framerates.
Despite Cyberpunk's ray tracing mode further increasing demand on the CPU and compromising the performance gains of the eGPU, the ray tracing results on Thunderbolt 3 were much closer to the OCuLink results than the standard 1080p High results.
According to RkBlog, the reason for this seems to be that while both TB3 and OCuLink offer PCIe connectivity, OCuLink is "pure" PCIe while TB3 still needs to be managed by the CPU like other I/O within the PC. These testing results seem to establish OCuLink as the definitive standard for eGPU functionality moving forward, though we'll have to wait and see how widely it actually gets adopted.
Join the experts who read Tom's Hardware for the inside track on enthusiast PC tech news — and have for over 25 years. We'll send breaking news and in-depth reviews of CPUs, GPUs, AI, maker hardware and more straight to your inbox.
With the overhead and limited performance of TB for eGPU it definitely seems like something better is in order. OCuLink is a great start and given that SlimSAS cables already go up to PCIe 4.0 x8 I could see OCuLink expanding accordingly. PCIe 4.0 x8 seems like it would be a completely reasonable amount of bandwidth for eGPU purposes.

Reply