Today, Intel held an event in Beijing with the theme "joining hands with ecological partners to share new concepts of high-energy and low-carbon, and jointly create green commercial computers." The chipmaker and its partners Tsinghua Tongfang and Acer took the opportunity to display the first eco-friendly mainstream PCs, where 90% of the components are recyclable.
People are more environmentally conscious than ever, which is a good thing. However, performance isn't the only criterion we look at when shopping for the best CPUs or best graphics cards. While we want our PCs to be fast, we also want our systems to be environmentally friendly and energy-efficient.
Intel only supplies the processors, so other manufacturers will also have to play their part in making computers more environmentally benign. According to a report on the Chinese platform Sohu (opens in new tab), Intel shared some guidelines to achieve ambitious, high-energy, low-carbon goals. For example, the chipmaker referenced the "cradle to cradle" model and spoke about ecological controls to reduce carbon emissions from creating to recycling electronics. In addition, Intel specifically outlined four key points for its high-energy, low-carbon concept: definition and design, manufacturing and delivery, use and maintenance, and recovery and recycling.
The demo system uses Intel's 12th Generation Alder Lake chips. However, Intel didn't specify which Alder Lake processor is inside the PC. Plus, a feeble Intel stock cooler is providing the cooling. Given the scope of the conference, it's probably a non-K (65W) or T-series (35W) SKU since it probably wouldn't look good if a K-series chip, which can have a maximum turbo power up to 241W, powering the compact PC.
Intel specifically developed the "Intel Green Computer Software Control Center" software for this green PC to put the system into low-carbon operating mode. The program automatically detects the user's activity and improves the system's energy efficiency, depending on the usage.
The motherboard features fewer components, from 1,800 to 1,400, representing a 22% reduction in materials. In addition, the power delivery subsystem seems modest, but then again, looks can be deceiving. At any rate, the power delivery subsystem is reportedly 6% more efficient than the design on a conventional motherboard. PCBs, made of metal, resin, and glass fibers, has always been a challenge to recycle. The recycling rate for metal is good; however, the resin and glass fibers are hard to separate. Thus, Intel advocates for eco-friendly PCB solutions. According to the Sohu report, Intel and its industry partners can achieve 95% recycling rates for metal and glass fibers and 90% for organic matter.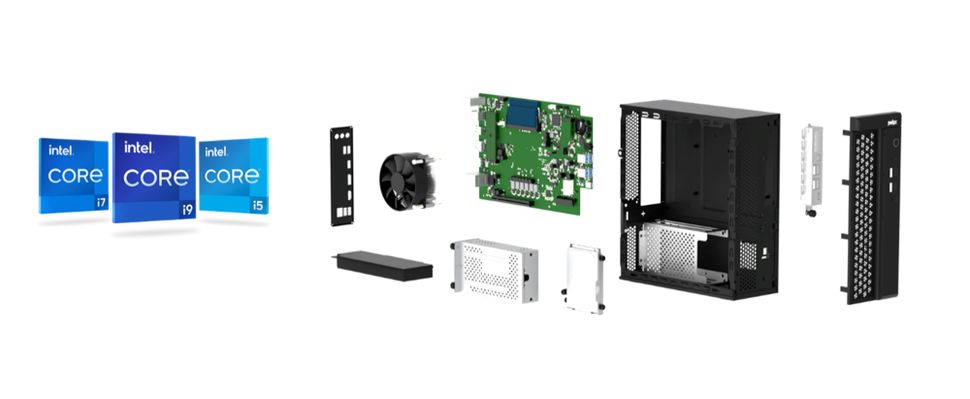 The motherboard has a simple integrated design. There are two SO-DIMM memory slots, a single M.2 slot, and one PCIe x16 expansion slot. Intel didn't reveal what form factor the motherboard uses, only that the PCB area is 36% smaller than a standard ATX motherboard. The motherboard design helps cable reduction since there are hardly any connectors. The only visible cables are the cable for the fan from the Intel stock cooler and the power cable from the power supply.
The green PC utilizes a small Gallium nitride (GaN) power supply up to 70% smaller than your standard ATX power supply. GaN power supplies can seemingly reduce the volume and carbon footprint by up to 90%. The unit sports a fanless design and provides a single 12V output. The GaN unit from the show floor boasts the 80 Plus Titanium certification, meaning 94% efficiency at 50% load and 90% at 10% load.
Since everything is so compact, it makes sense to go with a smaller case. The green PC arrives inside a 7-liter case, so it is so tiny that you can comfortably take it anywhere. It's even smaller than Intel's old Beast Canyon NUC, which resides inside an 8-liter case. Only four screws are necessary to hold the motherboard in place.
During the event, Intel also encouraged manufacturers to use eco-friendly materials and clean energy in their manufacturing process. The chipmaker also asked vendors to work with other manufacturers with the same green philosophy.
We don't know when we can expect the first green PCs, such as the ones from the event, to arrive on the retail market or if these were more of a tech demo to inspire PC manufacturers.