Pat Gelsinger, chief executive of Intel, this week addressed rumors that the CPU giant was delaying products made using the company's own Intel 3 and TSMC's N3 (both are 3nm-class) fabrication technologies. The CEO re-emphasized that all 3nm projects announced so far were set to be released in 2024.
"The 3nm programs are on track, both that with TSMC as well as our internal Intel 3 programs Granite Rapids and Sierra Forest in particular," said Gelsinger at the company's Intel Capital Allocation Update conference call. "I am somewhat amazed by some of these rumor mill discussions that come out. You might notice there were similar ones on Intel 4 a few months ago, and also with some of our other TSMC programs, which were patently false at the time as well."
So far, Intel has disclosed three products set to be made using 3nm class manufacturing technologies.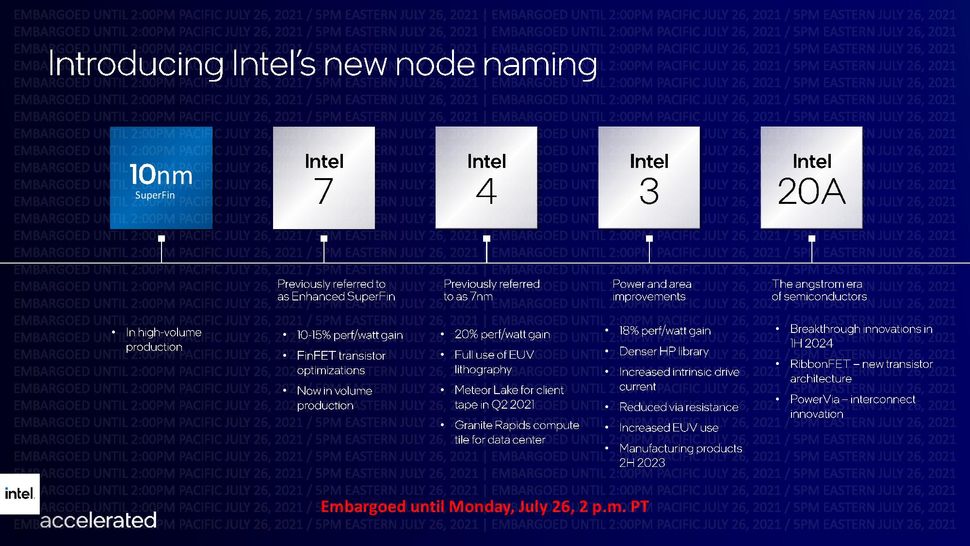 Internally, the company is set to produce its datacenter-oriented Granite Rapids (based on high-performance cores) and Sierra Forest (based on energy-efficient cores) processors on its Intel 3 node (previously known as 5nm). This fabrication process is essentially a refined version of Intel 4, but with improved performance per watt, higher drive currents, decreased via resistance and denser high-performance libraries. All of these features are particularly beneficial for datacenter-class processors, though reduced via resistance should be good for mobile CPUs too. Meanwhile, so far Intel disclosed only two products set to be made on its 3nm-class node internally.
With external 3nm projects, things are a little more complicated. Officially, Intel is set to use TSMC's N3 for a graphics tile of its client processors codenamed Meteor Lake and Arrow Lake due in 2023 and 2024, according to a slide that Intel has shown a number of times. In August, 2022, a market research firm said that Intel decided to postpone production of Meteor Lake's graphics tile on TSMC's N3 process. Back then, Intel did not comment on any 3nm-based projects specifically, but said that Meteor Lake was on track to be released in 2023.
Now, the company says that its Arrow Lake product comprising of a compute tile produced on Intel's 20A (2nm-class) node and a graphics tile made on TSMC's N3E is on track for 2024. Keeping in mind that by the time Arrow Lake CPUs are set to hit the market TSMC will have rather vast experience with its 3nm-class process technologies, it is unlikely that Intel might decide to delay Arrow Lake because of issues with TSMC's N3/N3E itself.
"So, no changes in the programs as have indicated," said Gelsinger. "Good solid execution on both the client, the server, and AXG [accelerated graphics] side. We are gaining momentum with foundry customers as well. So, I feel good that we have turned the corner on many of the execution challenges. You know, these rumors, like many others, will be proven by our execution to be firmly false."