ADLink has created a unique graphics solution called the Pocket AI portable GPU. This GPU is effectively a GeForce RTX 3050 repackaged into a mobile device the size of your hand. The GPU utilizes Thunderbolt 3 connectivity to bring additional graphics performance to a supported laptop or desktop device.
The GPU inside is an enterprise-class RTX A500 GPU; however, the core specifications are nearly identical to an RTX 3050 laptop GPU. It features NVIDIA's GA107 GPU die with 2,048 CUDA cores, 64 Tensor DCores, 16 RT cores, 4GB of GDDR6 memory, a 64-bit-wide interface, and a 25W TGP. Unsurprisingly the RTX A500 in this configuration has a maximum performance rating of just 6.54 TFLOPs.
The GPU isn't exactly fast by current standards, but the portable GPU will unlock most of NVIDIA's features found in its latest GeForce RTX products, as well as some additional features reserved exclusively for its professional GPUs. For gamers and streamers, adding this pocket GPU to their portfolio can unlock voice-cancellation/video-enhancement features like RTX Broadcast, and high-quality video streaming thanks to the RTX A500's NVENC encoder.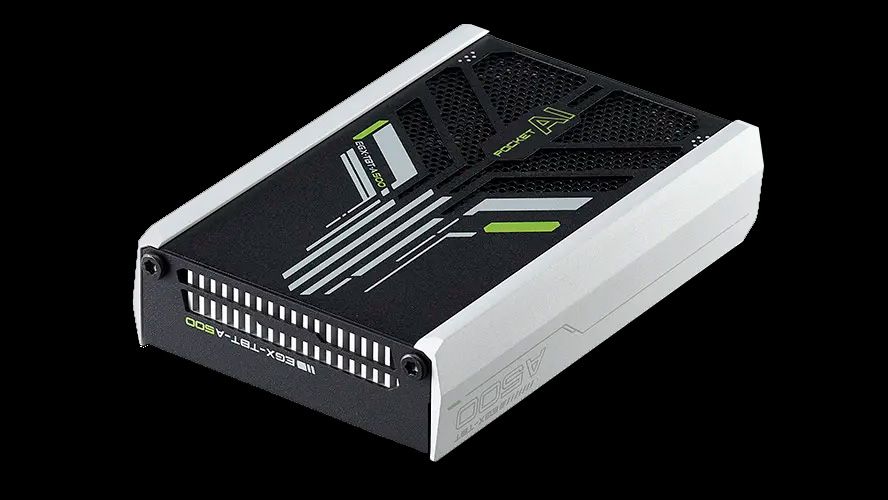 Professional users can also use this GPU for accelerating tasks utilizing Nvidia's CUDA technology and AI-accelerated applications with the integration of Nvidia's Tensor cores. ADLink provided an example of a person walking down a street holding a Pocket RTX A500 GPU running Yolov4 AI object detection.
Of course, the pocket GPU can be used for gaming in a pinch for really underpowered devices. But don't expect great gaming performance from this GPU with its meager 25W TDP. However, it at least has DLSS technology to counter this issue somewhat.
The Pocket AI measures 106mm x 72mm x 25mm and weighs just 250 grams. To run the graphics device, you'll need a Thunderbolt 3.0 connection on your machine and an additional USB Type-C power source that supports USB Power Delivery 3.0+ (like a phone charger). Pricing is unknown, but the product will be available to pre-order in April 2023. Shipping starts in June 2023.