NY Bill Would Require Background Checks to Buy 3D Printers, Attempts to Target Ghost Guns
The bill is in early stages in committee.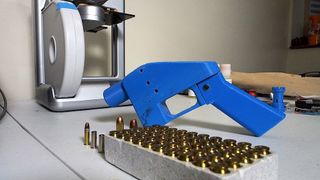 (Image credit: Robert MacPherson/AFP via Getty Images)
A recently-submitted bill in the New York State assembly would require anyone who buys a 3D printer to undergo a criminal background check which could take up to 15 days to complete. Sponsored by Assemblymember Jenifer Rajkumar, bill A8132 would target any "three-dimensional printer sold in this state, which is capable of printing a firearm, or any components of a firearm" and require retailers in the state to request a criminal history from the state's division of criminal justice services. According to the text of the bill, the commissioner of criminal justice services will have up to 15 days to review the purchaser's criminal history and decide if they can buy the printer.
While the goal of bill A8132 seems to be preventing the manufacture of so-called ghost guns — unregistered firearms made at home — it actually would restrict the sale of pretty much any consumer 3D printer in the state. The firearm enthusiast publication Gun Digest gives the very popular Creality Ender 3 V2 its highest recommendation for firearm printing and it also recommends the Prusa i3 MK3S+. Both of those are bedslinger-style FDM printers so, if you could print a gun with them, you could print a gun with any 3D printer.
The law says "For purposes of this section, 'three-dimensional printer' means a computer or computer-driven machine or device capable of producing a three-dimensional object from a digital model." The word "producing" here is also vague as the best laser cutters can also create 3D objects from digital models.
For better or worse, 3D printing the parts to put together a gun isn't particularly difficult. There are a slew of 3D model files online you can get for free and output in standard filaments such as PLA or ABS. However, guns that can withstand being fired more than a couple of times usually require some metal parts that can't be 3D printed (unless you have a very pricey metal 3D printer).
Bill A8132 is still in committee and may never make it to a floor vote, let alone becoming law. (The bill is currently open to comments.) However, if it was passed as currently written, buying a 3D printer in New York State would be much more difficult, and likely more expensive too. Imagine walking up to the counter at Micro Center with your new Bambu Lab P1S and being told that you have to fill out a form, show ID and wait for your background check to clear. It could drive makers and tinkerers to surrounding states, like New Jersey and Connecticut. According to the text of the law, you could be waiting up to 15 days to find out whether you can take your printer home.
It's also unclear how much these background checks would cost consumers. In New York, gun dealers may charge a fee of up to $10 per transaction for their required background checks.
Bill A8132 isn't the first proposed New York law to target 3D printed guns. Back in May, Assemblymember Linda B. Rosenthal introduced Bill A7489, which makes it illegal to manufacture ghost guns or to distribute the 3D models for them. This bill is still in committee and doesn't restrict the sale of 3D printers. State Senator Brad Hoylman-Sigal introduced the same law in the senate as Bill S7364. Those laws are also backed by Manhattan District Attorney Alvin L. Bragg, Jr., who framed them as part of "comprehensive anti-gun legistlation."
Join the experts who read Tom's Hardware for the inside track on enthusiast PC tech news — and have for over 25 years. We'll send breaking news and in-depth reviews of CPUs, GPUs, AI, maker hardware and more straight to your inbox.
Avram Piltch is Tom's Hardware's editor-in-chief. When he's not playing with the latest gadgets at work or putting on VR helmets at trade shows, you'll find him rooting his phone, taking apart his PC or coding plugins. With his technical knowledge and passion for testing, Avram developed many real-world benchmarks, including our laptop battery test.