Average selling prices of NAND memory and solid-state drives have been dropping in the recent quarters due to slow demand and oversupply. But as more applications adopt SSDs, their unit and dollar sales are poised to grow. Five years from now, in 2028, SSD revenues will increase to $67 billion, according to estimates from Yole Group (via StorageNewsletter).
In the long run, the overall market size for SSDs is expected to grow from $29 billion and 352 million units in 2022 to $67 billion and 472 million units in 2028, with a compounded annual growth rate of about 15% between 2022 and 2028, Yole claims.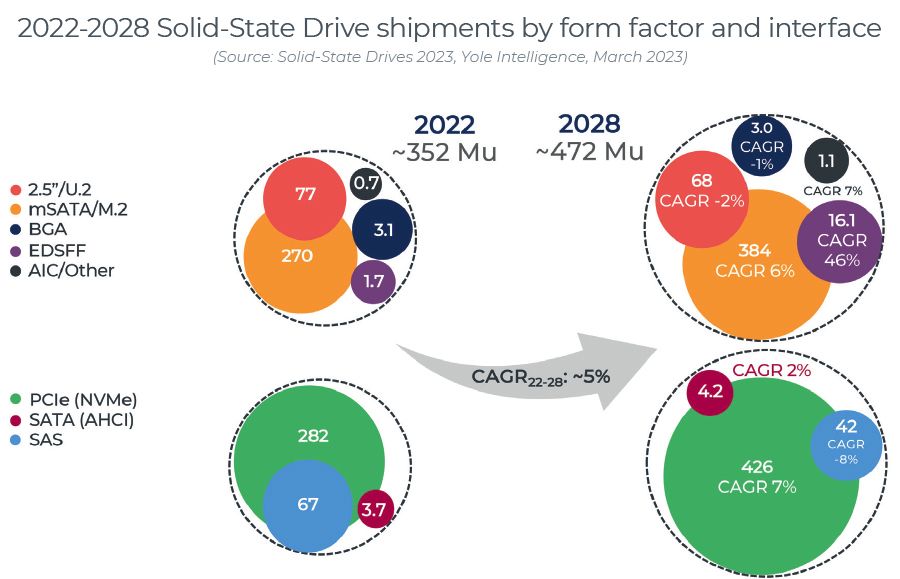 Out of 352 million SSDs sold in 2022 (including those that belong to our best SSDs list), about 55 million units were enterprise drives and the rest were client SSDs. The enterprise SSD shipments in 2022 were dominated by PCIe SSDs, which accounted for approximately 55% or 30 million units. It is anticipated that this figure will increase to approximately 71% or 79 million units by 2028. The share of PCIe client SSDs is expected to rise from around 85% in 2021 to around 96% in 2028, representing 252 million units and 347 million units, respectively.
Enterprise drives will also adopt new PCIe interfaces faster than their client brethren. Yole believes that while 69% of enterprise-grade SSDs will use a PCIe 5.0 bus in 2028, only 12% of client drives will use this interface that year. As for PCIe 6.0 SSDs, they are expected to command 16% of the datacenter drives market in 2028, but their share on the client SSD market will be negligible 3%.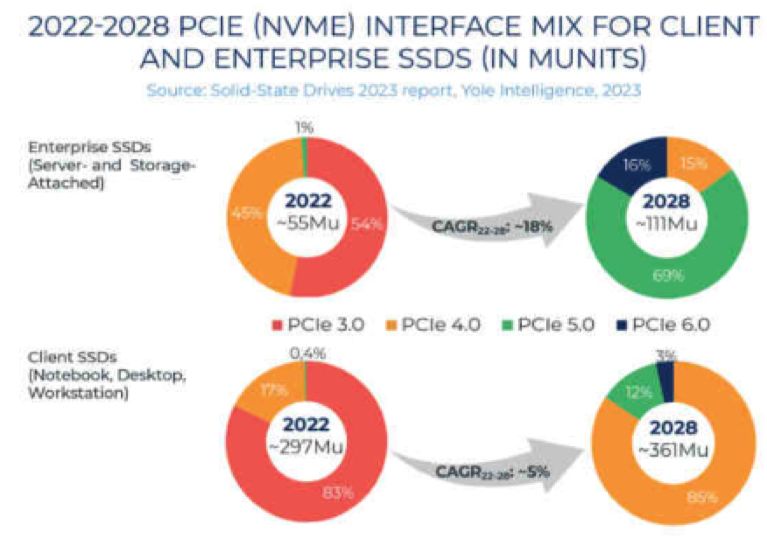 SSD sales dropped by 14% year-over-year to $29 billion in 2022 from $34 billion in 2021; in terms of units, this equaled to around 352 million units, down from over 400 million units in 2021. But this sharp decline was a one-time event, Yole Group believes. Meanwhile, the company does not exactly strive to provide a more or less precise dollar or unit sales outlook for 2023 due to the continued slow depletion of inventory and a weak economy, resulting in substantial oversupply.
Not all SSD suppliers are set to monetize on the market growth equally. Client SSD products will experience weak demand in the coming years (according to Yole), while enterprise SSD growth will be driven by 'low-latency storage needs of advanced workloads' in the datacenter space, according to Yole. The market research firm does not disclose which workloads it means though low-latency solid-state storage applications are crucially needed for trendy applications like generative AI.
Yole Group notes that there are two types of SSD suppliers: NAND integrated device manufacturers (IDMs) that produce their own memory, develop their own NAND controllers, and produce their own drives as well as third-party SSD manufacturers who buy flash memory (in the form of NAND wafers or chips) from IDMs and controllers from third party to build their drives. Meanwhile, both types of SSD producers tend to buy controllers from companies like Silicon Motion, Phison, and Marvell. Large operators of cloud datacenters often develop their own storage devices, yet they still buy memory and/or controllers from third parties.
Large IDMs like Samsung, Kioxia, Western Digital, Micron, SK Hynix, and Solidigm controlled an 82% share of the total SSD market in 2022. By contrast, third-party SSD makers like Kingston, Seagate, and Adata only controlled 18%.