The Steam Deck is at its lowest price ever, thanks to a discount of up to 20% as part of the Steam Summer sale.

This is only the second time Valve has put the Steam Deck on sale (the last time was a blanket 10% discount as part of the Steam Spring sale). This time, the amount you get off depends on the model.

The cheapest option, with 64GB of eMMC storage, is $359.10, the same as we saw last time around. Things get more interesting with the 128GB option at $449.65 (15% off) and the 512GB version with anti-glare screen at $519.20, a full 20% off. Valve sells the Steam Deck directly, so you can find all of the discounts on Steam or on the Steam Deck website.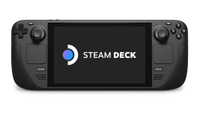 Valve Steam Deck up to 20% off on Steam
Valve's gaming handheld is up to 20% off depending on the model for the Steam Summer sale. It's the lowest-ever price for the top two models.
While Valve has set a precedent to drop the price of the Steam Deck during its store-wide sales, it is notable that this further drop is occurring so quickly after the release of the Asus ROG Ally, a Windows-based handheld using a faster AMD processor.

Valve's docking station is also seeing a cut. It usually retails for $89, but is down to $71.20. That's nice savings if you want the official dock, but you can still find third-party alternatives for less if you look around on Amazon.

As usual, there are also a whole bunch of games included in the Summer Sale, which goes through July 13. Standouts include Elden Ring for 30% off ($41.99), Sonic Frontiers for 50% off ($29.99), Marvel's Spider-Man Remastered for 33% off ($40.19), Hades for 50% off ($12.49), Cyberpunk 2077 for 50% off ($29.99), and PowerWash Simulator for 20% off ($19.99).

It's unlikely that Valve is using this sale to clear out Steam Decks for a successor. Earlier this year, Valve developers suggested that "a true next-gen Deck with a significant bump in horsepower wouldn't be for a few years."