If you're looking for a high-capacity budget SSD for an older laptop or as a secondary storage drive on your desktop, check out this offer on the Team Group T-Force Vulcan G internal SSD. The 2.5-inch SATA drive is currently listed on Newegg for just $77. With a 1TB capacity, that sets a price at around 8 cents per GB.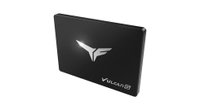 (opens in new tab)
Team Group T-Force Vulcan G 1TB: was $90, now $77 @Newegg (opens in new tab)
This 2.5-inch SATA SSD has a 1TB storage capacity and promises 550 / 500 MBps speeds.
The specs list the read/write speed as capable of reaching 550/500 MBps under ideal conditions. The Terabytes Written is listed at 240 TBW.
As a 2.5-inch SATA drive, it's a drop-in replacement for hard drives on just about any laptop that still has an HDD. If you're building a new PC (perhaps one of the best PC builds for gaming), it's better to use an M.2 NVMe drive as your boot drive and add this for added storage.
To check out the specs on the SSD more closely, visit the Team Group Vulcan G (opens in new tab) product page on Newegg. The deal is expected to be valid through Sunday this weekend.