How to Safely Remove a Swollen Battery from Your Laptop
As long as you apply safety measures, it should be okay.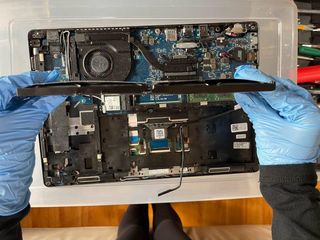 (Image credit: Tom's Hardware)
Batteries degrade over time. And unfortunately, the Lithium-ion (Li-ion) batteries that are used in most laptops these days are prone to swelling or bulging after a while. There are several reasons why your laptop battery would swell up. It could be from age, overheating, overcharging or a manufacturing defect. Any of these issues could cause battery expansion (a process also known as off-gassing) to occur. But no matter what the source is, as soon as you notice that the battery in your laptop has bulged, it poses a safety hazard that you need to take care of right away. You can remove the battery yourself as long as you are careful, but if you aren't comfortable with the idea of opening up your laptop, you can go to a professional for help.
Though the process of removing the battery from your laptop is quite simple, know that there are risks involved in the process that could result in a fire or explosion or even toxic gas inhalation (in case of chemical leaks). The key is not to disturb or puncture the battery itself so you can avoid any of these disasters from happening.
If you decide to go the DIY route, then it is best to be prepared and apply all safety precautions even though you may end up not needing them.
What You'll Need
How to Remove a Swollen Laptop Battery Safely
Luckily, a swollen or bulging battery is usually easy to spot. If you notice your laptop's case coming apart at the seams or if you feel your trackpad or some of the bottom keyboard keys lifting when you type, then there is a good chance that you have a battery problem.
Below are steps you can follow to safely remove your swollen battery. You should also consult the device's manual for instructions specific to your machine. We have a Dell Latitude 5490 here as an example.
1. Power down your system and unplug. If your laptop feels hot, wait for it to cool down before you begin the process.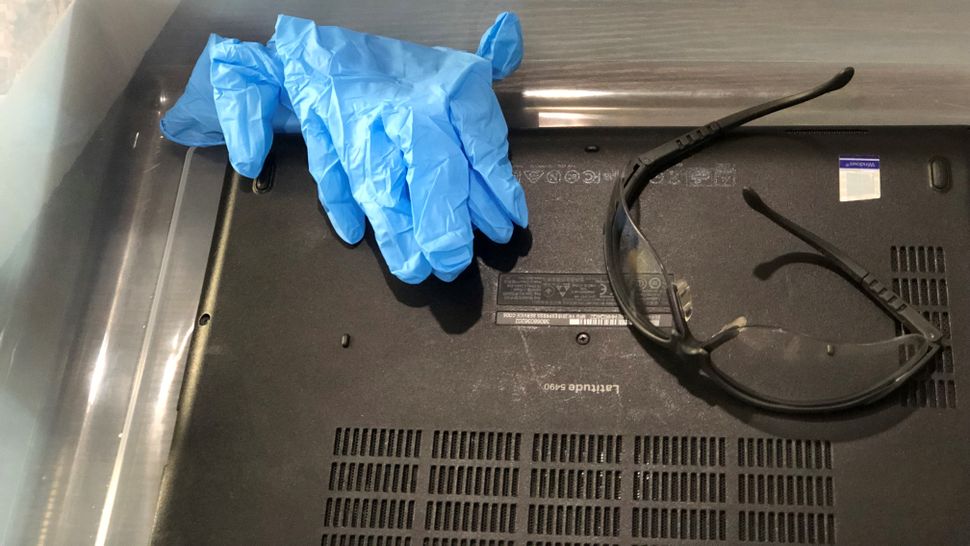 2. Set up in a well-ventilated area, preferably outside. Be sure to have gloves and safety goggles handy just in case you need them. And in an abundance of caution, you could also keep a fire extinguisher at the ready in case something catches fire.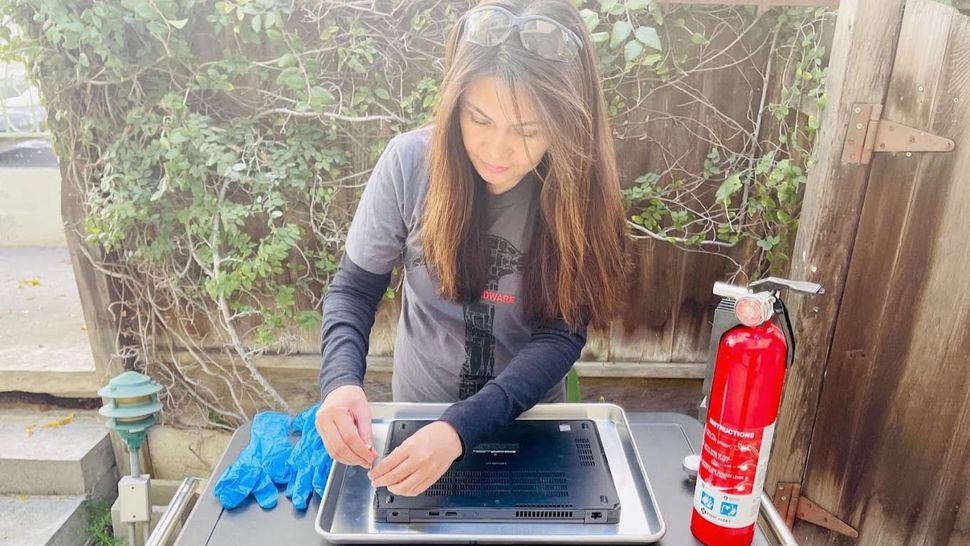 3. Lay the laptop bottom side up and remove all the screws from the bottom panel.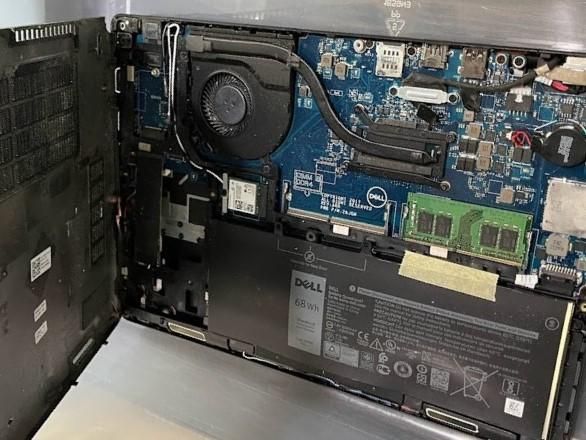 4. Lift and detach the bottom panel. You may hear a slight pop indicating that the panel has been released. It should come off easily.
Image 1 of 2
5. Remove any tape and screws that are holding the battery in place, being careful not to puncture the battery.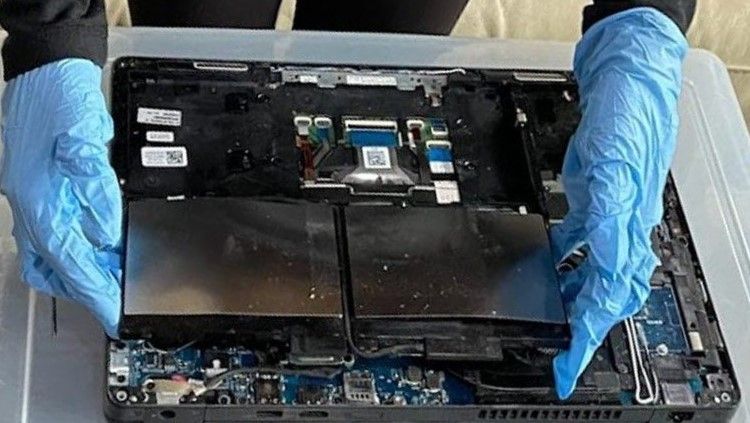 6. Carefully take out the battery and flip it over so you can unplug the cable connecting it to the computer.
Image 1 of 4
If the cable is stuck, you can gently wiggle it to loosen the connection.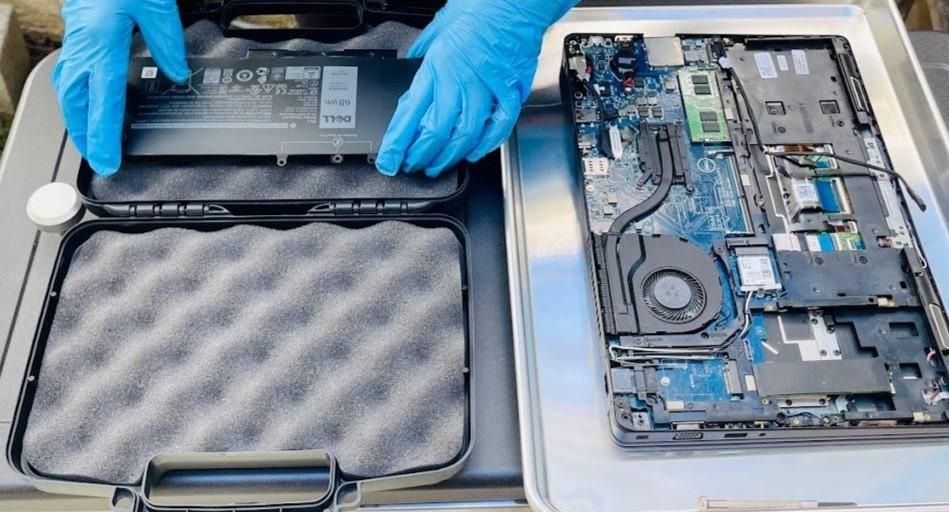 7. Place the battery in a fire-proof container. Keep it in a dry and cool place until you can safely dispose of it. But you should not wait too long to recycle your battery.
Note: The same general steps would apply if you were attempting to remove an old or used battery from your laptop. To replace the laptop battery yourself, just reverse the steps above.
Recycle Swollen Battery Properly: Where to Dispose Your Batteries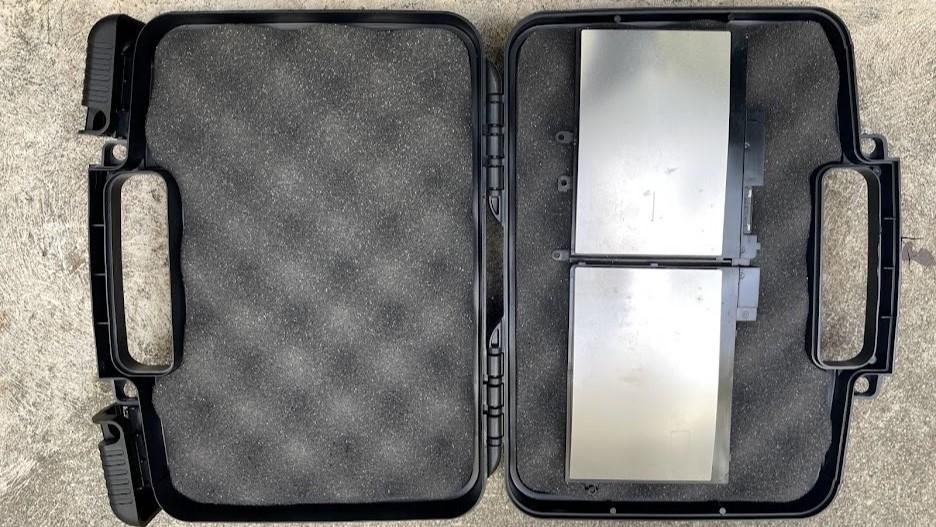 Batteries contain toxic materials that can leak and are harmful to the environment. You need to dispose of used or damaged batteries responsibly. Find the nearest e-waste recycling center near you.
Both Best Buy and Staples provide free In-store Recycling Services where you can drop off your used batteries. You can also register as a Staples Rewards member (if you aren't already) and get a $10 store discount for bringing in and recycling your battery with them.
Get Technical Support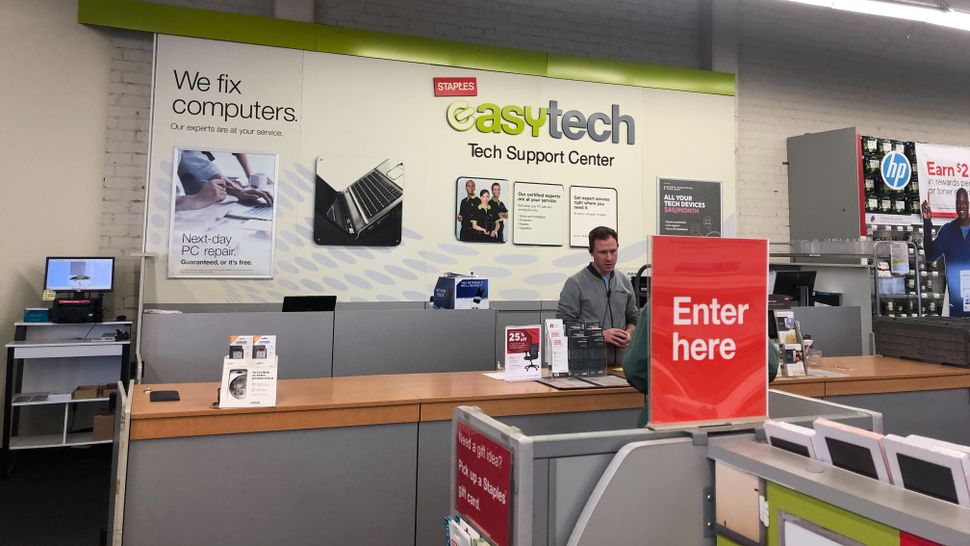 Alternatively, you can go to any computer repair shop near you and have them take care of your issue. They will happily remove, replace and dispose of your used or broken battery for you — for a fee. The cost of replacement will vary, so call ahead to get a quote.
You can also call your laptop's manufacturer for assistance. If your machine is still under warranty, they will send you a replacement battery.
Tips on Taking Care of Your Laptop Battery
You can prolong and extend your laptop's battery life by doing the following:
Keep track of your battery's health (Check out our guide on How to Get a Battery Health Report in Windows 10 or 11).
Turn on Battery Saver Mode in Windows.
Look out for signs of battery degradation like slow charging or unexpected shutdowns.
Keep your machine cool. Remember, heat is the enemy.
Clean laptop fans and make sure vents are clear to help prevent overheating.
Disclaimer: Again, if the thought of opening your laptop yourself makes you feel uneasy, you do not need to change your laptop battery yourself. You can take your system to a local computer repair shop where they can take care of removing and replacing your battery for you.
Join the experts who read Tom's Hardware for the inside track on enthusiast PC tech news — and have for over 25 years. We'll send breaking news and in-depth reviews of CPUs, GPUs, AI, maker hardware and more straight to your inbox.
Anj Bryant is the Assistant Managing Editor at Tom's Hardware. She provides content layout and development support, and coordinates editorial initiatives for all the talented groups of freelancers, contributors, and editors in the team.