AMD's Zen 4 processors haven't even launched yet, and rumors are already emerging about the chipmaker's future Zen 5 chips. Given the time frame that we expect for the Zen 5 chips to debut, the information from the leaks makes sense. Nevertheless, we still recommend you approach all rumors with caution.
The partial AMD roadmap, which originated from China, claims that AMD will market its Zen 5 processors under the Ryzen 8000 branding, with both mainstream Ryzen processors and APUs reportedly uniting under the Ryzen 8000 branding umbrella. The rumored codenames for Ryzen 8000 chips and APUs are Granite Ridge and Strix Point, respectively.
ExecutableFix, a hardware leaker with a solid record, believes that Zen 5 is based on the 3nm process node. Given AMD's long-lasting relationship with TSMC, it's very likely that Zen 5 will tap into the foundry's 3nm (N3) manufacturing process. Then again, Samsung also has its own 3nm process node, so it'll be interesting to see whether the South Korean giant can woo AMD away from TSMC.
Granite Ridge is the successor to Raphael (Zen 4), so it should be compatible with the AM5 socket, which is allegedly making a transition from a Pin Grid Array (PGA) design over to a Land Grid Array (LGA) design. The general speculation for Zen 4's debut is sometime next year, meaning we shouldn't see Zen 5 until 2023.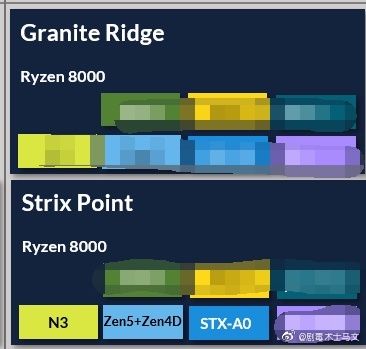 Strix Point is rumored to feature a hybrid microarchitecture, similar to what Intel will do with its impending 12th Generation Alder Lake processors. In AMD's case, Ryzen 8000 APUs could leverage the Zen 5 and Zen 4 cores, implying that AMD's APUs may finally switch to a multi-chip module (MCM) approach.
Apparently, the little cores inside Strix Point, if you want to put it that way, are called Zen 4D. The only problem we have with this leak is the discrepancy between manufacturing processes. Zen 4 is expected to feature the 5nm process node, while Zen 5 is presumably based on the 3nm process node. However, we don't discard the possibility that AMD could refresh the Zen 4 cores to put them on the 3nm process node.
On the server side, the speculation says the EPYC 7005 (purportedly codenamed Turin) lineup will replace the EPYC 7004 (Genoa) family in 2023. Logically, Turing will also be on Zen 5 cores and the 3nm process node. Threadripper's fate, on the other hand, continues to be a mystery for all.