G.Skill has announced five new Trident Z5 DDR5 memory kits for Intel platforms, featuring the all-new 24GB and 48GB capacity DDR5 modules and memory speeds of up to 8200MT/s. The 8200MT/s kit, in particular, will be among the fastest on the market, and it will come with more than 32GB of capacity.
To reiterate, only one DDR5-8200 kit is rated for that speed in the list. This will be a 24GB x 2 (48GB) DDR5 memory kit with 40-52-52 timings. For perspective, this kit has slightly quicker memory latency than a DDR5 5600MHz CL28 or 6000MHz CL30 kit. So it will be great for memory-sensitive applications, like gaming, and vastly superior for bandwidth-heavy workloads.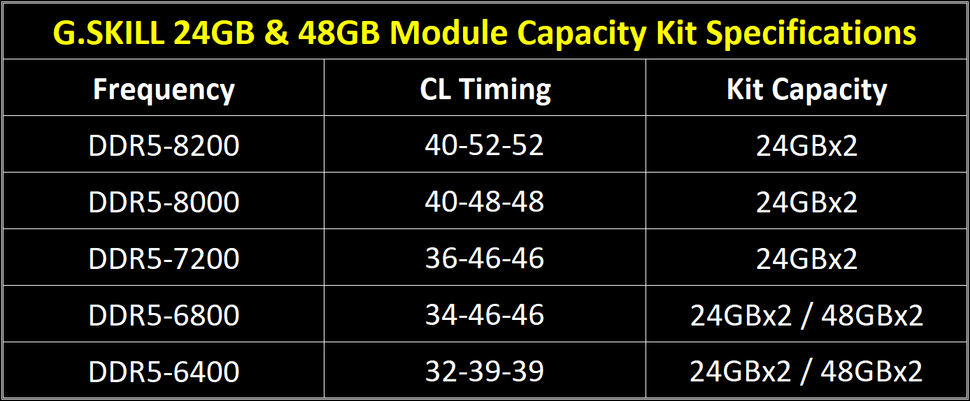 The next-fastest kits include a DDR5-8000 dual-channel kit and a DDR5-7200 dual-channel kit. The 8000MT/s version will come with 40-48-48 timings, and the 7200MT/s kit will come with 36-46-46 timings. Both feature a DDR5 capacity of 48GB split between two DDR5 sticks (2 x 24GB).
The last remaining kits are the slowest of the bunch, featuring 6800MT/s and 6400MT/s versions, but they come in significantly higher-capacity variants. The 6800MT/s version comes with 34-46-46- timings, and the 6400MT/s version comes with 32-39-39 timings. Both kits will come in two configurations, either a 2 x 24GB kit or a 2 x 48GB kit, giving users a total of 48GB or 96GB of memory capacity.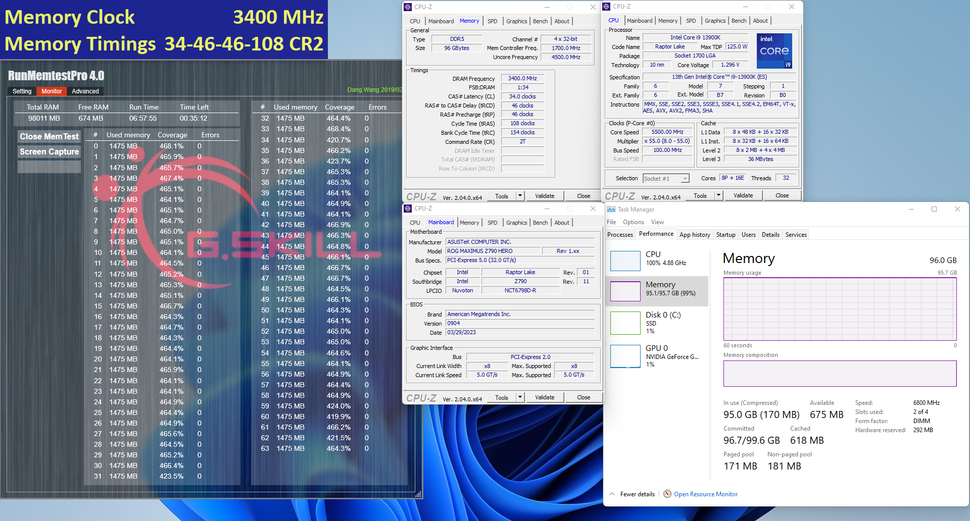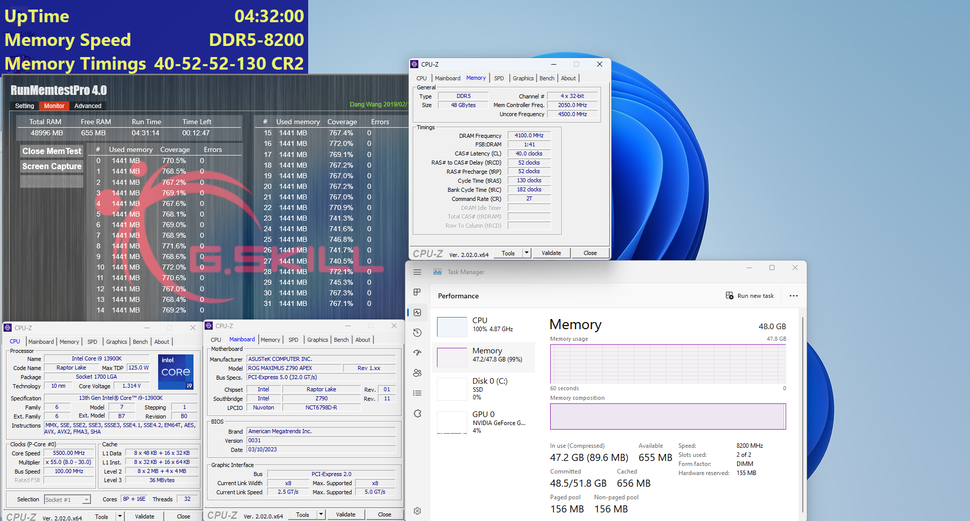 G.Skill showed off real-world memory tests of its 8400MT/s 48GB kit and 6800MT/s 96GB kit running MemtestPro 4.0 on a Core i9-13900K CPU and an ASUS ROG Maximus Z790 Hero. Both memtest results show perfect stability of the kits, with no errors.
The 48 GB and 96GB capacities are brand new to the consumer space and open a whole new wave of capacity options in the DDR5 market. Before, you were limited to 16GB, 32GB, 64GB, and 128GB capacities on mainstream platforms, utilizing either two or four memory sticks. Now with 24GB and 48GB modules, users can opt for 48GB, 96GB, and even 192GB options with either two or four sticks.
This will allow users to target more optimal memory configurations and not overpay for the additional capacity they don't need. For instance, if a user needs 80GB of RAM for a specific application, they would need to buy a 128GB kit to sufficiently hit that target. Now they can get much closer to that target with a 96GB kit, and pay for less memory overhead. The 192GB option is also nice since that option is much larger than the previous 128GB cap. (Again, this example applies only to mainstream platforms, not HEDT or workstations with more than four DDR5 slots.)
All kits are designed for Intel DDR5 platforms only and support XMP 3.0. Technically you can run XMP on AMD Ryzen 7000 series counterparts; however, there's no guarantee of stability, and there is a good chance memory sub-timings won't be tuned optimally compared to a proper AMD EXPO kit.