When PowerColor introduced its Liquid Devil Radeon RX 7900 XTX with a factory-installed waterblock, it said the graphics card guarantees "ultimate" overclockability, but did not elaborate. This week renowned overclocker Roman "der8auer" Hartung finally took this card for a test drive. It turns out it can overclock very well: the GPU can be pushed to 3.25 GHz - 3.39 GHz, according to his YouTube video (via VideoCardz). The board pulled 650W of power in this case.
With an up to 2,680 GHz boost clock with Unleashed BIOS mode activated, PowerColor's Liquid Devil Radeon RX 7900 XTX comes with noticeably higher GPU frequency compared to AMD's reference design right out of the box, which makes it one of the best graphics cards.
In this mode, the graphics board pulls around 420W of power, and the graphics processor can be pushed to 2.95 GHz – 3.0 GHz. While 3.0 GHz is an impressive clock for a GPU, it is still possible to go higher by increasing the voltage of the chip.
Because it is impossible to increase the voltage of AMD's RDNA 3-based GPUs and optimize their voltage curves using software like More Power Tool, Roman "der8auer" Hartung had to use the ElmorLabs EVC2SE device that enables manual voltage control.
The default voltage of AMD's Navi 31 GPU on the Liquid Devil Radeon RX 7900 XTX graphics card is 1.030V. Once GPU voltage is increased to 1.050V, it can push itself to 3.05 GHz, but its power consumption will increase to 500W.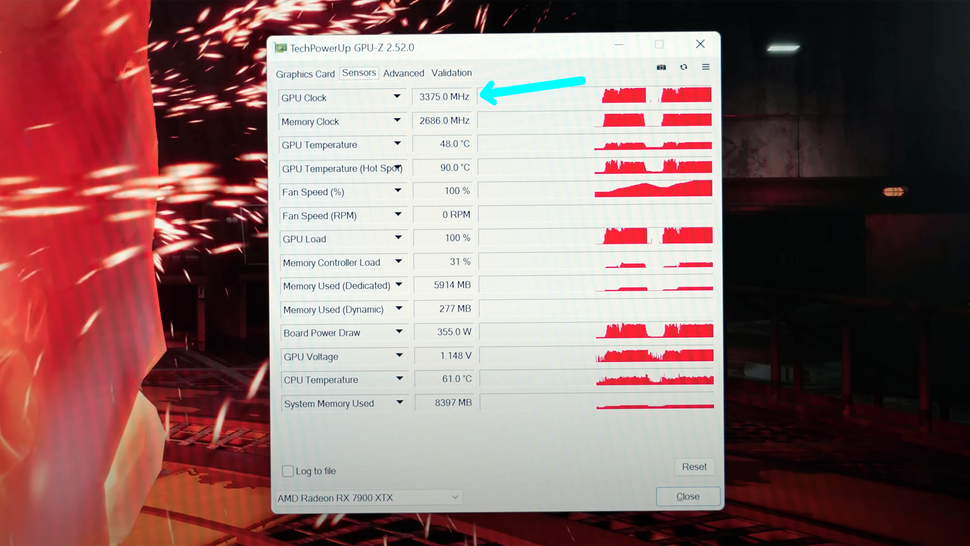 By increasing voltages even higher (say, to 1.142V), der8auer has pushed the GPU to 3.25 GHz in the 3DMark TimeSpy Extreme test and to 3.39 GHz in light 3D rendering workloads. With a massively increased GPU voltage and at rather extreme frequencies, power consumption of the board from slots increased to 650W, which means that it sucked around 700W from the slot and from auxiliary PCIe power connectors.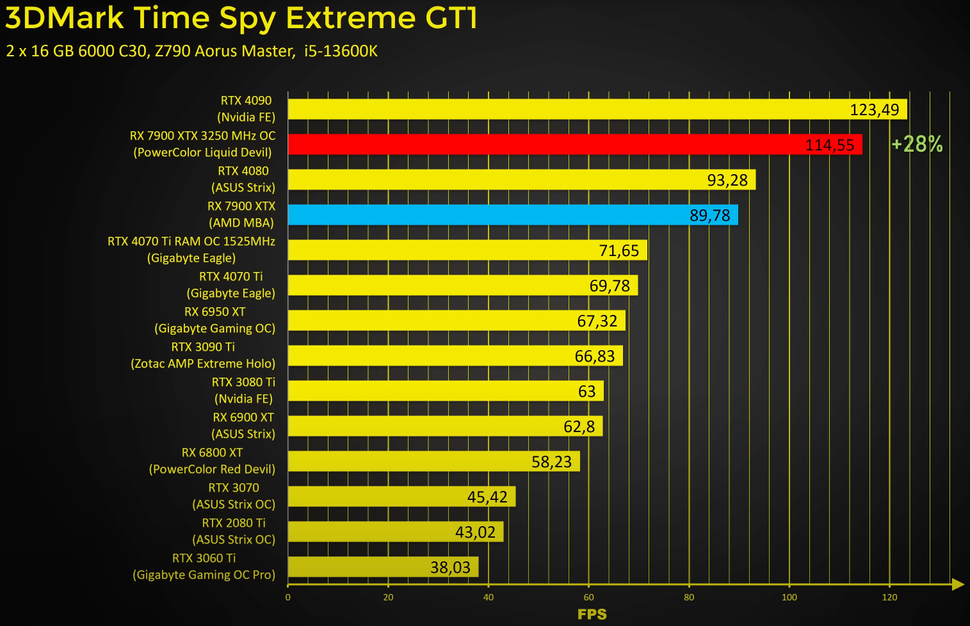 While such a colossal overclock brought about 28% of extra performance compared to AMD's reference Radeon RX 7900 XTX, it did so at an 83% higher power, which clearly indicates that the GPU was not designed to handle such frequencies. Yet, from a pure overclocking result point of view, 3.25 GHz – 3.38 GHz is an impressive achievement since AMD's boost clock for its Navi 31 GPU is 2.50 GHz.