Puget Abandons Samsung 990 Pro SSDs Over Reliability Concerns
Puget is switching primarily to Sabrent SSDs in its systems.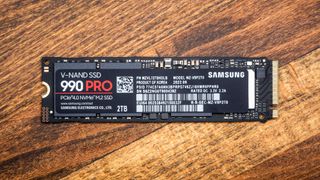 (Image credit: Tom's Hardware)
Earlier this week, Puget Systems said that it worked with Samsung to identify the cause of failing 980 Pro SSDs in customer computers. After making waves on Chinese web forums and Reddit for months, the problem was blamed on an older firmware (3B2QGXA7) that shipped in early versions of the 980 Pro. A newer firmware, 5B2QGXA7, has seemingly resolved the issue.
That said, according to Puget, the Samsung 990 Pro, the follow-up to the 980 Pro, seems to be having some issues of its own. The company is concerned about early reports of endurance woes with the 990 Pro, despite offering excellent performance and passing its qualification process with flying colors.
As we previously noted, many users reported that their 990 Pro health has declined, on average, one percent per week. One user said that SMART diagnostics pegged the drive at 6,641GB written and an incredible 7 percent decline in health when monitored with a software utility. Another 990 Pro owner reported a 12 percent health decline in a month. Perhaps the most alarming statistic came from Neil Schofield, who posted on Twitter that his drive health eroded 36 percent after 2TB of data was written.
Puget has apparently seen enough, writing, "these drives are popular and commonly used as both the primary OS & application drive as well as high-speed storage for project files, so if the endurance (and thus lifespan) of the drives is indeed dropping at this rate it is very concerning." As a result, the company will suspend the use of most Samsung SSDs (though it will still carry 500GB versions of the 980 Pro). That said, it's unclear how long this shift will last.
Puget already relies on Sabrent's 4TB and 8TB SSDs for customer systems and will now add 1TB and 2TB SKUs to replace the 980 Pro and 990 Pro. The move to Sabrent is curious when more established brands exist in this space, like Crucial, Western Digital or Kingston. However, Sabrent SSDs do have a good reputation for high performance, and they consistently appear on our best SSDs lists.
Puget went on to add that it doesn't often comment when switching brands for components within its computers. After all, most of its customers likely don't care what kind of memory, power supply, or SSD is installed if performance and reliability metrics are satisfied. However, it says, "because we have been so outspoken about Samsung SSD reliability in the past we felt that it was important to speak up in this particular situation."
Puget is clearly thinking about its long-term reputation here, adding this bit near the end of its post about the Samsung / Sabrent decision: "Regardless of what the situation ends up being, we fully stand behind our systems and will do the right thing for our customers."
Join the experts who read Tom's Hardware for the inside track on enthusiast PC tech news — and have for over 25 years. We'll send breaking news and in-depth reviews of CPUs, GPUs, AI, maker hardware and more straight to your inbox.
Brandon Hill is a senior editor at Tom's Hardware. He has written about PC and Mac tech since the late 1990s with bylines at AnandTech, DailyTech, and Hot Hardware. When he is not consuming copious amounts of tech news, he can be found enjoying the NC mountains or the beach with his wife and two sons.