Qualcomm's Snapdragon X Elite for PCs Has 12 Oryon Cores, Tops Out at 4.3 GHz
PCs featuring the chip are coming in mid-2024.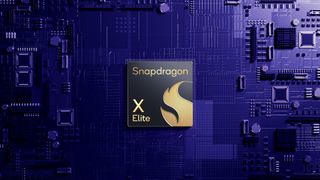 (Image credit: Qualcomm)
Qualcomm is taking another stab at an Arm PC system-on-a chip, this time based on the new Oryon cores that come from its purchase of Nuvia. The new chip, the Qualcomm Snapdragon X Elite, will launch in laptops in mid-2024 and was unveiled today at the company's annual conference in Hawaii.

The chips are the latest volley in the attempt to successfully move more Windows users onto Arm. While the operating system support is there, there have been performance and compatibility issues with the Snapdragon 8cx chips. Now, Qualcomm says that Snapdragon X Elite will deliver far better efficiency with equivalent or better performance than competitors (a claim we'll have to test next year).

"We believe that this is like a pivotal moment for us," Kedar Kondap, senior vice president and general manager of compute and gaming at Qualcomm told Tom's Hardware in an interview. "Because what you will see with the Snapdragon X Elite platform is something you haven't seen before in terms of leadership, in terms of technology, performance per watt. You'll see the Qualcomm Oryon CPU distinguish itself in terms of its capabilities and the efficiency that it will drive."
Image 1 of 2
Qualcomm's chip, using TSMC's 4-nanometer process on a single die, will have 12 "high-performance" Oryon cores on each chip going up to 3.8 GHz. However, of those 12 chips, the company says single- or dual-core boost up to 4.3 GHz is possible. The cores are batched into three clusters of four on the die.
Swipe to scroll horizontally
| Header Cell - Column 0 | Qualcomm Snapdragon X Elite |
| --- | --- |
| Process technology | TSMC 4nm |
| CPU Cores | Qualcomm Oryon, 12-cores, up to 3.8 GHz Single and dual-core boost up to 4.3 GHz |
| GPU Cores | Qualcomm Adreno, up to 4.6 TFLOPs |
| NPU | Qualcomm Hexagon, 45 TOPs, Micro nPU on the Qualcomm Sensing Hub |
| Memory | Up to 64GB LPDDR5x-8533 |
| Storage | NVMe SSD over PCIe Gen 4, UFS 4.0, SD v3.0 |
| Camera | Qualcomm Spectra ISP, UP to 64MP single camera, Dual camera 2x 36 MP, 4K HDR video capture |
| Cellular | Snapdragon X65 5G Modem |
| Connectivity | Qualcomm FastConnect 7800; Wi-Fi 7, Wi-fi 6E, Wi-FI 6, Bluetooth 5.4 |
The chip will have up to 64GB of LPDDR5x RAM, with up to 136 GB/s of memory bandwidth, and 42MB of total cache.
Qualcomm is pushing the chip as having "best-in-class" multi-threaded CPU performance. The company showed journalists charts of performance compared to a competitor's 10-core and 12-core laptop chips, showing up to twice the performance in Geekbench 6.1 at one-third of the power. (Qualcomm didn't name the chips in its presentation, but later told me the 10-core chip is a Intel Core i7-1355U and the 12-core chip is a Core i7-1360P). Compared to a 14-core chip on the same test (later clarified as the Intel Core i7-13800H), Qualcomm showed significant improvements in performance per watt, and it suggested the Snapdragon X Elite gets up to a 60% performance improvement.
Image 1 of 3
The company also claims a "50% better peak multi-thread performance" against an "ARM-based competitor." Though it didn't say which competitor, in a briefing Qualcomm suggested it was the "latest M2," presumably the standard Apple M2. That slide doesn't even have an accompanying chart, making Apple's briefings looks deeply technical in comparison.

All of this is to say that while it sounds exciting, we'll need to test a laptop with one of these chipset to see how it really performs.
The integrated graphics consists of Qualcomm's Adreno GPU, which it says delivers up to 4.6 Teraflops of performance. It supports a laptop screen up to 4K at 120 Hz with HDR 10, with external support for three 4K monitors or dual 5K displays. (Apple's M2 Pro only supports two external displays, while the M2 Max can handle four, depending on resolution and refresh rate).
Image 1 of 2
Again, Qualcomm used unnamed competitors in its comparirons, but later clarified when asked specifically that "Competitor A" is the Intel Core i7-13800H, while "Competitor B" is the AMD Ryzen 9 7940HS. It claims the Snapdragon X Elite's GPU offers approximately twice the performance of the competition in 3D Mark WildLife Extreme at one-fourth the power, while it claimed 80% improvement at one-fifth the power against a different integrated GPU.
Qualcomm isn't listing a specific TDP for the Snapdragon X Elite. I've been told that it "dynamically scales performance across various TDPs," which will seemingly depend on what laptop manufacturers choose to do with it. The company suggested that the chip will be in several form factors, including clamshells, 2-in-1s, and both fanless and actively cooled machines, the latter of which would almost certainly provide the strongest performance.
All About AI
Possibly because everything is about AI now, or possibly because Qualcomm has been building AI features for smartphones for a bit now, it's no surprise that Qualcomm is pushing the Snapdragon Elite X as a chip meant to handle generative AI tasks.
"You will see the NPU, or the intelligence in the PC, get elevated to a level that no one has ever seen before…" Kondap said. "What we're focused on is taking all of the models that we all hear about, like Llama 2 and stuff, making sure they drive the best experience, and then enabling this whole ecosystem of applications as well as partnerships that ISVs [independent software vendors] and partners can take advantage of this NPU to drive a much better experience."

Qualcomm claims you can run 13 billion parameters on device (it specifically called out Meta's Llama 2 open source language model). It also suggested it could run a 7-billion parameter model at 30 tokens per second. Qualcomm says its AI Engine has a 2.5 times faster tensor accelerator than previous laptop chips, with twice as much shared memory. Qualcomm is suggesting the Snapdragon X Elite's NPU is operating 45 trillion operations per second (TOPS).
Image 1 of 2
Kondap predicts that enterprise may be among the first to embrace AI, and that models running on device, as opposed to in the cloud, will be important for security.
Another smaller NPU, the "Micro NPU" is part of another part of the chip that Qualcomm calls the "sensing hub," which includes… well, the sensors, including cameras, microphones, and also connectivity. This is the part of the chip controlling the Wi-Fi module (including Wi-Fi 7 support), and camera features (Qualcomm says it's an "always-sensing ISP").
Qualcomm states that the new chip supports Windows Studio Effects, but that's table stakes. Heck, Qualcomm already did that on Surface devices. The company also promises support for "many other AI-accelerated applications and experiences." The bet, then, is that many more AI apps are going to come with a focus on local performance.
Efficiency, we're told
For Apple, switching from x86 to Arm brought huge gains in efficiency. That's been the promise for Windows on Arm, but it hasn't materialized yet. Qualcomm is calling the Snapdragon X Elite's efficiency "game-changing."

In a press release, Qualcomm claimed that the chip is efficient enough to support "multiple days of battery life." I suspect that includes time with the device asleep. The company hasn't ball-parked any numbers. On the one hand, that makes sense: Battery life depends on the device, including the size of the battery, as well as other parts like the display. On the other hand, we'll have to wait quite a while to see how long these chips last on our battery test.

Over the summer, reports popped up that Qualcomm was requiring the use of its power management integrated circuits (PMICs) with the Oryon-based processors. Kondap said that Qualcomm's PMICs are "an option for OEMs to choose," and that the company has been providing them for "many years now."

"We come from a legacy where, for us, power and performance per watt is very important in how we architect our platforms…" he said, pointing out all of the Snapdragon Elite X's features. "We control the power within our SoC very tightly, right? So we have a lot of, for example, dedicated power rails on how we manage power across different use cases and how this is managed. And there's a reason why we spend a lot of time thinking about this first, because it obviously matters, right? If you go back to any consumer and ask what's the most important thing to them, they will say battery life."
Snapdragon X Elite laptops and Windows compatibility
The Snapdragon X Elite will show up in computers from "leading OEMs" in mid-2024, according to Qualcom''s press release. As of this writing, there haven't been any announcements about who Qualcomm's partners are and what kinds of devices they plan to build. I'm told we'll hear more about partners during the Snapdragon Summit, though product specifics may be further out.
"You'll start to see devices drive a good, premium experience," Kondap said. "So you'll see us in multiple form factors, right from whether they're thin and light fanless designs all the way to detachable laptops to clamshell. So you'll see us in a variety of form factors over time with the Snapdragon X Elite." He notes, however, that Qualcomm is "obviously not targeting high end gaming as a category with X Elite right now."
Kondap suggests, that with partnerships with Adobe, Microsoft, and Da Vinci, that "casual content creation" will be a focus for the laptops, and perhaps "casual gaming."

Perhaps the biggest worry I've had with Snapdragon-based laptops before is app compatibility. Some software has never been made native, and I've seen issues with games and anti-virus. Kondap tells me that in partnership with Microsoft, "significant" progress has been made.

Part of this, Kondap suggests, is due to the Windows on Arm Dev Kit (previously known as Project Volterra). "We actually have lots of developers working on these platforms, optimizing specifically to porting their applications on Snapdragon," he said.

That is the second part of a three-step process, he suggests. The first is that Qualcomm and Microsoft get the emulation up to snuff so that any app you open works. The second is getting developers to make native apps for Arm and Snapdragon. Third is getting developers to use the NPU, Oryon cores and other parts of the new chip to take full advantage of it. He said the emulation is looking "very promising," and that Qualcomm is going after a long list of applications - perhaps the top 200 to 300 apps. Of course, he points out that Microsoft has made its apps native, and that more anti-virus and VPNs, previously problematic apps, are becoming native.

We'll see how well it all works when these laptops are released in 2024.
Join the experts who read Tom's Hardware for the inside track on enthusiast PC tech news — and have for over 25 years. We'll send breaking news and in-depth reviews of CPUs, GPUs, AI, maker hardware and more straight to your inbox.
Andrew E. Freedman is a senior editor at Tom's Hardware focusing on laptops, desktops and gaming. He also keeps up with the latest news. A lover of all things gaming and tech, his previous work has shown up in Tom's Guide, Laptop Mag, Kotaku, PCMag and Complex, among others. Follow him on Twitter: @FreedmanAE