The Dell XPS 15 is a good all-around machine with an attractive (if aging) design that could benefit from a new webcam and more ports.
Pros
+

Vibrant OLED display

+

Strong performance

+

Attractive chassis
Cons
-

720p webcam underperforms

-

Port selection could be better
Why you can trust Tom's Hardware Our expert reviewers spend hours testing and comparing products and services so you can choose the best for you. Find out more about how we test.
Dell's XPS family has long been known for delivering powerful productivity-minded laptops for consumers that regularly rank among the best ultrabooks, and that tradition continues with the new XPS 15 (9530). The laptop features a familiar chassis enhanced with Intel 13th generation H-Series "Raptor Lake" processors and Nvidia's new GeForce RTX 40 Series GPUs (Core i7-13700H and GeForce RTX 4070 in our $2,799 review sample).
This year's model carries over the impressive OLED display, but some of the issues that gave us pause on last year's XPS 15 (9520) annoyingly carry over to this year's version. Still, it gets enough right to recommend.
Design of the Dell XPS 15 (9530)
If the new Dell XPS 15 (9530) looks familiar, it's because it uses the same chassis as last year's model, right down to the carbon fiber weave on the palm rest flanking the large touchpad.
The chassis is constructed of aluminum with chamfered edges that are polished to a high sheen. Ultra-thin bezels on all sides surround the 15.6-inch 3.5K (3456 x 2160) InfinityEdge display. And if you look closely along the leading edge of the display lid, you'll find two tiny holes along the chamfered edges – this is where you find the XPS 15's dual-array microphones.
Image 1 of 7
While Apple added ports (HDMI, SD slot) to its 14-inch and 16-inch MacBook Pros after years of complaints from customers, Dell took the opposite approach with the XPS 15. There's a single USB 3.2 Type-C port and an SD slot on the right side of the chassis. The left side of the chassis is home to two Thunderbolt 4 ports. Unfortunately, there's no HDMI or Ethernet port, which is a sacrifice Dell is willing to make in the name of thinness. As a consolation prize, a small adapter with an integrated USB-C connector is included in the box, giving back one USB Type-A port and one HDMI port. Another thing to consider is that the XPS 15 charges via USB-C, so you're down to two available ports when charging.
The XPS 15 weighs 4.23 pounds and measures 13.68 x 9.06 x 0.71 inches. In comparison, the 14-inch MacBook Pro weighs 3.5 pounds with dimensions of 12.31 x 8.71 x 0.61 inches, though that machine doesn't have a discrete GPU. The slightly larger Samsung Galaxy Book 3 Ultra is lighter at 3.95 pounds and measures 13.99 x 9.86 x 0.65 inches, while the older XPS 15 (9520) is practically identical dimensionally to the new XPS 15 (9530).
Dell XPS 15 (9530) Specifications
Swipe to scroll horizontally
| | |
| --- | --- |
| CPU | Intel Core i7-13700H |
| Graphics | Nvidia GeForce RTX 4070 (8GB GDDR6, 2,225 MHz Boost Clock, 140 W Max Graphics Power) |
| Memory | 32GB DDR5-4800 |
| Storage | 1TB M.2 PCIe Gen 4 SSD |
| Display | 15.6-inch, 3456 x 2160, 16:10, OLED touchscreen |
| Networking | Intel Killer Wi-Fi 6 1675 (AX211), Bluetooth 5.2 |
| Ports | 2x Thunderbolt 4, USB 3.2 Gen 2 Type-C, 3.5mm headphone jack, SD card slot |
| Camera | 720p webcam |
| Battery | 86 WHr |
| Power Adapter | 130 W |
| Operating System | Windows 11 Home |
| Dimensions (WxDxH) | 13.68 x 9.06 x 0.71 inches / 344.4 x 230.1 x 18.03 mm |
| Weight | 4.23 pounds / 1.92 kg |
| Price (as configured) | $2,799.00 |
Productivity Performance on the Dell XPS (9530)
Our XPS 15 review sample came configured with an Intel Core i7-13700H, Nvidia GeForce RTX 4070, 32GB of RAM and a 1TB SSD.
The XPS 15 put up a strong showing in the CPU-heavy Geekbench 5 benchmark, recording single- and multi-core scores of 1,880 and 12,478, respectively. This performance put it slightly ahead of the Galaxy Book 3 Ultra that uses the same Core i7-13700H processor. The previous generation XPS 15 (9520) pulled slightly ahead of the Galaxy Book 3 Ultra in single-core but trailed all competitors in the multi-core score. Apple's MacBook Pro took top honors in both categories, with a significant advantage in multi-core performance.
Image 1 of 4
Our storage benchmark, which involves transferring 25GB of test files, was a strong point for the XPS 15, coming in at 2,060.98 MBps. This was within earshot of the first-place Galaxy Book 3 Ultra (2,075.85 MBps) and well ahead of the previous generation XPS 15 (9520) at 1,637.72 MBps.
Dell's new laptop performed well in our Handbrake test, which transcodes a 4K video to 1080p. The XPS 15 finished in five minutes and one second compared to its predecessor's 5:42. However, the MacBook Pro was the big winner, running away with the competition with a time of just four minutes and two seconds.
To stress test productivity laptops, we perform 20 consecutive runs of Cinebench R23. The XPS 15's first run resulted in a score of 15,646.17 and overall fell from there. There was a slight uptick in runs six through nine, but the downward slide returned for the remaining runs. During this time, the Core i7-13700H's performance cores averaged 3.07 GHz, while the efficiency cores averaged 2.52 GHz. The CPU package averaged 87.55 degrees Celsius (189.59 degrees Fahrenheit)
Dell doesn't market the XPS 15 as a gaming machine but outfits it with a relatively potent Nvidia GeForce RTX 4070 GPU. We ran a few games to see how the XPS 15 handles itself, and it delivered 67 frames per second at 1080p resolution in Shadow of the Tomb Raider and 24 fps at its native 3456 x 2160. Likewise, it delivered 64.51 fps in Borderlands 3 and 25.7 fps at 3456 x 2160.
Display on the Dell XPS (9530)
The XPS 15 uses a 15.6-inch 60 Hz OLED touchscreen, just like its predecessor. 16:10 aspect ratio displays are becoming more popular among gaming and productivity laptops, and Dell goes that route here with a 3456 x 2160 resolution.
OLED panels excel in their unmatched contrast, delivering inky blacks and rich colors; that is no exception with the XPS 15. Interestingly, the numbers we recorded for the XPS 15 differed significantly (for the better) from the previous generation model. Perhaps Dell switched to a new vendor? The Dell covered 137.9% of the DCI-P3 color gamut and 195% of sRGB. The older XPS 15 (9520) yielded 86.9 percent and 123 percent, respectively.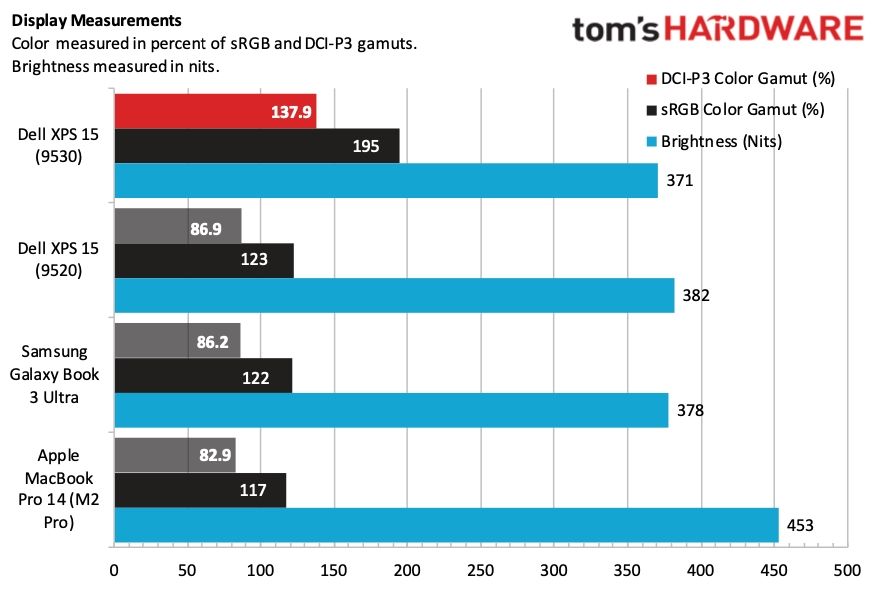 Brightness digressed year-over-year slightly to 371 nits, but it's not a difference that you'd notice with the naked eye in everyday use. However, the MacBook Pro was the brightness champ in this group at 453 nits. I had no issue with brightness inside a well-lit home office or outside in partly cloudy conditions.
One of the first things that struck me about the display is how black the blacks are. This became readily apparent when I went to YouTube, and the user interface was locked in dark mode. Even with the brightness cranked to the maximum setting, the way that the white text and video thumbnails "popped" on the YouTube home screen was jarring (in a good way).
As a car nut, the first video I queued up was Throttle House's review of the 2023 BMW M2. The vibrant colors extended to the foliage and natural vistas in the background of the driving footage and the brilliant blue skies. But the display really put the "arrest me red" color of the M2 at the forefront. And even though the car itself is hideous, your eyes are immediately drawn to the glorious shade of red.
Keyboard and Touchpad on the Dell XPS 15 (9530)
I don't have many qualms with the chiclet keys on XPS 15. I like their tactility, and the key presses are reasonably quiet without being annoying. However, my biggest gripe with the keyboard mirrors my colleague Andrew Freedman's assessment of the XPS 15 (9520); the arrow keys leave much to be desired. I couldn't get used to the half-height up/down and full-size left/right arrow keys. I especially had trouble adjusting to the placement of the up/down keys and wished Dell had found a way to incorporate an "inverted T" arrangement.
With that said, a quick trip to keyhero.com for a typing test showed 80.01 words per minute with 93.81% accuracy. For comparison, I achieved 75 words per minute with 90.61% accuracy on the Galaxy Book 3 Ultra.
The XPS 15 features a relatively large 3.5 x 6-inch touchpad that is top-hinged with a satisfying click.
Audio on the Dell XPS 15 (9530)
The speakers on the XPS 15 are typical for a laptop in this class; Dell includes two 2.5-watt stereo woofers and two 1.5-watt stereo tweets. Even at moderate levels, the sound output sends noticeable vibrations throughout the chassis and keyboard. It wasn't bothersome to me, but some people might find the vibrations objectionable.
With that said, I played Röyksopp's "Running to the Sea," and even with the volume set at 30%, it was loud enough to fill my home office. Susanne Sundfør's vocals soar on the track along with the ripping background drums. However, cranking up the volume to even 50% was overpowering to my ears. While distortion levels were low at maximum volume, the output was louder than anyone could comfortably tolerate for more than a few seconds in close quarters.
If you want to adjust your audio settings, you can do so by opening the MyDell app. Here you'll find fine-tuned controls for the speaker and headphone output, along with an option to turn on 3D audio when using the latter. You can also adjust the equalizer from the app.
Upgradeability of the Dell XPS 15 (9530)
The bottom panel of the XPS 15 is fastened in place with eight T5 Torx screws. However, removing that panel proved to be nerve-racking. Even with the screws removed, the panel is firmly attached to the chassis. So I used a plastic spudger tool to begin prying near the rear hinge and moving toward the front of the chassis. Once I reached the front of the chassis with the spudger, I could wiggle my finger in and pry off the panel.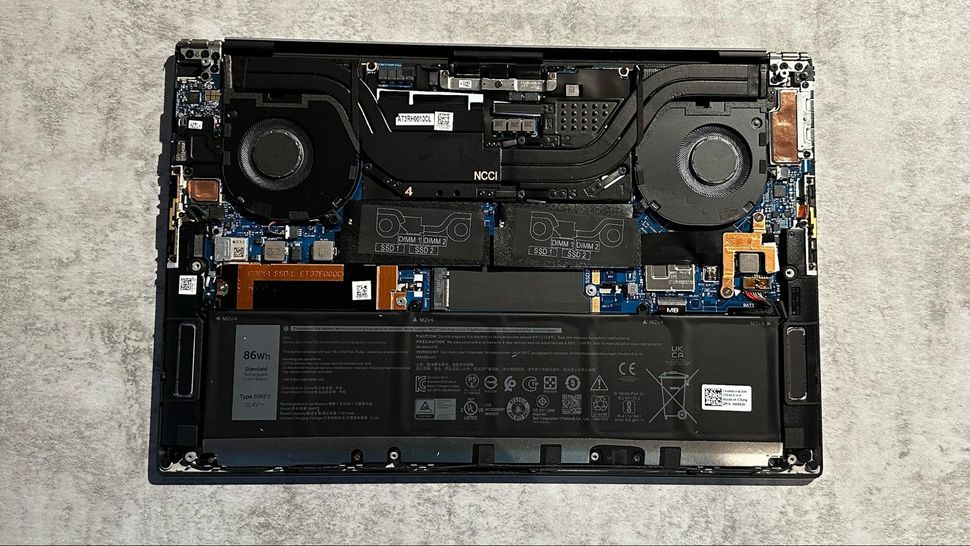 Once inside, my eyes gazed at the 86 Whr battery, which is user-replaceable. There are also two SO-DIMM slots, both of which were filled in our review sample (2 x 16GB DDR5-4800). In addition, there are two M.2 slots for an SSD, one of which was occupied by a 1TB Hynix PC801 PCIe 4.0 SSD. That leaves the other for adding more storage space down the line when you need it. As for the Killer Wi-Fi card, it is soldered on the motherboard.
Battery Life on the Dell XPS 15 (9530)
Battery life has been a relative strength for XPS 15 laptops in the past, and that continues with the XPS 15. We run a workload that combines web browsing, video streaming, and OpenGL tests with the display brightness dialed in at 150 nits.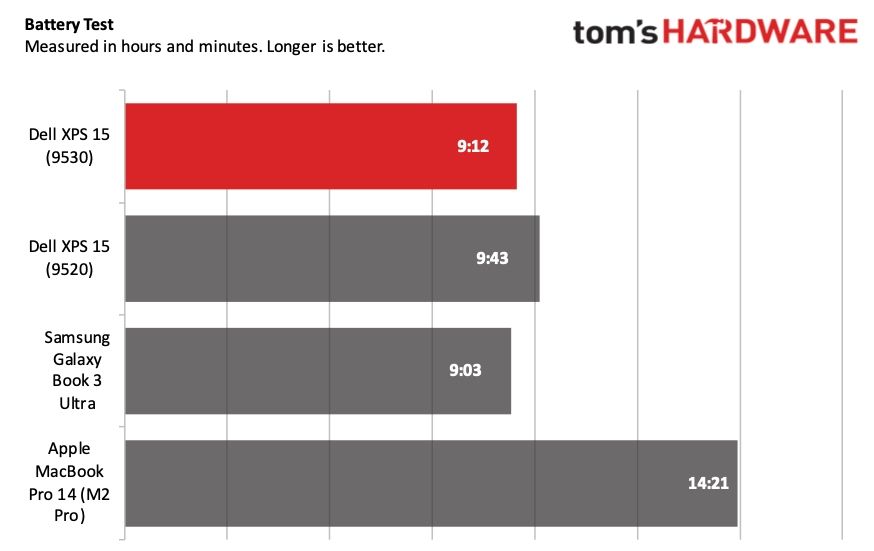 The XPS 15 lasted nine hours and 12 minutes during the test, half an hour shorter than the preceding XPS 15 (9520). The Galaxy Book 3 Ultra came in last place at nine hours and three minutes, while the MacBook Pro was the battery life champion at 14 hours and 21 minutes. Apple is unmatched in the battery life sphere thanks to its M2 SoC, which is even more efficient than its M1-based predecessors.
Heat on the Dell XPS 15 (9530)
Our heat measurements on laptops are obtained while running a Cinebench R23 stress test. We measured 118.76 degrees Fahrenheit (48.2 degrees Celsius) between the G and H keys, while the temperature at the touchpad dropped to 87.08 F (30.6 C).
Image 1 of 2
The XPS 15 measured 117.5 F (47.5 C) on its underside at its hottest point (near the center of the vents).
Webcam on the Dell XPS 15 (9530)
The webcam is another area where we wish Dell had improved compared to the previous generation. Unfortunately, we're stuck with the same underperforming 720p webcam that is outclassed by the 1080p units in the competition.
The camera is low on detail and color representation. My face looked muddy, and there was a weird outline drawn around my head, almost as if someone had sketched around it with a pencil. The overall image is grainy and objects in the background could be clearer.
With a price tag of $2,799 as configured (and even starting at $2,249), Dell really should put a much better camera in the XPS 15. This is the second year we've complained about this "miss." Hopefully, Dell will address this with the next model.
Software and Warranty on the Dell XPS 15 (9530)
Dell loads the XPS 15 with several apps, many of which are superfluous. MyDell gives you quick access to power, display, and audio settings. It also gives you access to software purchased with your laptop (clicking "setup" under Purchased apps just opens another app: Dell Digital Delivery).
Dell Update shows your service tag and allows you to check for systems updates pertinent to your laptop. Killer Control Center gives you granular control over the installed Wi-Fi 6 card, including the Prioritization Engine and Intelligence Engine.
Of course, there are also the usual shortcuts in the Start menu to apps like Kindle, Spotify, WhatsApp, TikTok, and ESPN.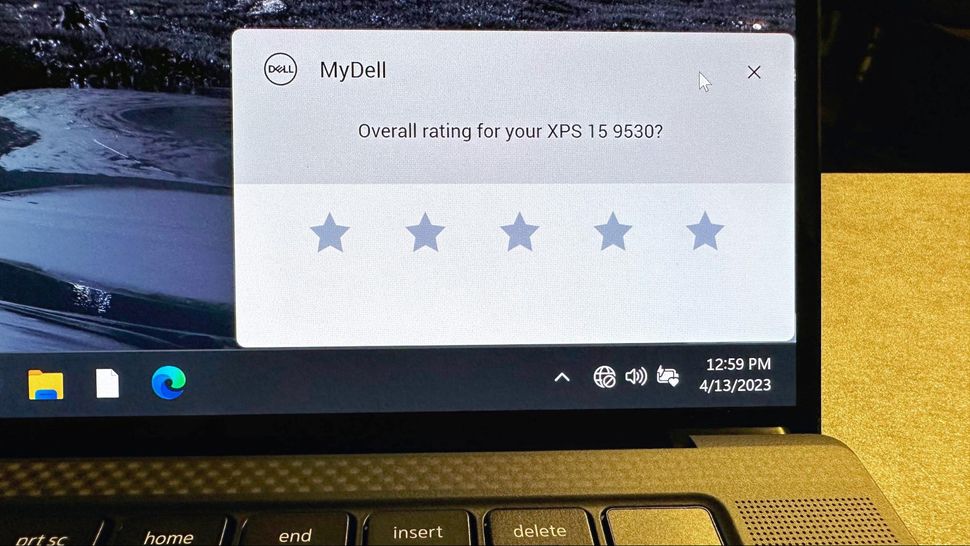 However, the most puzzling and annoying aspect of the XPS 15 software experience came when turning it on for the first time. My XPS 15 review unit was factory sealed in the box, and upon my first boot into Windows 11 Home, I was greeted with a pop-up asking me to rate my overall experience with the XPS 15 on a 5-star scale. Excuse me? Dell is already hounding customers to give their opinion without even trying the laptop for an extended period.
I hit the "X" and went about testing and saw it pop up for the five subsequent reboots. It seemingly got the hint that I wasn't interested, as I haven't been nagged since.
The XPS 15 comes backed by a one-year warranty.
Dell XPS 15 (9530) Configurations
The major configuration options offered on the XPS 15 (9530) are an Intel Core i7-13700H or Core i9-13900H processor, Nvidia GeForce RTX 4060 or GeForce RTX 4070 GPU, and a FHD+ (1920 x 1200) IPS display or a 3.5K (3456 x 2160) OLED display.
A base configuration with a Core i7-13700H processor, GeForce RTX 4060, 16GB of DDR5-4800 (2x 8GB), 512GB SSD, and FHD+ display costs $2,249. Our configuration with a Core i7-13700H, GeForce RTX 4070, 32GB DDR5-4800 (2x 16GB), 1TB SSD, and a 3.5K OLED rings in at $2,799.
A maxed-out configuration with a Core i9-13900H, Windows 11 Pro, GeForce RTX 4070, 64GB DDR5-4800 (2x 32GB), 8TB SSD, and 3.5K OLED will set you back $4,699.
Bottom Line
Dell's XPS 15 (9530) brings us more of the same, for better or worse. We get the same attractive and high-quality chassis as last year's model along with a vibrant 3.5K InfinityEdge OLED display.
However, the downsides we wanted to be addressed in last year's model remain a problem nearly a year later. The webcam (720p) is still subpar, and we're limited to just three Type-C expansion ports. In addition, one of those ports is lost when charging the laptop. And a new issue presented itself with Dell's comically intrusive pop-up requesting that customers rate the machine when it boots for the first time (and on subsequent boots).
In our benchmark suite, the $2,799 XPS 15 was a solid performer and delivered respectable battery life at just over nine hours per charge. At this price point, it may be worth looking at the similarly-priced Samsung Galaxy Book 3 Ultra among Windows 11 laptops. You do take a hit on resolution (2880 x 1800) and graphics (GeForce RTX 4050). However, the Galaxy Book 3 Ultra earns back some points with a 120 Hz refresh rate and better port selection.
Interestingly, the 14-inch MacBook Pro is probably a better option if you're willing to try macOS. The MacBook Pro starts at $1,999, but configured with a 10-core M2 Pro, 32GB of RAM, and a 1TB SSD, it costs $2,599, undercutting the XPS 15 by $200, though you get a mini-LED screen, not OLED
The XPS 15 remains a solid pick among productivity laptops in this class, but the competition isn't exactly standing still. The laptop still has a few rough edges that need polishing to further solidify its standing as one of the best ultrabooks on the market.
MORE: How to Buy a Gaming Laptop
MORE: Best Gaming PCs
MORE: Best Ultrabooks and Premium Laptops
MORE: How to Buy a Gaming Laptop
MORE: Best Gaming PCs
Brandon Hill is a senior editor at Tom's Hardware. He has written about PC and Mac tech since the late 1990s with bylines at AnandTech, DailyTech, and Hot Hardware. When he is not consuming copious amounts of tech news, he can be found enjoying the NC mountains or the beach with his wife and two sons.