Benchmark Results
Our standard benchmarks and power tests are performed using the CPU's stock frequencies (including stock Thermal Velocity Boost), with all power-saving features enabled. Optimized defaults are set in the BIOS and the memory set using the XMP profiles. For this baseline testing, Windows is set to the balanced power plan.
Synthetic Benchmarks
Synthetics are a great tool to determine if a board runs out of spec, as identical settings should produce similar performance results. Advanced memory timings are the one place where motherboard makers can still optimize for either stability or performance, though, and those settings can impact some testing.
Image 1 of 21
Image 2 of 21
Image 3 of 21
Image 4 of 21
Image 5 of 21
Image 6 of 21
Image 7 of 21
Image 8 of 21
Image 9 of 21
Image 10 of 21
Image 11 of 21
Image 12 of 21
Image 13 of 21
Image 14 of 21
Image 15 of 21
Image 16 of 21
Image 17 of 21
Image 18 of 21
Image 19 of 21
Image 20 of 21
Image 21 of 21
As we move on to performance results, we find a spread depending on the test. For example, 7Zip results were a bit slower than average, while Cinebench results were overall average. POVRay showed that the single-core results are slightly slower than average, while the multi-core results mixed in with the others. Performance in the PCMark suite was above average almost across the board -- a good showing there. Memory bandwidth results in AIDA also floated around the middle of our results. In the end, we didn't see anything alarming from our synthetic benchmarks.
Timed Applications
Image 1 of 4
Image 2 of 4
Image 3 of 4
Image 4 of 4
LAME testing showed the Z590 Tomahawk as one of the fastest results at 11.28 seconds, bested only by the Biostar Valkyrie (surprisingly). Corona and Handbrake's results spun a different tale, running slower than average in both of those heavily multi-threaded tests.
3D Games and 3DMark
Image 1 of 4
Image 2 of 4
Image 3 of 4
Image 4 of 4
We've recently updated our game tests to F1 2020 and Far Cry: New Dawn. The games are run at 1920x1080 resolution using the Ultra preset. As the resolution goes up, the CPU tends to have less of an impact. The goal with these settings is to determine if there are differences in performance at the most commonly used resolution with settings most people use or at least strive for.
In 3DMark Fire Strike, the 16,132 points scored places it on the lower half of average, but the difference between this group is 200 points or around 1% (run variance). The Time Spy score was also on the lower side of average, but here again, the difference between results is less than 2%, so you're looking at very little difference from worst to first.
Moving on to games, The Far Cry: New Dawn result was just above the average, reaching 144 FPS. F1 2020 results were on the faster side at 210 FPS. But here again, the difference between the quickest and slowest (using the Rocket Lake-based processor) was only around 2.5%. In the end, the Tomahawk did well in our gaming tests.
Power Consumption / VRM Temperatures
We used AIDA64's System Stability Test with Stress CPU, FPU and Cache enabled for power testing, using the peak power consumption value. With Rocket Lake, we needed to disable AVX-512 instruction sets. Otherwise, temperatures are out of control at stock speeds on some boards. The wattage reading is from the wall via a Kill-A-Watt meter to capture the entire ecosystem. The only variable that changes is the motherboard; all other parts are the same.
On the power consumption side, the Tomahawk was on the higher side of average at 184W (average with this dataset is 170W). While idle, the system used around 71W, which is below average, while the load wattage reached 296W and is well above average (271W). The 296W reading is tied with the ASRock Z590 OC Formula for the most power used under on this platform load so far.
Image 1 of 4
Image 2 of 4
Image 3 of 4
Image 4 of 4
MSI's 60A VRM configuration worked well overall, managing our Intel Core i9-11900K CPU at both stock speeds and while overclocked. The VRM peaked at just over 60 degrees Celsius when running at stock speeds, which is on the warmer side of most results so far. We also had some trouble overclocking when we recorded these results. At the time, we were only able to reach 5 GHz. So the results we have here when overclocked are close to the stock results.
After working a bit more on the overclock, we managed to reach 5.1 GHz. However, at that point, the temperature sensors were on another board. That said, the Tomahawk has a sensor on the MOSFETs and it ran around 10 degrees warmer than stock, peaking at almost 80 degrees Celsius. While this is hot, it's within operational range.
Overclocking
That aside, this board just did not want to stabilize our overclock the first time, despite a couple of hours trying. Either the voltage was too much and caused overheating, or too little, and the overclock wouldn't pass our stress test. In the end, I moved the board over to the second test bench while I moved on with other reviews and went at it again in the downtime. Finally, I was able to reach 5.1 GHz.
When overclocking the Core i9-11900K, we decided to do so by testing without AVX-512 instructions. When you unlock all of the power limits, you're thermally limited, with the CPU reaching 100 degrees Celsius in several seconds. Since every board is different in following (or not following) Intel specifications, we've removed that variable. The bottom line is that if you need to use these instructions, you'll need to set a significant offset compared to non-AVX-512 loads. To that end, we settled on a 5.1 GHz overclock at around 1.3V. Our CPU uses around 225W in this configuration, which lands between stock power use (195W) and AVX-512 power use (~265W) and is the end of the line due to thermal constraints.
Overclocking on the Tomahawk was as easy as the rest, at least in terms of getting things set up. We set voltages, disabled and TVB boost(s), and any Adaptive boost, so the clocks hold and are unaffected by these automated features. Most overclocking options were found easily in the OC section, though some power options are found in different sub-sections.
On the memory side of things, the experience was painless. The DDR4 3600 kit dropped in nicely and ran at 1:1 ratio out of the gate and our DDR4 4000 sticks worked by simply applying XMP as well. Bandwidth results in AIDA were as expected, so there's nothing out of the ordinary here.
Final Thoughts
MSI's latest Tomahawk motherboard comes to the table as a well-rounded mid-range solution. In addition to the native PCIe 4.0 and Rocket Lake support, the Z590 Tomahawk improved upon the Z490 version by adding Wi-Fi 6E capability and shifting to the latest Realtek audio codec. It still comes with plenty of USB ports, including a USB 3.2 Gen2x2 Type-C port. Storage capabilities increased with the Z590 version, adding a third M.2 socket. Also worth mentioning is the updated appearance. Although the change isn't significant, the lack of stenciling and patterns on the PCB and other changes to the heatsinks took the looks up a notch.
Performance on the Z590 Tomahawk was overall average. In most tests, you'd be hard-pressed to notice a difference without looking at benchmark results -- some will. That said, if you're concerned about the out-of-box performance in productivity/content creation, simply tweak the system so it runs faster. You can enable Intel's Adaptive Boost Technology if you have an i9-11900K, or overclock other CPUs.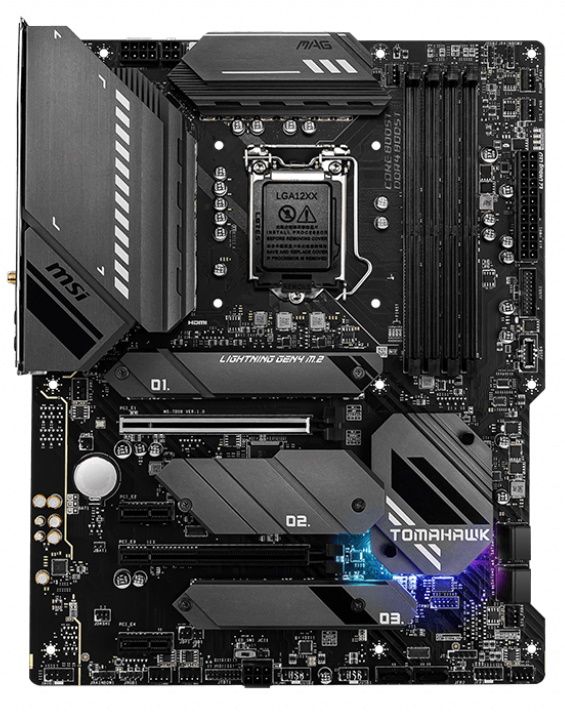 That said, competition is stiff in this mid-range price segment, with each major vendor having at least one SKU in the ballpark. ASRock has the Z590 Extreme WIFI ($247.99), Asus' closest via price and function is the TUF Gaming Z590-Plus WIFI 6 ($259.99 - review soon!), and there's also Gigabyte's Z590 Aorus Pro AX ($269.99). Although looks are subjective, our nod goes to the Aorus Pro AX with more PCB covered with brushed-aluminum heatsinks and shrouds.
Hardware-wise, all of these boards have capable power delivery, but the Gigabyte takes the crown with a 12-phase VRM that uses 90A SPS MOSFETs. Outside of that, only the MSI and Gigabyte sport the latest and greatest 408x audio codec. All boards include at least one 2.5 GbE, but the MSI and ASRock boards are the only ones that include Wi-Fi 6E. That said, Wi-Fi 6E or the latest and greatest audio typically aren't deal-breakers as many don't have 6E capable routers (or other devices), nor the ear and speakers to get the most out of the audio codec. It's a tough choice between them.
Overall, the MSI MAG Z590 Tomahawk is a good-looking and feature-laden motherboard. Out of the box, performance varied depending on the load. However, any differences faster or slower than average weren't significant. We trudged through overclocking but did reach our goal, albeit with some warm-running VRMs. The Tomahawk has a lot of features you'd expect at this price point and an appearance that fits in with most build themes. If you're looking for a mid-range board with all the bells and whistles, the Z590 Tomahawk WIFI is a solid option to build your PC around.
MORE: Best Motherboards
MORE: How To Choose A Motherboard
MORE: All Motherboard Content