MSI's MEG Z790 Ace is an E-ATX-size board has a dark black finish and gold embellishments, yielding a high-end aesthetic that's sure to look good inside most chassis. Priced at $699.99, it's not inexpensive, but neither are most of its direct competitors.
The board not only looks good, it comes with a slew of premium features, including two 40 Gbps ports, flagship-class audio, five M.2 sockets (one PCIe 5.0 x4), dual 2.5 GbE and Wi-Fi 6E, and one of the most robust VRMs I've seen. There are also flexible USB Type-C display options, 40 Gbps ports on the rear IO, vast storage capability, and more. Just about the only thing it's missing is a 10 GbE port. Otherwise, it has all the bells and whistles of the even more expensive flagship motherboards.
Performance-wise, our MEG Ace did well across our suite of tests, running around average to a bit faster overall. Performance in our games and 3DMark tests showed it's a performant gaming board, beating the other Z790 boards we've tested so far. Below, we'll dig into the details of the board and see whether the price point knocks it out of a spot on our Best Motherboards list. Before we get into the details, here are the detailed specifications from the MSI website.
Specifications: MSI MEG Z790 Ace
Swipe to scroll horizontally
| | |
| --- | --- |
| Socket | LGA1700 |
| Chipset | Z790 |
| Form Factor | E-ATX |
| Voltage Regulator | 27 Phase (24x 105A SPS MOSFETs for Vcore) |
| Video Ports | (1) DisplayPort (via USB Type-C) |
| | (2) TB4 (Mini DP In/Out) Passthrough |
| USB Ports | (2) Thunderbolt 4 (40 Gbps) Type-C |
| | (1) USB 3.2 Gen 2 (10 Gbps) Type-C |
| | (7) USB 3.2 Gen 2 (10 Gbps) Type-C |
| Network Jacks | (2) 2.5 GbE |
| Audio Jacks | (5) Analog + SPDIF |
| Other Ports/Jack | ✗ |
| PCIe x16 | (1) v5.0 (x16) |
| | (1) v5.0 (x8) |
| | (1) v4.0 (x4) |
| PCIe x8 | ✗ |
| PCIe x4 | ✗ |
| PCIe x1 | ✗ |
| CrossFire/SLI | AMD Multi-GPU support |
| DIMM Slots | (4) DDR4 7800+(OC), 192GB Capacity |
| | 1DPC 1R Max speed up to 7800+ MHz |
| | 1DPC 2R Max speed up to 6600+ MHz |
| | 2DPC 1R Max speed up to 6400+ MHz |
| | 2DPC 2R Max speed up to 5600+ MHz |
| M.2 Sockets | (1) PCIe 5.0 x4 (128 Gbps) / PCIe (up to 80mm) |
| | (1) PCIe 4.0 x4 (64 Gbps) / PCIe (up to 110mm) |
| | (1) PCIe 4.0 x4 (64 Gbps) / PCIe (up to 80mm) |
| | (1) PCIe 4.0 x4 (64 Gbps) / PCIe + SATA (up to 80mm) |
| | (1) PCIe 4.0 x4 (64 Gbps) / PCIe + SATA (up to 110mm) |
| | Supports RAID 0/1/5 |
| SATA Ports | (6) SATA3 6 Gbps (Supports RAID 0/1/5/10) |
| USB Headers | (2) USB v3.2 Gen 2x2, Type-C (0 Gbps) |
| | (2) USB v3.2 Gen 1 (5 Gbps) |
| | (2) USB v2.0 (480 Mbps) |
| Fan/Pump Headers | (8) 4-Pin (CPU, Pump, System Fan) |
| RGB Headers | (3) aRGB (3-pin) |
| | (1) RGB (4-pin) |
| Diagnostics Panel | (1) Dr. Debug |
| | (1) EZ Debug LEDs |
| Internal Button/Switch | Power and Reset buttons, BIOS and LED on/off switches |
| SATA Controllers | ASMedia ASM1061 |
| Ethernet Controller(s) | (2) Intel (2.5 GbE) |
| Wi-Fi / Bluetooth | Intel Wi-Fi 6E AX211 (2x2 ax, MU-MIMO, 2.4/5/6 GHz, 160 MHz, BT 5.3) |
| USB Controllers | Genesys Logic GLG3590 |
| HD Audio Codec | Realtek ALC4082 (ESS ES9280AQ DAC) |
| DDL/DTS | ✗ / ✗ |
| Warranty | 3 Years |
Inside the Box of the MSI MEG Z790 Ace
MSI includes several accessories inside the box to get you started. You get the guides, notices, stickers, SATA cables, thermistors, EZ M.2 clips, and more. Below is a complete list of the included accessories.
Quick Install guide
(4) SATA Data Cables
EZ M.2 clips, M.2 screws/standoffs
EZ Front Panel Cable
(2) Thermistor cables
1 to 2 RGB LED Y cable
Rainbow RGB LED extension cable
(2) DP to Mini DP cables
Wi-Fi antenna
USB driver stick
Cable stickers
Design of the MSI Z790 Ace
The Z790 Ace sports a dark black appearance with gold highlights on an 8-layer PCB. Breaking up the black is the RGB-lit MSI Dragon in RGBs, MEG branding on the top VRM heatsink, and other smaller adornments on the M.2 heatsinks and chipset. Along with the MSI Dragon, the Ace nomenclature and a design element on the chipset sport RGB LEDs, below which gives the board a nice glow inside your chassis. It's a good-looking motherboard that won't take over the inside of your chassis with RGB bling, but still gives off premium vibes.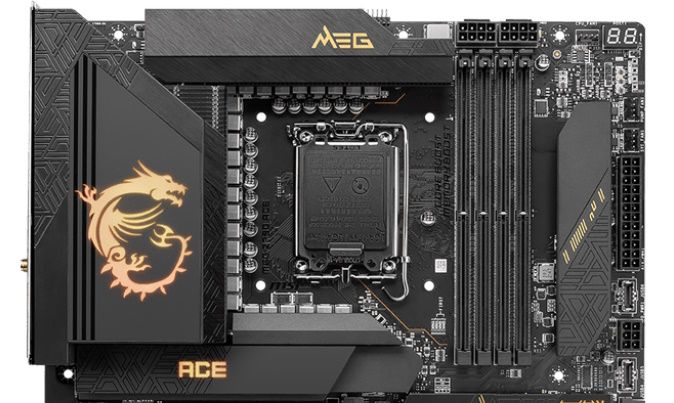 Looking at the top half of the board, we first run into the VRM heatsinks. On the Z790 Ace, MSI uses a stacked fin array design to increase the surface area and cooling capability. A heatpipe connects the three VRM heatsinks to share the load among them. For as much power as this board can output using the water cooling option, these heatsinks are a good choice. As you'll see later, they do a great job of keeping nearly 300W from the processor in check.
To the right of these and the socket area, in a unique location, is where we find the two 8-pin EPS connectors (one required) to power the processor. If you're using an AIO or water cooling, I'd connect both of these, as the socket can take over 300W of power if left unchecked.
Below the EPS connectors are four unreinforced DRAM slots with a single-sided locking mechanism on the bottom, closer to the graphics card slot. MSI lists support for up to DDR5 7800+(OC) with 1 DPC (DIMM Per Channel), a similar cap compared to other boards. We tossed in our TeamGroup DDR5-7200 kit and it worked without any adjustments.
Along the right edge is a slew of features ranging from fan and RGB headers to voltage read points. Starting with fan headers, the board has a total of eight which should be enough to keep your chassis running cool. The 4-pin fan headers support both PWM and DC-controlled devices. The CPU and Pump fans output up to 3A/36W while the System Fan headers output 2A/24W. If the eight headers aren't enough, the output is such that you can piggyback a couple of fans on a single header without worry. But as always, be sure you know how much power the fans use as not to overload the headers.
Also in this area are two 3-pin ARGB headers, and there are two 4-pin RGB headers located across the bottom. RGB control is managed through the MSI Control Center software and the Mystic Light application. There are plenty of canned LED patterns and functionality within the application.
Below the RGB headers is the EZ debug LED and 2-character debug LED to help troubleshoot POST issues. This is comprised of four LEDs that light up during the POST process and stay lit if the system hangs due to a specific issue corresponding to the lights. Meanwhile, the more sophisticated 2-character LED displays codes that provide more details. Combined, these are great tools for troubleshooting a non-functional system. Also note that, by default, the 2-character LED displays CPU temperature once past the POST process.
Moving down the right side, we run into a couple more 4-pin fan headers, the 24-pin ATX connector to power the board, two front panel USB 3.2 Gen 2x2 (20 Gbps) ports and a six-pin PCIe connector. The latter is required for the 60W PD fast charging capability, otherwise it's limited to 30W.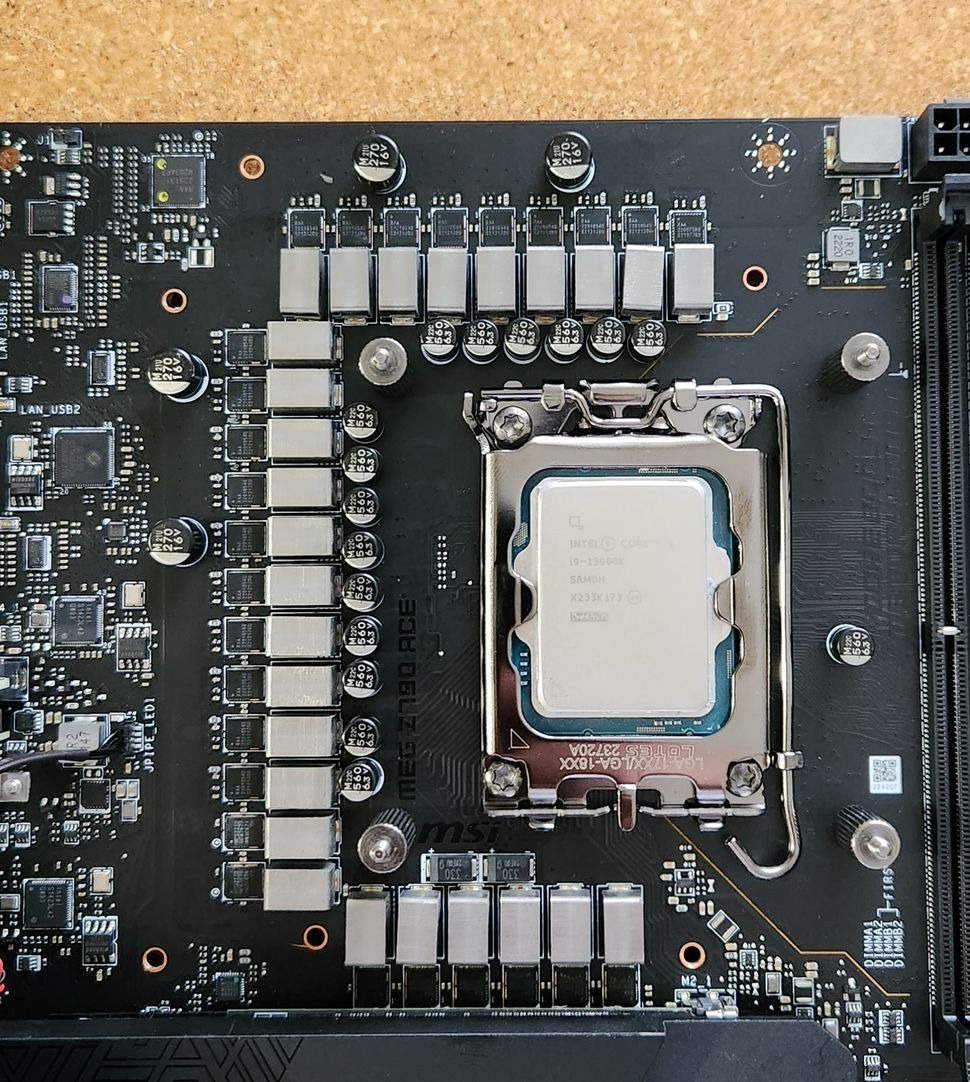 Moving on to the VRMs, power comes from the 8-pin EPS connector(s) onto a Renesas RAA229131 PWM controller. For Vcore, power then heads on to 24 105A Renesas RAA22010540 SPS MOSFETs. The 2,520 Amps available is one of the highest values we've seen and easily handles the flagship Intel Core i9-13900K at stock and overclocked. We have no concerns about the MEG Ace's overbuilt power delivery.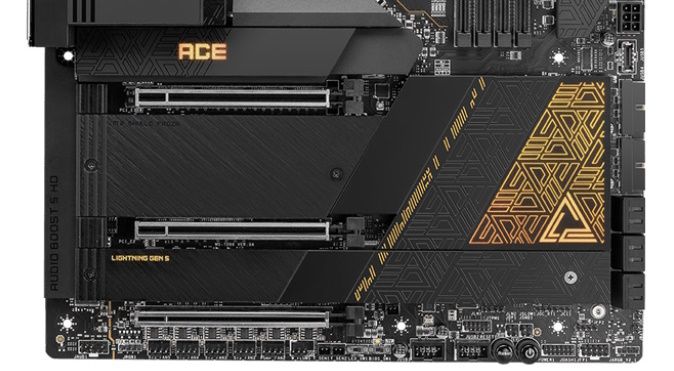 On the bottom half of the board, hidden under some shrouds, is the Realtek ALC4082 audio chip. Along with the flagship codec, MSI also uses an ESS Sabre ES9280AQ DAC/HPA combo for a flagship-class audio solution. The Realtek audio control panel is the Windows tool that makes adjustments to the audio.
In the middle of the board, we see three reinforced full-length PCIe slots. The top two slots source their lanes from the CPU (with the primary graphics slot topmost) running up to PCIe 5.0 x16, with the second slot able to run up to PCIe 5.0 x4. There is some lane sharing going on with storage, but we'll discuss that shortly when we get to storage. The last PCIe slot sources its lanes from the chipset and runs at PCIe 4.0 x4 speeds. MSI lists AMD Multi-GPU support for those who still want to use Crossfire.
Located in and around the PCIe slots are five M.2 sockets. Only one slot supports PCIe 5.0 x4 (128 Gbps) speeds and, surprisingly, it isn't the top socket with the larger heatsink. Instead, it's it's the bottom left (M2_4) socket that's the faster option. The rest support PCIe 4.0 x4 speeds, with a couple offering support for up to 110mm modules. Some sockets even offer M.2 SATA support, which you don't see too often anymore. On the lane-sharing front, the M2_4 slot (the only PCIe 5.0 socket) is disabled when PCIE_E2 (the middle slot) is populated. Additionally, SATA7 is unavailable when installing an M.2 SATA SSD in M2_5 socket. Just be aware of the sharing issues if you're trying to populate many of these storage options.
Across the bottom of the board are several exposed headers. You'll find the usual, including additional USB ports, RGB headers, as well as power/reset buttons. Below is a complete list from left to right.
Front panel audio
4-pin ARGB header
(5) System Fan headers
Waterflow header
Temperature sensor headers
LED and BIOS switches
(2) USB 2.0 headers
Power and Reset buttons
MIS Dashboard header
System panel header
4-pin ARGB header

On the preinstalled rear IO, the Z790 Ace sports a black background with gold labels on all of the ports. There are 10 USB ports in total, eight 10 Gbps ports (in red, plus a Type-C) and two 40 Gbps Type-C ports. Video outputs consist of a Type-C port as well as Mini-DisplayPort inputs for the Thunderbolt ports. There are three buttons on the far left, a clear CMOS button, Flash BIOS, and a Smart button. The dual 2.5 GbE ports sit above the USB ports, with the Wi-Fi 6E antenna connections to the right, next to the 5-plug analog plus SPDIF audio stack.
MORE: Best Motherboards
MORE: How To Choose A Motherboard
MORE: All Motherboard Content