AMD introduced its latest EPYC Embedded 9004-series processors featuring its Zen 4 microarchitecture at the Embedded World 2023 trade show. The new CPUs pack up to 96 cores and are aimed at storage, networking, firewall/security, and industrial applications.

AMD's lineup of EPYC Embedded 9004-series processors consists of ten models with 16, 24, 32, 48, 64, and 96 Zen 4 cores operating at max frequencies of 3.70–4.15 GHz and featuring a nominal thermal design power of 200W–360W. These CPUs are designed for always-on applications, so AMD uses the best silicon for them and tests them vigorously to ensure extended reliability.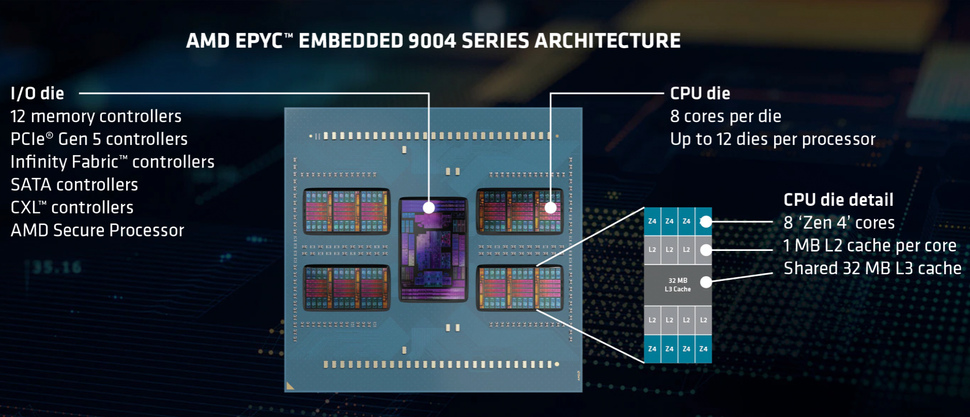 Historically, embedded machines for storage, edge, and industrial applications did not require CPUs offering extreme performance comparable to that featured by server CPUs. But modern workloads, including software defined networking, security, and advanced storage systems (especially all-flash arrays) are very demanding in terms of compute performance and input/output capabilities. Because of the increased demands, AMD's EPYC Embedded 9004-series CPUs will likely get quite popular among the embedded machine manufacturers and users.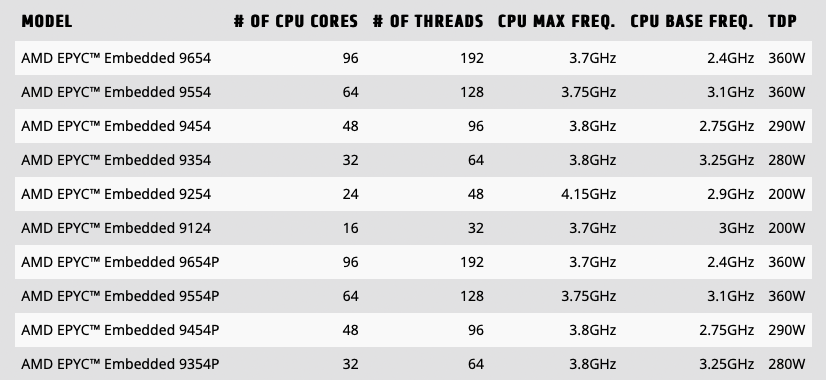 In addition to the performance and features supported by AMD's regular EPYC 9004-series processors, EPYC Embedded 9004-series CPUs bring support for NVDIMMs, non-transparent bridging (NTB) to enable data exchange between two redundant CPUs, and two SPI interfaces to off-chip ROMs for secure boot.

"Supporting enterprise-grade reliability, AMD EPYC Embedded 9004 Series processors are targeted for heavy workload, 'always-on' embedded systems requiring exceptional compute performance and I/O agility in a power-optimized profile," said Rajneesh Gaur, corporate vice president and general manager, Embedded Solutions Group, AMD. "With the launch of the EPYC Embedded 9004 Series processors, we're bringing the power of data center-level computing to embedded networking, security, storage and industrial applications."

Advantech and Siemens are the first ODM and OEM customers that will deploy AMD's EPYC Embedded 9004-series processors for their next-generation firewalls and software-defined routers, as well as enterprise and cloud storage systems. Advantech will offer an AMD EPYC Embedded 9004-based ASMB-831 server board with six DDR5 DIMMs slots (for up to 384GB of memory) as well as five PCIe 5.0 x16 and two PCIe 5.0 x8 slots for four double-wide cards. This motherboard is designed for various for applications like image analysis, industrial machine vision, facial recognition, and security surveillance.

"Siemens selected the AMD EPYC Embedded 9004 Series devices for our new high-performance, data center-class server because the processors reliably deliver performance and power efficiency while being able to operate seamlessly in extreme temperatures, as well as in settings with vibration or electromagnetic interference," said Thibault de Assi, head of business line industrial computing, Siemens. "With AMD leadership in the data center, we have been able to leverage its exceptional expertise for our industrial-grade products, where performance and efficiency are paramount. The new processors will open new opportunities for the industrial market."

AMD guarantees that its EPYC Embedded 9004-series processors will be available for up to seven years, so its customers will be able to keep selling machines based on them for years to come.