AMD's latest Ryzen 7000-series processors for desktops based on the Zen 4 microarchitecture feature a tiny RDNA-based graphics processing unit inside their I/O die (IOD). This GPU is hardly meant for gaming, but as SkatterBencher discovered, it can still be overclocked, which improves its performance by around 42% in case of AMD's Ryzen 7900 processor (via VideoCardz). This does not mean the GPU suddenly becomes a viable gaming solution, but at least it will gain performance.

AMD's Ryzen 7000-series 'Raphael' desktop CPUs integrate an RDNA 2-based GPU with 128 stream processors and 2 CUs inside their IOD. This graphics solution operates at up to 2.20 GHz and delivers about 0.563 FP32 TFLOPS of compute throughput, which is comparable to a high-end graphics card from 2007 (e.g., ATI Radeon HD 2900 XT). That's by far not enough to get decent frame rates in a modern game. Still this GPU can display graphics and playback some videos. Furthermore, it can be overclocked.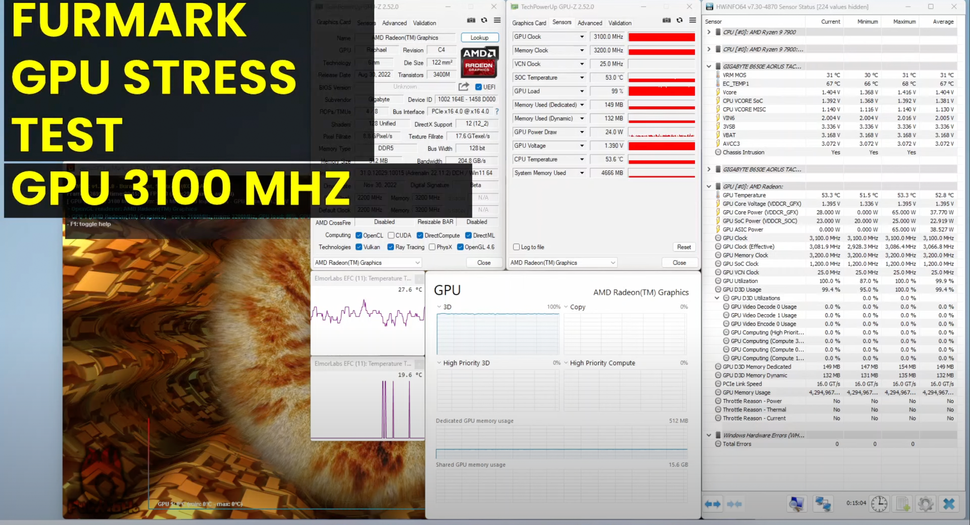 Overclocking of the integrated GPU is not a trivial task though. On the one hand, AMD's Agesa 1.0.0.4 supports overclocking the iGPU, but to squeeze all the possible performance of this graphics processor, one needs to play with AMD's Precision Boost Overdrive settings as well as increase voltages and power limits.

Meanwhile, even a significantly increased Precision Boost Overdrive power budget by itself will not get a significant improvement for the built-in GPU since it is a tiny low-end graphics solution that's not meant to perform. Therefore, it makes more sense to manually increase VDDCR_SOC voltage as well as VDDCR_GFX voltage to get more power to the integrated GPU.

By default, the GPU operates at 2.20 GHz at 0.997V, but with the voltage increased to 1.2V, the graphics processor can hit 2949 MHz. Further adjustments of voltage/frequency curvature to 1.395V help to bring GPU frequency all the way to 3.10 GHz. Meanwhile, this increases SoC power to 60.7W, up from around 38.5W by default, which means increased cooling requirements.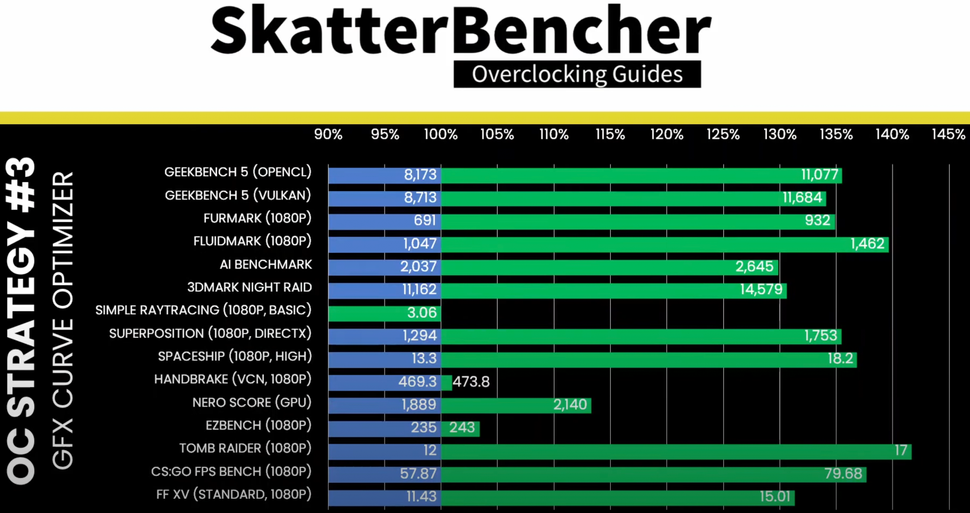 From the performance point of view, this brings an up to 42.5% of additional performance in games like Tomb Raider, but at 17 frames per second the title remains unplayable. Furthermore, it also allows to run a raytracing benchmark that does not work on the built-in GPU by default. Yet, even such extreme overclocking does not bring a substantial performance improvement in a number of synthetic benchmarks, possibly because of other limitations.

While overclocking of the integrated RDNA 2-based GPU does not seem to bring any real-world fruits, it is a doable. Furthermore, now that AMD does not allow adjusting the voltage/frequency curve on discrete RDNA 3 graphics cards, it looks like overclocking of its integrated GPUs is easier than overclocking of discrete GPUs.