ASRock M8 Mini-ITX Barebones Gaming PC Updated With Z97
Regular readers of Tom's Hardware may recall that our own Thomas Soderstrom performed an in-depth review of the ASRock M8 barebones system back in October of 2013. In it, he noted a number of issues the company could improve, including airflow and heat dissipation tied to fan orientation, along with excessive noise. Today we're looking at a version of the M8 improved for 2015, which should tell us if ASRock listened to the feedback we provided.
As before, the M8 is a nice-looking enclosure. Its design is smartly thought out, which you might find unsurprising as BMW's engineers had a hand in its creation. The case's side panel is held on by magnets, rather than screws or latches. It has an octagon-shaped window in the center (chosen for its eight sides no doubt, playing into the product's name). The chassis' corners extend beyond the edge of the enclosure, each one featuring two crossbars that function as feet when the M8 is positioned vertically. They also serve double duty as handles for easy transport. One of these is painted red so you know which way is up.
Up front, you'll find a slot-loading DVD drive, four USB 3.0 ports and an LCD readout inside the large OLED button. It's a unique look that fits in with an edgy home theater.
The case itself is primarily composed of billet aluminum. The side panel, case feet extensions and inner shell are made of the stuff. The outer shell is black polycarbonate, while the structure inside is a combination of steel and plastic. The aforementioned aluminum feet are held together with metal crossbars, which are fastened with large socket head bolts.
None of that is changed from the original version, so let's take a closer look at what's new.

Most notably, the chipset is updated to the latest LGA 1150-oriented enthusiast model. While the original M8 came bundled with an ASRock Z87-M8 ITX motherboard, this version includes the updated Z97-M8. The board's layout doesn't change at all, though. You still get two SO-DIMM memory slots rather than full-size DIMMs. An 802.11ac wireless networking card still comes installed, and the onboard Sound Blaster audio solution is there as well. Really, it looks like the motherboard's only evolution is Z97 Express.

More significant is the power supply upgrade. In the first version of the M8, ASRock included a 450 W FSP Group 80 PLUS Bronze-rated unit. While it provided enough juice to drive a GeForce GTX 680, overclocking the graphics card and CPU pushed consumption close to the PSU's ceiling. In the updated M8, ASRock employed a 600 W Enterprise Electronics supply with an 80 PLUS Gold certification. It arguably features better specs than the previous model, offering a single 50A +12V rail rather than the original's 36A divided between two rails.
This provides more headroom for a better GPU at the cost of storage expansion. Rather than 22A on the +5V rail, the new model tops out at 15A. Maximum load on the 3.3+5V rails is also reduced from 120 W to 90 W. This PSU is technically modular; however, its cables all come installed, so the feature doesn't provide much benefit.

Unfortunately, ASRock didn't fix the most damning issue that Thomas discovered in his initial review, which is the orientation of the exhaust and intake fans. Both the top and bottom sport one intake and one exhaust, respectively. This still results in recirculated exhaust, with cold intake blowing right back out before passing over any hardware. To correct the problem, Thomas tore the case down, cut some cable sheathing and flipped some fans around, allowing cold air to enter on the bottom, pass over the hardware and exhaust out of the top of the case. The result was a monumental decrease in CPU temperature to the tune of 20 degrees C under load.
Considering the improvement's impact, and that implementing his change wouldn't cost ASRock anything, we're disappointed to see the modification wasn't made.
The ITX form factor is already quite popular. As hardware continues to get smaller and more efficient, enthusiasts will be able to cram higher performance into compact cases. There's a lot of room in this space for unique and innovative products. ASRock's entry is solid, and it enjoyed an early start, too. As such, it's a shame that the company didn't pursue the unoptimized airflow we pointed out back in late 2013. Instead, ASRock chose to update the M8's motherboard and power supply.
The ASRock M8 is a case we want to love. Stylish ITX enclosures are becoming more common, as are home theater PCs. The M8 does have a ton of potential. But unless you're willing to invest some effort in shuffling its parts around, we're having a hard time wholeheartedly recommending a product that could easily be made better.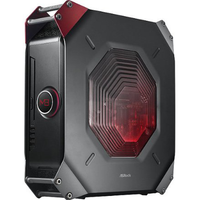 ASRock M8 Gaming PC
Join the experts who read Tom's Hardware for the inside track on enthusiast PC tech news — and have for over 25 years. We'll send breaking news and in-depth reviews of CPUs, GPUs, AI, maker hardware and more straight to your inbox.
Kevin Carbotte is a contributing writer for Tom's Hardware who primarily covers VR and AR hardware. He has been writing for us for more than four years.