A Dell Inspiron 15 laptop allegedly based on Intel's upcoming 14th Generation Core 'Meteor Lake' processor has been spotted by @Komachi_Ensaka in the UserBenchmark database. The chip apparently has 12 cores.
Intel's next-generation Meteor Lake laptop processors are several months away, so, unsurprisingly, large PC makers are hard at work testing their machines based on the new CPU. The U3E1 processor allegedly has 12 cores, can process 16 threads (which implies a 4P + 8E configuration), has a base clock of 1.20 GHz and a turbo clock of 0.55 GHz. This is obviously an error or a peculiarity of this pre-production CPU sample.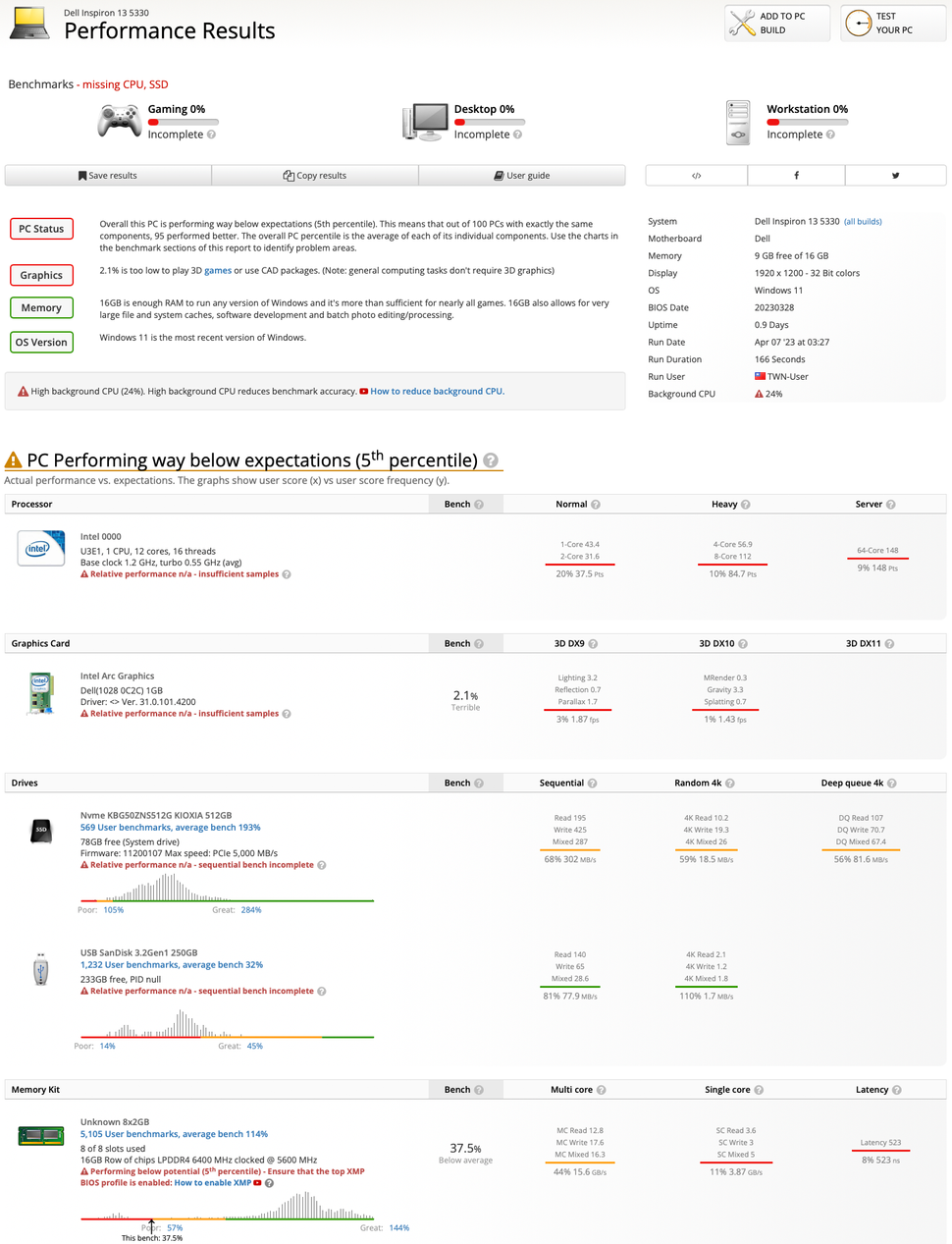 Given the odd clocks, it does not make any sense to even try drawing any concrete conclusions about the performance of this product (even if the UserBenchmark app could actually provide detailed test results).
However, it is not the frequency configuration that grabs our attention. Surprisingly, the system spotted in the UserBenchmark database reports itself as the Dell Inspiron 15 5330. This product actually exists, yet it is based on Intel's 12th Generation Core 'Alder Lake' processor, and while it is not uncommon to use previous-generation motherboards and chassis to test upcoming CPUs, we have serious doubts that Intel's Meteor Lake is pin-to-pin compatible with Alder lake as the two are very different.
Intel's next-generation Meteor Lake CPU will feature a unique multi-chiplet design where each chiplet will be manufactured using a different process technology, a first for Intel's client offerings. The processor will consist of four distinct tiles, including a compute tile (CPU cores) produced using Intel 4 process technology (also known as 7nm EUV), a graphics tile built by TSMC (likely using its N3 or N5 node), an SoC tile, and an I/O tile. These tiles will be interconnected by Intel's Foveros 3D technology.
While Intel's Meteor Lake may share its form factor with existing mobile CPUs in a bid to make it easier to produce PCs based on the processor, it is unlikely that it is pin-to-pin compatible with Alder Lake since the two products should have very different voltages and power supply circuity.
While it is completely plausible that Dell is testing a 12-core Meteor Lake processor and that CPU has a 4P + 8E configuration, we are not sure that this UserBenchmark listing correctly illustrates one of these processors. To that end, take all the information (or rather lack of it, truth to be told) with a grain of salt.