I review laptops for a living — here's how to avoid a bad deal this Black Friday
Here's what to look out for when you're shopping for a laptop deal.
(Image credit: Jeffrey Greenberg/Universal Images Group via Getty Images)
Laptops are expensive, so it makes sense that people will be looking for some sweet deals on Black Friday to keep costs down. After all, the best gaming laptops with the latest parts can easily be a few thousand dollars (though some of the best gaming laptops are under $1,500), and the best ultrabooks can easily be more than a grand.

There will certainly be laptops that have their prices slashed, but many of them won't sport the latest CPUs and graphics cards. Sure, it might be alluring to see a laptop that's $700 off, but that system may be a model from 2021 with two-year-old chips in it, which could be a big deal in terms of what you get for your money.

A lot of this may stem back to the pandemic-related supply chain issues of 2020 and 2021, as everyone was buying new laptops. Now, some of those are still around, so you'll have to carefully read spec sheets to evaluate how good a deal is.
Luckily for you, I've been testing and reviewing laptops for right around a decade (more if you count my internship work), and I've also been coming through and covering hardware deals for several years. If you're shopping for a new portable PC, here's what I think you should look out for and think about, especially with older models flooding the market.
Productivity: The CPU
Most of the laptops I've seen on the market use Intel Core processors. The latest on the mobile side are Intel's 13th Gen, codenamed "Raptor Lake." So in general, you should be looking for a 13th Gen CPU on an Intel laptop.

I imagine, however, you'll see plenty of older CPUs out there, too. Our advice: Don't go older than a 12th Gen Intel CPU. Those "Alder Lake" processors brought with them big architecture changes that affect performance, and 13th Gen chips got more efficient (which is important for battery life!).
AMD's Ryzen CPUs can be quite a bit more confusing. The latest version is Ryzen 7000, though some of those are made with older silicon. Ideally, you'll want a 7040-series chip, with a 7 in the first digit and 4 in the third, to know you're getting the most recent. Going back to Ryzen 6000 may be alright for a good price, though you may sacrifice some battery life. Like Intel, we don't recommend going back more than one generation.
Gaming: The GPUs to choose
If you see a gaming laptop, it will most likely have an Nvidia GPU, as the majority of gaming laptops on the market do. If you see an RTX 40-series laptop on deep sale, that's the latest generation, and possibly a good pick.

There will likely be a bunch of laptops with older GPUs on sale for Black Friday. We recommend not going below an RTX 3070 if getting an older chip. That's mostly because of RAM. The RTX 3070 has 8GB of VRAM, but the RTX 3060 has just 6GB and the RTX 3050 Ti and 3050 have a paltry 4GB. Modern AA games are gobbling up an increasing amount of VRAM, and if you want your system to last a few years, we recommend going with a system with at least 8GB. Remember, that's wholly separate from system RAM, but you shouldn't go lower than 8GB there either. At least 16GB is ideal – more on that shortly.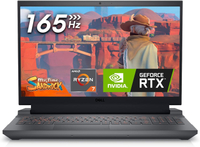 Dell G15 5535: now $977.49 at Amazon (was $1,149.99)
This Dell G15 combines one of the latest AMD Ryzen gaming processors with a current-gen Nvidia GeForce RTX 4060, all for under $1,000.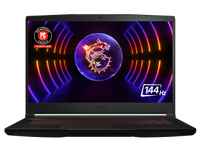 MSI GF63 Thin: now $849 at Newegg (was $1,099)
This MSI GF63 Thin gamign laptop mixes a current-gen Nvidia GeForce RTX 4060 with a last-gen Intel Core i7-12650H. For the trade-off, you get a surprisingly roomy 1TB SSD and 32GB of DDR4 RAM for the price.
On the budget side, if you find an RTX 4050, it should be well under $1,000 for Black Friday. If it's at or over a grand, it's not really a deal. The RTX 4050 also only has 6GB of VRAM, but at least you'll get the latest DLSS and frame-generation features to help tide you over. An RTX 4060 below $1,000, with 8GB of VRAM, would be even better.
What about Macs?
Apple just debuted its M3, M3 Pro, and M3 Max chips simultaneously. In laptops, the M3 showed up in a new 14-inch MacBook Pro, while the M3 Pro and M3 Max showed up in revamped 14-inch and 16-inch MacBook Pros.

These may be new computers, but it's likely you'll see deals on at least some configurations. Over at Best Buy, several M3 and M3 Pro laptops are already $150 off.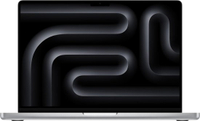 14-inch MacBook Pro: now $1,849 at Best Buy (was $1,999)
This 14-inch MacBook Pro has an M3 Pro chip, 18GB of RAM, 512GB of SSD storage and a 14-core GPU.
The laptop that Apple didn't update to M3 is the MacBook Air. Both the 13-inch and 15-inch MacBook Air are still on M2, and will probably see an update in the middle of next year. Those laptops have seen discounts. Best Buy currently has the 13-inch MacBook Air for $150 off in several configurations, while the 15-inch version is $250 off.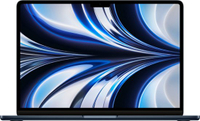 13-inch MacBook Air (M2): now $949 at Best Buy (was $1,099)
Apple's slimmest laptop uses its M2 processor. The 13-inch MacBook Air is a long-lasting productivity machine, with a high-resolution screen and webcam, as well as MagSafe charging.
The M1 MacBook Air from 2020 is still floating around, and the base model has dropped as low as $749 on Amazon. That's a great price, but I'm of the opinion that the design, displays, and improved webcams on the M2 Airs are such improvements that it's worth the extra money. The MagSafe charger doesn't hurt, either. And with an M3 MacBook Air coming down the pike, the M1 will soon start looking old in the tooth.
What else should I consider?
The CPU and GPU specs are by far the biggest features to keep an eye on. That being said, there are a fair number of other specs that can determine a good deal.

The two big ones are RAM and storage. If you're getting a computer primarily to check emails and use social media, you may be able to get away with 8GB of RAM. But for power users, people who never close their tabs (this is absolutely aimed at some of my colleagues), creatives, and gamers, consider going for 16GB if you can afford it — especially if you're saving money anyway.

Storage is more personal. Some people keep everything in the cloud, and again, the web browser crowd might not have much. But if you're downloading games, working with photos or video, more storage is better. You should aim for at least 512GB, if not 1TB.

But in some computers, you can change out RAM and storage; this is especially the case with gaming PCs. Black Friday may be your last chance to get an SSD on the cheap, so if the laptop you're buying doesn't have enough storage or RAM, you could also look for component deals. Just make sure it actually supports upgrades before you click that buy button!
Join the experts who read Tom's Hardware for the inside track on enthusiast PC tech news — and have for over 25 years. We'll send breaking news and in-depth reviews of CPUs, GPUs, AI, maker hardware and more straight to your inbox.
Andrew E. Freedman is a senior editor at Tom's Hardware focusing on laptops, desktops and gaming. He also keeps up with the latest news. A lover of all things gaming and tech, his previous work has shown up in Tom's Guide, Laptop Mag, Kotaku, PCMag and Complex, among others. Follow him on Twitter: @FreedmanAE
Honestly at this point it'd be difficult not to recommend a 4070 based laptop unless you're buying one for office or entertainment purposes. Given the specs of the Lenovo Legion 16 Pro 5i for $1400 it'd be tough to tell someone to get a 3070 or 3080, or even a 4060, based laptop for only a couple hundred less.

https://www.bhphotovideo.com/c/product/1745682-REG/lenovo_82wk0083us_16_legion_pro_5i.html

Reply