Update 5/10/23 - Noctua contacted us with the following statement: We're currently focusing all our energy on getting key products like the next-gen 140 mm fans and the next-gen NH-D15 ready. This means that we are devoting less resources to comparably low priority projects like the white fans. This doesn't mean that they have been scrapped entirely, and we'd say there's still a chance that we may have them before 2025, but we're currently not pushing hard on this and therefore don't feel confident giving an ETA.
Cooling specialist Noctua has updated its roadmap with an edition marked 'Version 5/2023'. The previous update was back in January, and we note there have some interesting changes, both additions and subtractions, from the list. Our headlining observation is that the highly anticipated white fans from Noctua have been completely removed from the roadmap. They were previously penciled in for 2024.
Other changes of concern are Noctua notifying us of delays with respect to a host of other products. Looking at the positives, we observe that the next-gen Threadripper coolers are due in Q3, and a trio of existing desktop CPU coolers are getting the chromax.black treatment scheduled for Q4 this year.
PC builders like to have options, and Noctua's products are no stranger to our list of the best CPU coolers. Those that are repelled by the signature Noctua colors of coffee and cream will often favor neutral shades like black or white. The bad news is it looks like modders and DIYers waiting for white Noctua fans have entered a new indeterminable period of want. We have dropped a line to Noctua in the hope that the omission of white fans on the latest roadmap is an oversight, rather than a product planning decision. While we wait, we must assume the following: in its official roadmap small print Noctua says that anything not on the roadmap "will usually take at least another year to be released."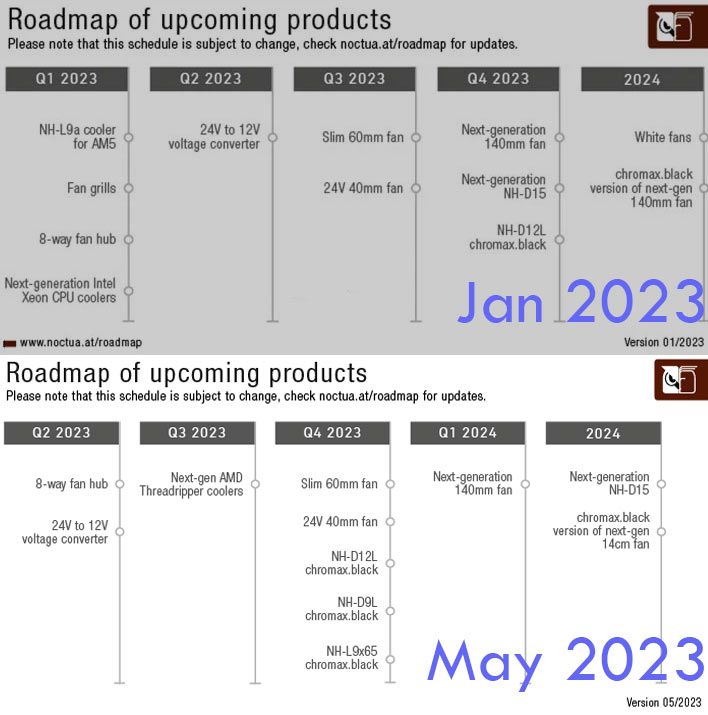 In our handy Jan / May roadmap comparison, above, you can also see that the following products have slipped by (another) quarter, or more: 8-way fan hub, slim 60mm fans, 24V 40mm fans, next-gen 140mm fans, and the next-gen NH-D15 CPU cooler. The latter product might be delayed by more than a quarter as the final column of the roadmap simply reads "2024," with no mention of any quarter.
Noctua's next-gen NH-D15 has been the most problematic when ti comes to schedule slippage. This is far from the first time it has been pushed back, as it was originally expected to debut in 2021. In our Noctua roadmap update story from last October we noted that the NH-D15 was "on schedule for launch in Q1 2023," and now it is listed as being ready sometime in 2024. The original NH-D15, an update to the legendary NH-D14, was released a decade ago, but buyers of new retail units get SecuFirm2 mounts for the latest AMD and Intel desktop CPUs. What will change in the next-gen version remains to be seen.
New on the Noctua roadmap in its May 2023 edition are the next-gen AMD Threadripper coolers, which are scheduled for the next quarter (Q3 2023). These look timed to coincide with the launch of the new (TR7 platform) AMD Ryzen Threadripper 7000 chips, coming to HEDT and workstation platforms.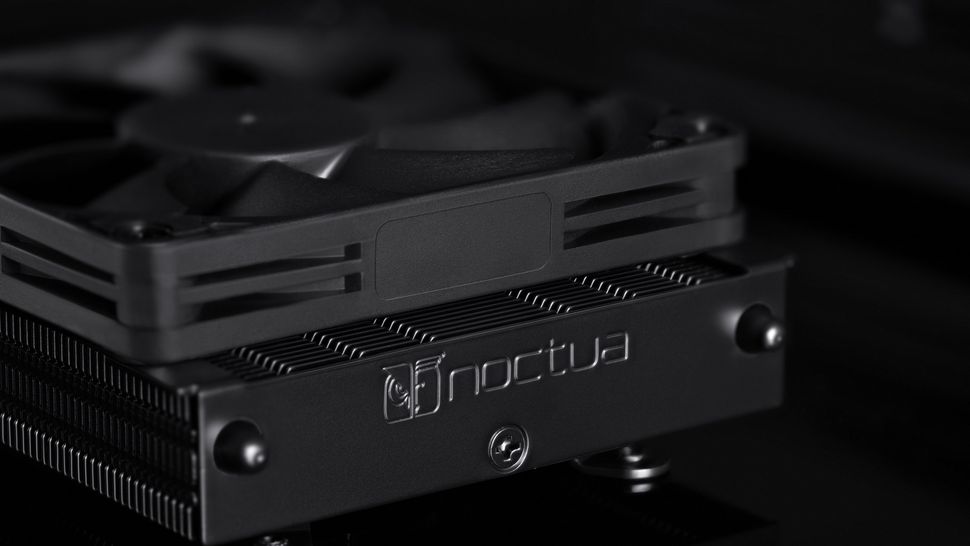 Lastly, those thinking about building an air-cooled PC system where the Noctua NH-D12L, NH-D9L, or NH-L9x65 are on the short list might be interested to know chromax.black versions of those should become available in Q4 this year.