Call of Duty: Modern Warfare III Launches November 10 With DLSS 3
More inbound games with upscaling and frame generation.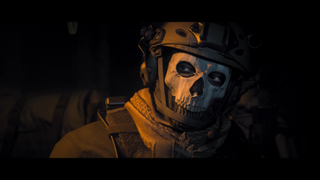 (Image credit: Activision)
Nvidia is keen to point out that Call of Duty: Modern Warfare III will launch on November 10, with support for DLSS 3 (and FSR 2) at launch — that's in addition to requiring up to 213GB of storage space on your SSD. It's not the only game arriving this week with some form of DLSS. Remnant II's The Awakened King DLC will also have DLSS 3 (which includes DLSS 2 upscaling and Reflex), and the long-winded Like A Dragon Gaiden: The Man Who Erased His Name will also have DLSS 2 upscaling at launch (but not DLSS 3 frame generation).

If you own one of the best graphics cards, specifically one of Nvidia's RTX 40-series generation, this should be good news. Less so if you're running an older 30-series card, or an AMD GPU, though upscaling at least remains on the table.
The highly-anticipated FPS shooter started its early access on November 2 for those who pre-purchased the game. The initial reception seems generally positive, though we've also heard rumblings that the single-player campaign may mark a new low for the series. But most gamers seem to be coming for the multi-player mayhem, and if that's what you care about, PC Gamer says there's plenty of fun to be had.

For those who didn't pre-order, the game will launch on November 10. RTX 40-series users will get to enjoy the multiplayer and single-player gameplay with AI-powered DLSS upscaling and/or frame generation, plus Reflex. DLAA (Deep Learning Anti-Aliasing, sans upscaling) is also supported. The day one inclusion of these technologies should help gamers with less than extreme rigs get higher framerates, though as usual frame generation will increase latency at the cost of a smoother look.
CODMW3 Expected Performance
Nvidia benchmarked several of its RTX 40-series graphics cards using DLSS Quality (2X) or Performance (4X) mode upscaling with frame generation, and compared the performance to native rendering without DLSS. Here are the results of its testing:
Image 1 of 3
It is usually best to take a company's performance graphs with a pinch of salt, though the above serve as a reference point for the expected performance you can get from the respective graphics cards. Even the RTX 4060 manages to hit (barely) triple-digit framerates at 1440p, which indicates the game shouldn't be too demanding.
We reported on the Steam survey a few days ago highlighting the increase in 1440p resolution gameplay. With the new highly anticipated Call of Duty title known for both single-player and multiplayer, it will be interesting to see how this influences the near future consumption trends.

4K meanwhile only got tested on the RTX 4070, 4080, and 4090, this time with Performance mode upscaling. With Frame Generation, all three GPUs still hit triple digits, though Frame Generation means the 4070 would still feel like 60 fps.

Elsewhere, not listed on Nvidia's news stream, there are unconfirmed leaks about the upcoming RTX 4060 Ti, RTX 4070 Ti, RTX 4080 Super, and RTX 4090 Ti. Maybe we'll get a CODMW3 bundle in the next month?
More Games With DLSS
Remnant II will also be getting a DLC on November 14, The Awakened King, with DLSS 3 (again, that means DLSS 2 upscaling, DLSS 3 Frame Generation, and Reflex). The game also includes support for upscalers from Intel and AMD as reported previously. Meanwhile, Like A Dragon Gaiden: The Man Who Erased His Name will be launching tomorrow with DLSS 2 support — no frame generation or Reflex for this one.
Image 1 of 2
Nvidia only included 4K performance charts for these two games, with the RTX 40-series GPUs showing DLSS Performance mode upscaling (1920x1080 upscaled to 3840x2160) plus Frame Generation. The gains appear much larger this time, but that's largely thanks to the lower rendering resolution. The RTX 4070 only managed 21 fps at native settings, but improved to 78 fps with 4X upscaling plus Frame Generation.

Like a Dragon Gaiden wasn't quite as demanding, hitting 51 fps at native rendering and improving to 126 fps with 4X upscaling. It also appeared to hit a CPU limit of 174 fps on the 4080 and 4090.

Whatever you think of DLSS technologies as a whole, Nvidia routinely announces new games with support for one or more of the techs each week. There's a full list of all the DLSS games available as well, which now sits at 353 games with some form of DLSS.
Join the experts who read Tom's Hardware for the inside track on enthusiast PC tech news — and have for over 25 years. We'll send breaking news and in-depth reviews of CPUs, GPUs, AI, maker hardware and more straight to your inbox.
Does anyone know if 4090 Ti is still on the table? Why did this article mention it? I thought it got cancelled a few months back.

Reply