Razer Enables 8 KHz Polling Rate on More Mice, Via Firmware Update
Download more Hz via, where applicable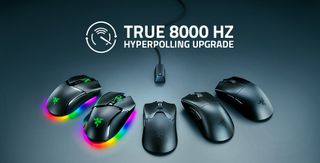 (Image credit: Razer)
Today, Razer announced it's enabling up to 8,000 KHz polling rate with several of its wireless mice, and its aftermarket receivers. Until fairly recently, 1,000 Hz had been the standard polling rate for gaming mice for years. But Corsair bumped its Sabre RGB Pro mouse to 8,000 Hz back in 2021. And we've seen a steady trickle of high-end mice jumping on the more responsive spec train ever since.
For this feature to function, the user will need to update their compatible Razer wireless mice: the Viper V2 Pro, DeathAdder V3 Pro, Cobra Pro, Basilisk V3 Pro or the Viper V3 HyperSpeed and the HyperPolling Dongle or the Mouse Dock Pro, which are sold separately. After the firmware update(s), you should be able to see and set the new polling rates via Razer Synapse.
Razer's History with Polling Rates
This isn't Razer's first attempt with a greater than 1,000Hz polling rate, as it first offered 8K on Razer Viper 8 KHz wired mouse in 2021. In 2022, the Razer team introduced 'HyperPolling' which is a 4KHz polling with its HyperPolling Wireless Dongle and Razer Mouse Dock Pro.
Razer explains with a straightforward image that higher polling rates improve cursor movement and accuracy by eliminating any micro stutters. Of course, how much this actually matters to your gaming depends largely on how good your physical reflexes are and if you truly are a skilled, serious competitive gamer, and how speedy your screen is. More on that last bit later.
This also raises questions about how 8 KHz polling setting will affect battery life with these wireless mice. That was also the concern among many gaming mice users and enthusiasts. A Razer representative in the r/MouseReview subreddit replied:
Revisiting Gaming Mice With Higher Polling Rates
As a Razer rep explained to us in 2021, it becomes important to have higher polling rates as monitors continue climbing to higher refresh rates. The review also gave a great insight into BlurBuster's explanation, showing that microstutters are more prominent as the monitor's refresh rate increases. As of today, we are seeing esports screens hit 500 Hz. That's a far cry from the 60 Hz that was standard for all those years when 1,000 Hz mouse polling was the norm.
A Useful Feature or a Great Bragging Right?
If you have a speedy display and want to upgrade your mouse to 4K or 8K polling, it's important to keep a few things in mind: Not all games are fully compatible with these faster polling rates, and it leads to significantly higher CPU load, which can make your entire gaming experience stutter or slow down if your CPU can't keep up. You might need a CPU upgrade to keep things running smoothly when your mouse is reporting 4-8 times the data than it may have previously.
Still, it's best to try and see if it works well for you. Not everyone will have the same preference, but Razer enabling higher polling rates on more mice means that more of us will be able to try it for ourselves -- without having to go out and buy a new expensive peripheral. What's not to like about that?
Join the experts who read Tom's Hardware for the inside track on enthusiast PC tech news — and have for over 25 years. We'll send breaking news and in-depth reviews of CPUs, GPUs, AI, maker hardware and more straight to your inbox.