The ASRock B650M-HDV/M.2 ($119.99) is a budget-class board supporting flagship-class AM5 processors. It's a bit short on USB ports on the rear IO, and doesn't include (but supports) Wi-Fi – but it does have a PCIe 5.0 M.2 socket. And if you raise the out-of-box temperature limit, it's just as performant as much more expensive options.
Pros
+

Doesn't get any less expensive

+

PCIe 5.0 M.2 slot

+

Supports flagship-class CPU
Cons
-

Lowered temp limit hinders performance

-

Only six USB Type-A ports on rear IO

-

Wi-Fi not included

-

No RGBs (even headers)
Why you can trust Tom's Hardware Our expert reviewers spend hours testing and comparing products and services so you can choose the best for you. Find out more about how we test.
Unlike most Ryzen 7000 motherboards, which are notorious for being expensive, the ASRock B650M-HDV/M.2 is quite literally the least expensive board available in the B650 space. Priced at $119.99 at the time of this writing, the HDV/M.2 offers support for flagship-class processors, including our Ryzen 9 7950X. While the board may not come with all of the bells and whistles of more costly options, you still get two M.2 sockets (one PCIe 5.0 x4) and four SATA ports, USB Type-C support on the rear IO and front panel, a 2.5 GbE Realtek network, and power delivery able to support high-end processors.
Inevitably at this price point, some sacrifices need to be made. First, you won't find any 20 Gbps ports (or headers), so if your build requires fast external connectivity, you'll need to buy an add-in card. It's also missing a premium audio solution, integrated Wi-Fi (though there is a slot), and PCIe 5.0 expansion slots. Though for the latter, few will miss the increased bandwidth. For those looking for RGB lighting, look elsewhere or buy a third-party solution, as there is none on the board, nor any headers to add your own.
Out of the box, the B650M-HDV/M.2 sets the temperature limit to 85 degrees Celsius, lower than the default maximum (95 degrees Celsius) for our processor, which can limit performance on some applications. That said, it did well in our gaming tests, but was overall slower across our benchmarking suite, especially in longer-running and heavily multi-threaded applications where the processor runs hot.
As affordable as it is, this board won't make our best motherboards list, but it's still a viable MicroATX option and the least-expensive option for the B650 chipset. If you need the horsepower the 7000 series processors offer but don't care about the fastest 'this' and most number of 'that' on your motherboard, it's worth considering. Before we get into all the details, here is a complete list of specs, direct from ASRock.
Specifications: ASRock B650M-HDV/M.2
Swipe to scroll horizontally
| | |
| --- | --- |
| Socket | AM5 |
| Chipset | B650 |
| Form Factor | Micro-ATX |
| Voltage Regulator | 11 Phase (8x 50A Dr. MOS MOSFETs for Vcore) |
| Video Ports | (1) HDMI (v2.1) |
| | (1) DisplayPort (v1.4) |
| USB Ports | (1) USB 3.2 Gen 1 (5 Gbps) Type-C |
| | (2) USB 3.2 Gen 2 (10 Gbps) |
| | (4) USB 2.0 (480 Mbps) |
| Network Jacks | (1) 2.5 GbE |
| Audio Jacks | (3) Analog |
| Other Ports/Jack | ✗ |
| PCIe x16 | (1) v4.0 (x16) |
| | (1) v4.0 (x4) |
| PCIe x8 | ✗ |
| PCIe x4 | ✗ |
| PCIe x1 | (1) v4.0 (x1) |
| CrossFire/SLI | AMD Crossfire |
| DIMM Slots | (2) DDR5 6400+(OC), 64GB Capacity |
| M.2 Sockets | (1) PCIe 5.0 x4 (128 Gbps) / PCIe (up to 80 mm) |
| | (1) PCIe 4.0 x4 (64 Gbps) / PCIe (up to 80 mm) |
| | Supports RAID 0/1/10 |
| SATA Ports | (4) SATA3 6 Gbps |
| | Supports RAID 0/1/10 |
| USB Headers | (1) USB v3.2 Gen 2, Type-C (10 Gbps) |
| | (2) USB v3.2 Gen 1 (5 Gbps) |
| | (2) USB v2.0 (480 Mbps) |
| Fan/Pump Headers | (4) 4-Pin (CPU, Chassis/Water Pump fan) |
| RGB Headers | ✗ |
| Diagnostics Panel | (1) Post Status Checker (4 LED) |
| Internal Button/Switch | ✗ |
| SATA Controllers | ✗ |
| Ethernet Controller(s) | (1) Realtek RTL8125 (2.5 GbE) |
| Wi-Fi / Bluetooth | ✗ |
| USB Controllers | ✗ |
| HD Audio Codec | Realtek ALC897 |
| DDL/DTS | ✗ / ✗ |
| Warranty | 3 Years |
Inside the Box of the ASRock B650M-HDV/M.2
The B650M-HDV/M.2, like most other boards, also comes with a few accessories to start your build. But as you would imagine, it doesn't come with much. You get two SATA cables, two M.2 screws, and a user manual. That's it, but it's still about what we'd expect in this price range.
Design of the B650M-HDV/M.2
Image 1 of 3
The ASRock B650M-HDV/M.2 uses a matte black finish on the MicroATX-size PCB. Some grey patterns are stenciled on to break up the monotony of a simple one-color motherboard. Heatsinks cover the bits that get hot but, as you would expect, aren't as large or heavy, but the VRM heatsinks do a good job, especially when the processor is limited. Once we restore the temperature limit to the CPU's default, VRM temperatures increase several degrees, but still run within specification.
If you're looking for integrated RGBs or the ability to attach some, this is not the board for you. Put simply, there are no RGB LEDs onboard or headers to add your own. It will have to come from third-party devices. With its overall appearance and lack of any RGBs, this board won't stick out in your chassis, but blends well with any black build themes.
In the top-left corner, we spy a single 8-pin EPS connector (required, and the only EPS plug) to power the processor. Below, we get a better look at the heatsink covering the left VRM bank. It sports a brushed aluminum finish and has the same design theme as the PCB. Pushpins hold the top VRM heatsink on. While not ideal, this is another cost-saving measure compared to more high-end boards. The top VRM bank also runs the warmest.
Moving past the socket area, we run into two unreinforced DRAM slots, with a single locking mechanism at the top. ASRock lists support for 64GB and speeds up to DDR5-6400. Our kits worked without issue by enabling the XMP/EXPO profiles found on our sticks and using the latest BIOS.
Flanking the two memory slots are two (of four total) 4-pin fan headers. Each header supports PWM and DC-connected fans. Control over these devices is handled through the BIOS or ASRock's ATune software. The CPU header outputs up to 1A/12W, while the three chassis fan headers support up to 2A/24W.
Along the right edge of the board, we run into the 24-pin ATX connector to power the board, a front panel USB 3.2 Gen 2 (10 Gbps) header, and a USB 3.2 Gen 1 (5 Gbps) front panel connector.
IMG - board5 (vrm)
Power delivery on the B650M-HDV/M.2 consists of 11 total phases, of which eight are dedicated to Vcore. Power comes from the 8-pin EPS connector and onto a Renesas RAA229621 controller. From there, it splits to the 8x 50A Vishay Sic654 Dr. MOS MOSFETs for Vcore. The 400A available isn't a lot but was enough to handle our Ryzen 9 7950X without issue in the more limited default configuration.
On the bottom half of the board, we see almost everything fully exposed. The top M.2 socket has a small heatsink on it, as does the B650M chipset. Outside of that, you see the PCB for all it's worth. On the left is a fully exposed Realtek ALC897 codec and four yellow capacitors dedicated to audio. Being on the extreme budget side, you won't find high-end codecs or amps. With that out of the way, many users will find this solution adequate. However, audiophiles will want to look elsewhere, or opt for speakers with an external DAC.
Another item in this area worth noting is the Key-E M.2 socket for Wi-Fi. While the board lacks Wi-Fi out of the box, you can just purchase a CNVi-based compatible card (which generally costs around $30 or less), drop it in the socket, and install drivers to enable Wi-Fi. I'd like to see all boards include Wi-Fi, as most users will want to connect their systems wirelessly at some point. But I understand a Wi-Fi card adds to the bill of materials and can be counterintuitive to the true budget nature of the board.
Three PCIe slots and two M.2 sockets live in the middle of the board. The primary graphics slot (top) is reinforced to prevent shearing and mitigate some EMI. This slot (and the full-length bottom slot) connects through the CPU and runs at PCIe 4.0 x16 (no PCIe 5.0 slots). The bottom slot is PCIe 4.0 x4. Last, the small x1 and bottom full-length slot sources its lanes through the chipset and runs at PCIe 4.0 x1.
The top M.2 socket connects through the CPU and is your PCIe 5.0 x4 socket (128 Gbps). It has a heatsink. However, I don't imagine it will do a great job with hot-running PCIe 4.0 x4 or newer PCIe 5.0 x4 drives, which should run even hotter. So if you have a high-end drive, you may want to use an aftermarket heatsink over what's included here to prevent thermal throttling on sustained drive activity. The second M.2 socket gets its lanes from the chipset and runs at PCIe 4.0 x4 (64 Gbps).
Continuing right past the pushpin-attached chipset heatsink, we run into a USB 3.2 Gen 1 (5Gbps) front panel connector, along with the four SATA ports. The SATA ports and M.2 sockets support RAID0/1/10 modes for those who want redundancy or additional speed. There's no lane sharing, so you get the full complement of storage options regardless of what is populated.
Across the bottom of the board are several exposed headers. You'll find the typical fare here, including additional USB and 4-pin fan headers. Below is a complete list from left to right:
Front panel audio
UART header
Thunderbolt header
(2) 4-pin chassis fan headers
(2) USB 2.0 headers
Debug LED
Clear CMOS jumper
Speaker/Front Panel headers
The rear IO on the B650M-HDV/M.2 surprisingly comes with its shroud pre-installed and attached to the motherboard. It has a black background with the ports labeled in grey. It's so plain, there isn't even any branding! On the left are the DisplayPort and HDMI video outputs to use with integrated graphics, while just above are pre-drilled holes for Wi-Fi antennas, should you choose to supply your own. There are seven USB ports, including a Type-C 3.2 Gen 2 (10 Gbps) port, two 3.2 Gen 2 (10 Gbps) ports, and four USB 2.0 ports. The six Type-A available could be too few for some users (me!). Above the 5 Gbps ports is the Realtek 2.5 GbE, and to the right are three analog plugs for audio. Last but not least is a BIOS flashback button used to update the board without a processor. The latter is a nice touch, given how affordable the board is.
MORE: Best Motherboards
MORE: How To Choose A Motherboard
MORE: All Motherboard Content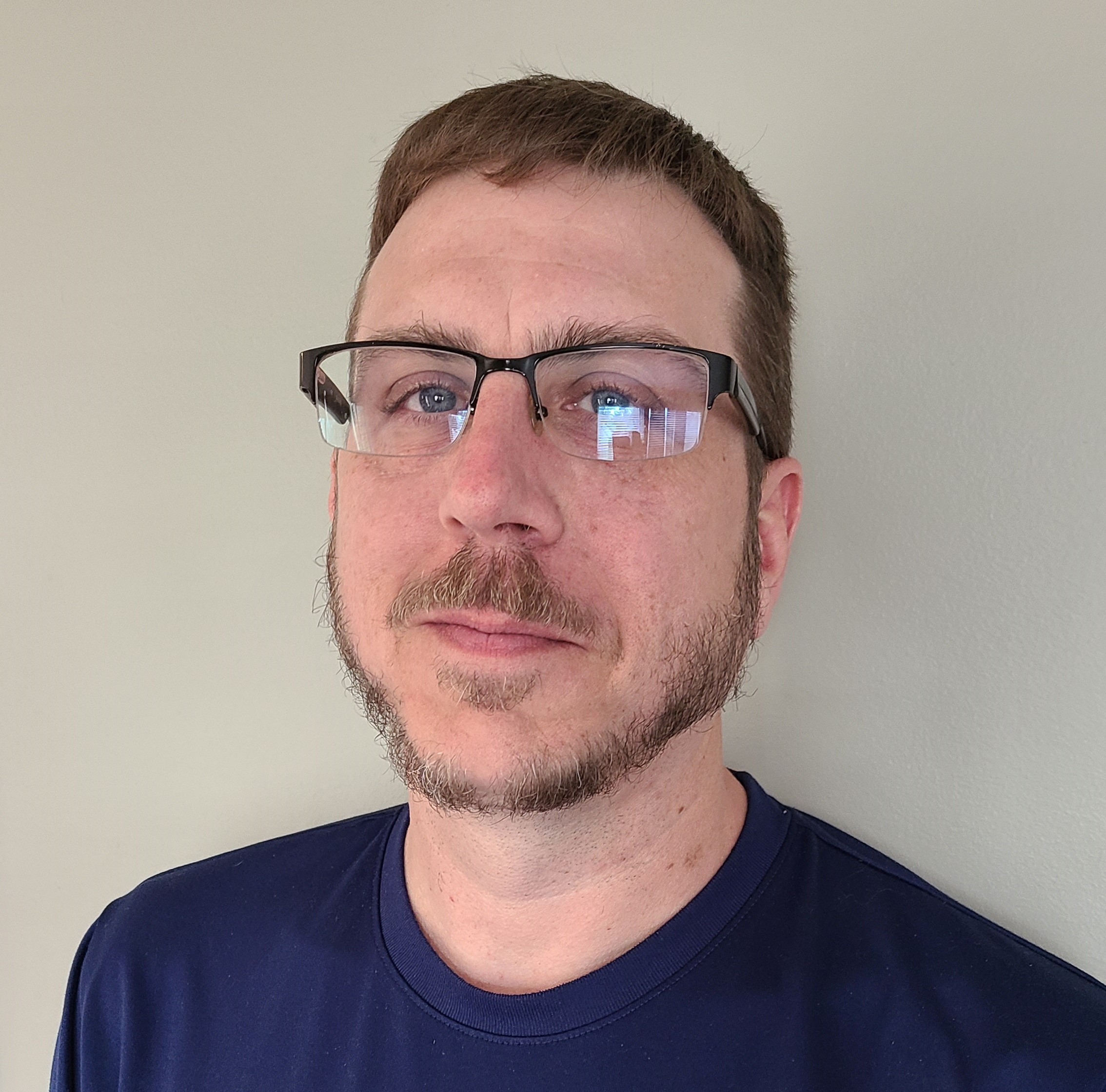 Joe Shields is a Freelance writer for Tom's Hardware US. He reviews motherboards.