This premium enclosed laser can cut and engrave almost anything, anywhere, with its dual Diode and IR lasers, but it's limited by its small output size.
Pros
+

Enclosure included

+

Both IR and Diode lasers

+

Live Preview

+

Fast

+

Portable
Cons
-

Limited cutting area

-

Air Assist unavailable

-

No glasses provided
Why you can trust Tom's Hardware Our expert reviewers spend hours testing and comparing products and services so you can choose the best for you. Find out more about how we test.
Black Friday Deal
🔥 xTool Deals: Save up to an extra $800 off Black Friday sales 🔥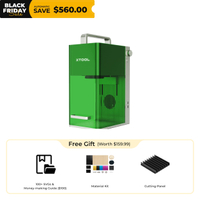 xTool F1: now $1,549 at xTool (was $1,699)
Save $150 off the xTool F1, our Best Portable Laser Engraver pick, when you use the code: XTCUT150 on checkout. It's fast, handy, and outputs accurate prints.
The xTool F1 is a unique portable laser cutter and engraver that you can take to a job site, a friend's house or a craft fair. It has a small footprint and a compact size complete with a handle. The laser is rated as a Class 1 when the lid is down, making it safe to operate around customers, kids and pets.
Inside the tiny compartment – its cutting surface is only about four inches square – are two Galvo mounted lasers. One is a 2-watt Infrared laser that can engrave metal and plastic, the other a medium power, 10 watt blue Diode laser that can cut Balsa wood up to 8mm thick and dark acrylic up to 5mm. Galvo lasers remain in one place, with their light beam shifted across the cutting surface by fast moving mirrors. The F1's Galvo laser does a really cool trick – it can display a harmless blue preview of the image you're lasering, like a name, for exact placement. This makes it perfect for on the spot personalization.
Retailing at $1599, the xTool F1 is about the same price as a larger, fully kitted, open frame machine. In fact, a 10-watt xTool D1 Pro bundled with an IR laser, enclosure and work surface would cost $1549. So why bother? One reason: portability. An open frame machine is large and rather awkward to move. The F1 is one slim, easily portable package. It's a good fit for crafters short on space, those who specialize in jewelry and ornaments, and perfect for entrepreneurs who want to offer personalized engraving at craft fairs.
My one beef with the F1 is not the size, but the lack of safety glasses. Yes, it's fully enclosed, but it's capable of operating with the lid up to accommodate larger items. Assuming that the purchaser already has glasses is an odd mistake.
Specifications: xTool F1
Swipe to scroll horizontally
| | |
| --- | --- |
| Machine Footprint | 179 x 235 x 334mm (7 x 9.3 x 13 in) |
| Engraving Size | 115 x 115mm (4.53 x 4.53 inches) |
| Material | Cardboard, wood, leather, stone, metal, acrylic, plastic. |
| Laser Type | Blue Diode and Infrared |
| Laser Power | 10w and 2w |
| Laser Wave Length | 450 nm Diode and 1064nm Infrared |
| Engraving Accuracy | 0.08*0.06mm Blue Diode and 0.03*0.03mm |
| Infrared | |
| | |
| Cutting Platform | Included (flat and grid) |
| Connectivity | USB, Wireless Bluetooth |
| Interface | Single Button |
xTool F1: Included in the Box
The xTool F1 comes with everything you need to assemble the laser, plus a few samples of wood, acrylic, metal and more. We were also provided with a desktop air purifier, which is optional.
Design of the xTool F1
The xTool F1 is a compact, portable laser no bigger than a loaf of bread standing on end. Unlike large flatbed machines, the xTool F1 is a Galvo laser, where the laser stays in one spot and the beam is moved across the work surface rapidly with a set of mirrors, similar to what laser light shows use.
The F1 must be used with a computer or smart device and has no file storage or display screen of its own. You can operate it via USB cord or WiFi, so you don't need to be physically tethered to the machine. Because of its speed and small cutting area, this isn't a hardship – the longest job I ran took 26 minutes. Besides, you should always stay near your laser when they are operating in case of mishap.
This laser is a complete package – it has a built-in enclosure, vent and laser safe baseplate. The bottom plate has small holes for screwing in a material holder, but they don't go all the way through, so your table remains safe. The center part of the plate is removable so you can put the laser on top of a larger object and engrave it. A grill like cutting plate is also included to allow better airflow under your materials.
The xTool F1 has two lasers – a 10-watt "blue" diode and a 2-watt Infrared laser. The diode laser can cut and engrave organic material and acrylic, while the IR laser can mark metals and non-toxic plastic. xTool's software can automatically select which laser you'll need base on material choices, or you can fully program it yourself.
Focusing the laser is simple – it can automatically focus itself when you use material presets, or you can manually focus when you use your own parameters. When manually focusing, the machine will show two harmless dots of light – one blue, one red. You place your material on the baseplate and twist the control knob on the machine until the two dots overlap.
A framing light helps you get your material in exactly the correct spot. This is a harmless blue light that rapidly outlines the design on repeat while you position your material underneath. There's also a bracket you can screw into the flat base plate to help position material accurately.
xTool has a few accessories available you might want to look into: a desktop air purifier and an expansion plate. The air purifier is exactly what it sounds like, a filtration system to trap smoke and fumes from the laser. We were able to test this device and it works quite well, but it is extremely noisy. The expansion plate extends the cutting surface to 400 mm wide, but at the price of loosing your enclosure, as the lid must be lifted while it runs. You will need to acquire your own safety glasses – none are provided – if you use the machine with the lid up.
Assembling the xTool F1
The xTool F1 is fully assembled, you only need to drop the baseplate into position and plug it in.
Safety Precautions for the xTool F1
The F1 is a Class 4 laser while the lid is up, and that can damage your eyes and burn skin. When the lid is completely closed, it becomes a much safer Class 1 laser. Either way, it produces smoke and fumes while engraving or cutting materials. You must take precautions to operate the machine safely. Use this and any other laser at your own risk.
The F1 has a safety feature I've not seen before – a USB dongle that acts as a key. When the "key" is removed, the laser will not function, preventing children or others from using the machine without permission.
The F1 is equipped with a safety cover over the entire machine. A sensor can shut off the laser when the lid is removed or the laser is tilted – however, this sensor can be disabled if you need to run the machine with the lid off. It is YOUR responsibility to turn the sensor back on. The F1 also has a handy emergency quick stop button. Another sensor detects high temperatures and can shut off the laser to avoid fires – but you must activate this in the software. An exhaust fan on the back of the unit removes smoke from the laser area – you will need to properly vent these fumes outdoors or purchase a separate air purifier.
No safety glasses are provided with the machine. You will need to buy a pair – xTool has them available – if you decide to use the laser on large objects.
Since the laser is literally burning material, never allow it to operate unattended and have a fire extinguisher handy just in case.
Some materials should not be burned with a laser due to their chemical makeup – they could melt, catch fire or produce toxic fumes. Dallas Maker Space has published a list of safe and hazardous materials to use with their laser. The list of no-nos includes plastics, fiberglass and certain foams.
The laser lens can get dirty from smoke and fumes. You will need to wipe it clean – while unplugged – before each laser session. If it's allowed to become dirty, the laser will lose some of its capability.
Software for xTool F1
xTool has its own software suite that works with all of i's machines. The F1 is also compatible with premium LightBurn software.
I used xTool's software and clip art from Canva for these tests.
Engraving / Cutting with the xTool F1
The ability to cut or engrave materials is determined by the speed and power settings of the laser. The F1 has two lasers under the hood: a 10-watt 450nm diode laser that can cut organic material such as balsa up to 8mm and dark acrylic up to 5mm; and a 2-watt Infrared laser to engrave stainless steel, aluminum alloy, gold, silver, plastic and more. The lasers are in a sealed compartment and switching between the two is done in the software.
xTool's software, xTool Creative Space, is provided for free but does require you to connect your machine via USB at least once to confirm ownership.
The F1 doesn't have a camera to help line up your project, but it does have an excellent preview mode that displays a harmless blue outline of the image you're about to laser.
The first test I ran was cutting and engraving wood, using the 3mm basswood provided. The art was all clip art acquired through Canva. xTool does provide some settings as jumping off points, but you may want to do a few tests first to get the right look. I found that using "Stucki" in bitmap mode produced the most pleasing results, and adding a scoring line gave the art a nice outline. xTool's software has a QR code and bar code generator that's very easy to use – I don't believe a photo of the QR code works, but it works great in person.
Cutting wood isn't quite as clean as with other xTools we've reviewed, either because it lacks air assist or the defaults were too strong. You can see some burned edges on the Celtic horse where the laser was too hot. It engraved and cut the "print all the things" medallion in 2 minutes and 24 seconds, while the slightly larger Halloween coaster took 5 minutes and 56 seconds to score, engrave and cut.
The Celtic horse took 2 minutes and 50 seconds to engrave and cut. This used the diode laser at 80% power and 270 DPI for the engraving, 70% power and 80 mm/s for the scoring, and 90% power and 3 mm/s speed for the cutting. The laser took one pass for each type of burn.
Image 1 of 2
The outline preview really helps when you laser something small, like these pencils. The text was typed in xTool Creative Space, and etched using the default basswood setting of 100% power and 300 mm/s speed. Each pencil took about 5 seconds.
Next, I tested the IR laser by etching metal. The F1 came with several types of metal to test, including a stack of aluminum alloy business cards. They turned out perfectly crisp – once I realized the laser can not reach into the far corners of the cutting area. A galvo laser rotates from a single point, resulting in a somewhat rounded working area.
The cards were heavy enough on their own that the chamber fan did not disturb them. The cards were typed up in Canva and brought over as a high-res PNG file. The QR code was replaced by one created in xTool's Creative Space. The upper card was placed in a corner – which is why the logo didn't turn out. It took 3 minutes and 35 seconds to etch using the IR laser at 60% power with a DPI of 550.
Business cards are fun, but what about jewelry? The F1 seems purpose built for customizing small things like metal tags and pendants. The default setting seemed a little light, so I slowed it way down and was pleased with the results.
I printed the same Celtic horse from the wood engraving on a tiny gold-plated tag – the details are amazing! This took about 27 seconds to engrave at 100% power and 30mm/s speed.
I tried xTool's stone coaster setting on regular stones. Dark rocks work best, and I found the grill to be very helpful to keep lumpy rocks positioned perfectly. The F1 doesn't adapt to curved surfaces, so you'll want to find the flattest part of the rock for engraving. These rocks took from 15 to 23 seconds to etch at 100% power and 200 mm/s. Text was typed with xTool's Creative Spaces.
And of course, I had to laser a cookie. There's no setting for pastries, so I started with the setting for cardboard and kept dialing down the time until the image was easily seen but didn't set anything on fire. This cookie uses xTool clip art, and took 9 seconds to score at 90% power and 20mm/s speed.
Bottom Line
The xTool F1 is a fast and portable dual mode laser that's especially handy for craft fair vendors or makers tight on space. The $1599 price tag could also pay for a comparable open frame laser with a bigger work area, but you wouldn't be able to move it around as easily.
The F1 can cut through wood up to 8 mm thick and also engrave just about anything that's safe to burn from paper to gold. The outline preview mode is hands down the easiest I've used for positioning materials – being able to just reach in and push material around is a game changer.
You don't need to be tethered to the laser while you have wifi, which is nice if you want to set up jobs while sitting on the couch. You'll still need to be in the room to press the start button, but most jobs I ran were only a few minutes, so hovering around the laser isn't a waste of time. The portable nature of this machine means you can laser on your kitchen table or out on the back deck, something no other xTool can easily do. Because of this machine's portability and large range of materials, it's definitely one of the best laser cutters we've seen this year.
If you're not ready to take your laser cutting on the road, but want to start an engraving business, check out the full feature diode Xtool D1 Pro for $1399, a 20-watt laser with excellent support that also comes in a less expensive 10-watt mode and has an optional IR laser accessory. If you want to laser ALL the things – including clear acrylic without having to paint it first – check out the xTool P2 CO2 laser. It's more expensive at $4499, but is perfect for professional cutting and engraving.
MORE: Best Laser Cutters
MORE: Best 3D Printers
MORE: Best Budget 3D Printers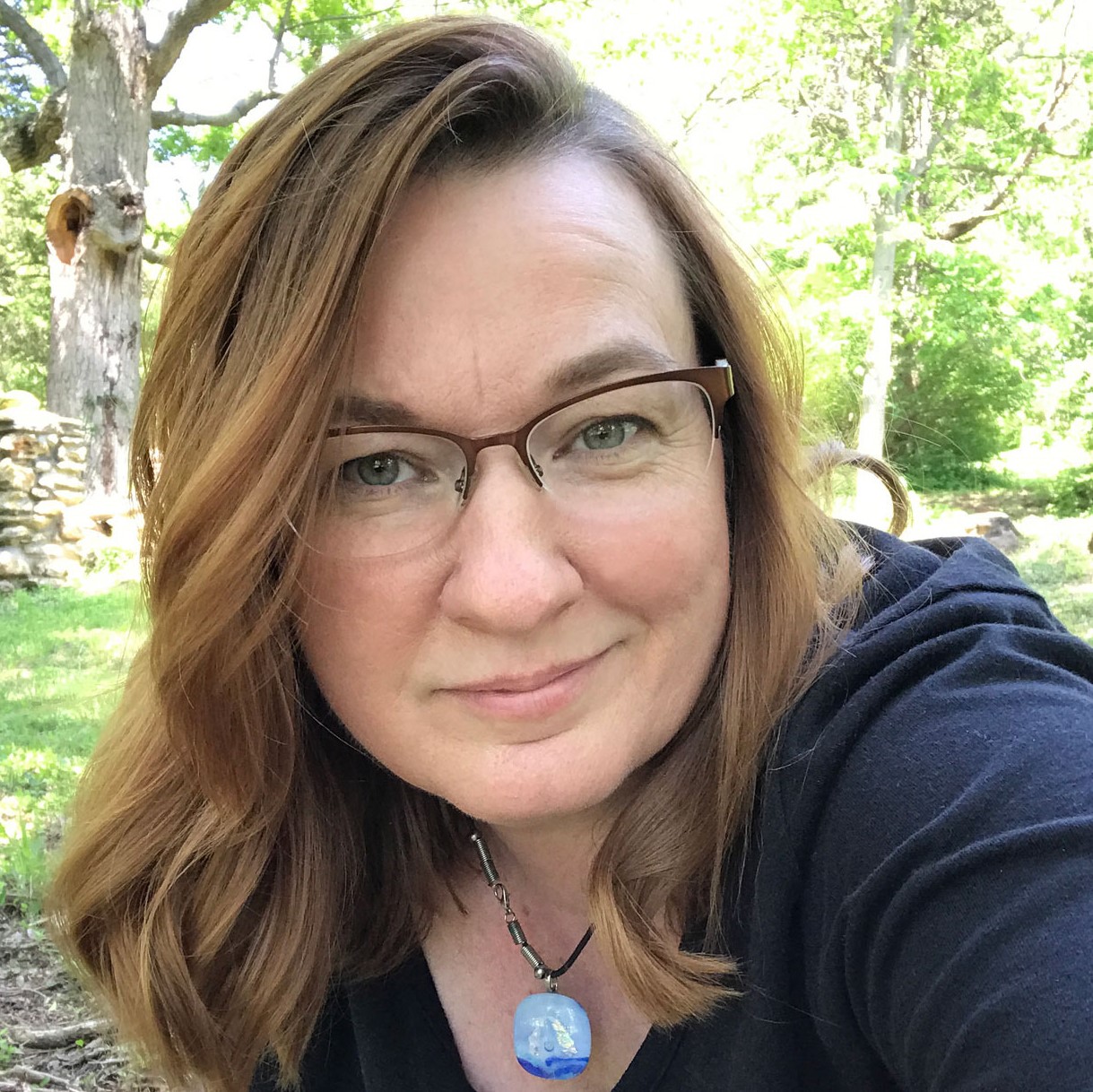 Denise Bertacchi is a Contributing Writer for Tom's Hardware US, covering 3D printing.