As 3D printing continues to become cheaper and more accessible, resin 3D printers have become a popular choice for anyone interested in making highly-detailed models that wouldn't be feasible using a filament-fed, FDM 3D printer. These MSLA (Masked Stereolithography) resin 3D printers typically have a single axis of motion, and this simple mechanical system means these machines can regularly be found for less than $300. With so many models on the market, we've made this list to help you find the best resin 3D printer for you.
The best resin 3D printers are capable of making high-resolution models by curing a liquid resin using a UV light source. This MSLA process uses a masking LCD to selectively block the UV light on a pixel-by-pixel basis, allowing these printers to create models that have a resolution of down to .035mm on the XY axes.
This high resolution comes at a price, as parts made on a resin 3D printer require post-processing after printing, and UV resin requires caution when handling. Because resin requires gloves and a mask to handle, we recommend beginners or anyone with young kids consider one of the FDM (fusion deposit modeling) printers on our overall best 3D printers page.
There are several factors to consider before buying one of the best resin 3D printers, so be sure to consider these questions before making a choice.
Quick List
Best Resin 3D Printers in 2023
Why you can trust Tom's Hardware Our expert reviewers spend hours testing and comparing products and services so you can choose the best for you. Find out more about how we test.
Best Resin 3D Printer Overall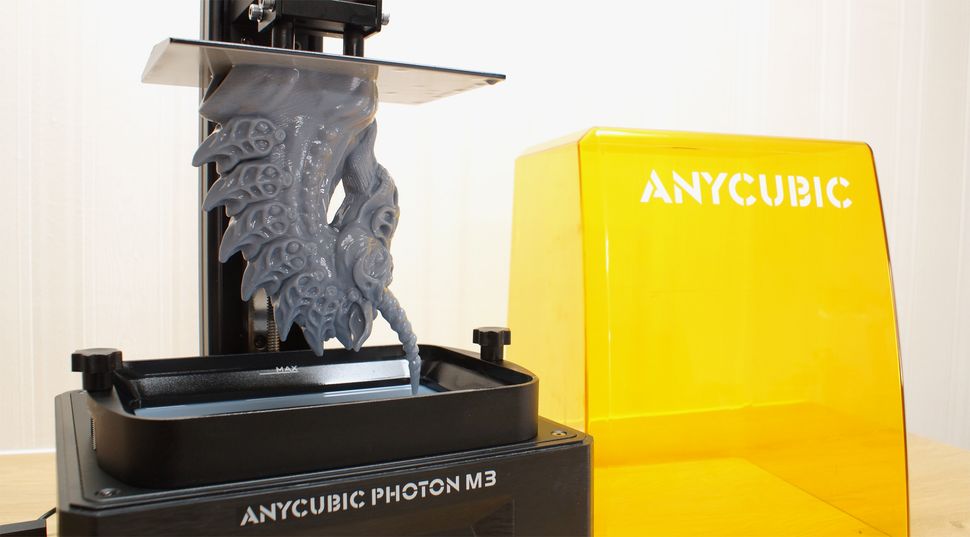 The Anycubic Photon M3 is the best all around resin 3D printer we've reviewed. It produces crisp details with 4K+ quality that rivals more expensive machines and has a wide build plate allowing it to make larger models than competitors in its class.
A sample print of a unicorn was extremely detailed, with the ridges on its horn and its mane appearing really sharp and free from layer lines. It was also a full 180mm tall and printed in 10 hours.
The etched build plate works really well at holding models tight during printing, but also allows for easy removal when they're done. The metal vat has a convenient pour spout, and Anycubic includes a screen protector for the LED light source to prevent accidental drips from ruining your printer.
Retailing for less than $250 at press time, the Anycubic Photon M3 is a reasonable purchase for a beginner or an advanced maker wanting to add to their fleet.
More: Anycubic Photon M3 Review
Best High-End Resin 3D Printer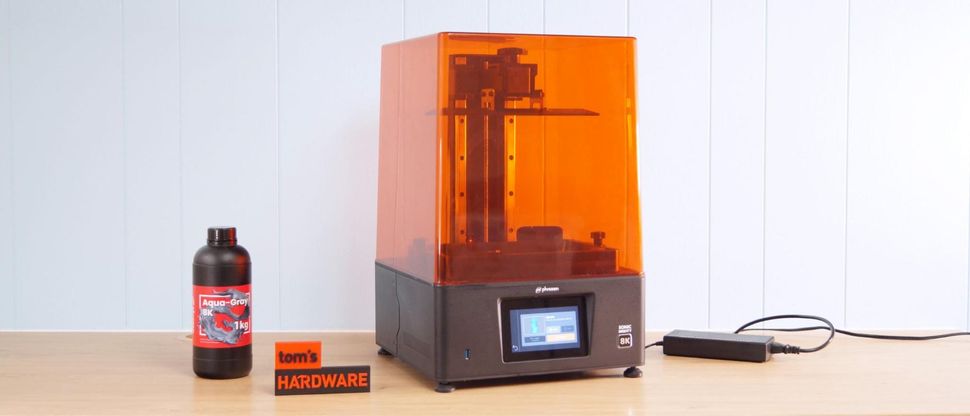 If you're ready to throw some serious cash down for a decent-sized resin 3D printer with quality that will knock your socks off, the Phrozen Sonic Mighty 8K is here for you. Its roomy 218 x 123 mm build plate can accommodate an army of gaming miniatures or a gift-worthy superhero statue. Priced at around $600 at press time, this printer isn't cheap. But in return for the premium, you get crispy details, prints that practically slide off the build plate, a built-in webcam and a machine that's WiFi ready.
We enjoyed navigating through the Mighty 8K's menus, thanks to its large and easy-to-use touch screen display. There's little need to consult the manual – the printer walks you through an onboard tutorial to handle leveling and your first test print. Want to rerun a test file at a different exposure? No problem – the Sonic Mighty 8k will let you change exposure settings and more right inside the printer. I found this extremely helpful while dialing in a new resin.
The Phrozen Sonic Mighty 8K size is closer to what we see in FDM printers, without being so large that it dominates your workshop. The quality and extra wiggle room would be a worthwhile investment for someone running an Esty shop or an artist wanting to showcase their work. We were able to print 12 very-detailed gaming figures at once and the process only took 4 hours and 2 minutes.
Our only issue with this machine was the camera, which was released for review before it was functional. There's no set date on when the camera firmware will be ready, but it promises the ability to monitor prints as well as create time lapses.
More: Phrozen Sonic Mighty 8K Review
Best Resin 3D Printer for Beginners
The Anycubic Photon Mono 2 is a great and affordable option for anyone who is new to or want to get started with resin 3D printing. This printer is compact and light-weight so it won't take up a lot of space and can easily be stored away. It's shipped mostly assembled which makes setup a snap.
But don't let the size of this printer fool you, the Photon Mono 2 has a 20% larger build volume than its predecessor. In our testing, we were able to fit six presupported minuatures on the build plate at once.
This printer delivers very detailed 4K print quality, is great for miniatures and small models, and comes with its own custom slicer, the Photon Workshop V3.
More: Anycubic Photon Mono 2 Review
Best Super-Large Format Resin 3D Printer
It's only available for pre-order right now, but when it's available, Elegoo's Jupiter printer will offer a combination of great quality and a huge build volume. And, despite its $1,300 price, the Jupiter is actually a great deal for its size, given that competitors cost closer to $1,000.
Where the $499 Saturn provides a 192mm x 120mm x 200mm volume, the Jupiter provides a ton more, going all the way to 277.8mm x 156.3mm x 300mm. And the print quality is pretty good as we found when outputting a detailed model of the Notre Dame Cathedral.
We also love the Jupiter's sturdy, all-metal chassis, which makes it feel like a premium product worthy of its premium price. We found the touch screen interface easy to navigate and the leveling process relatively painless.
More: Elegoo Jupiter Review
Best Large Format Resin 3D Printer
The Anycubic Photon M3 Premium set an impressive standard. Offering both high resolution and large build volume in a single machine, it effectively does the work of two separate printers and still comes in cheaper than buying them individually.
The 10-inch 8K masking LCD provides an ultra-high 0.0285mm XY resolution which allows even the finest details to resolve on printed models. We were particularly impressed when we printed a model that had a tiny, open book on a pedestal; the words on the pages were sharp and legible (though one might need a magnifying glass to see them).
The 219mm x 123mm x 250mm build volume allows users to print large models with high resolution, or simply pack the oversized build platform with multiple small parts to produce many in parallel. Featuring integrated dual air filters, a laser-etched build platform, and a razor-thin NFEP vat film, the Photon M3 Premium is easily capable of handling anything you can throw at it.
With a special introductory retail price of $619 and a planned retail price of $639, the Photon M3 Premium strikes an excellent balance between high resolution and large build volume while remaining less expensive than the competition. The included Anycubic Photon Workshop software was slow and buggy during our testing, and is the primary weak point of this machine.
More: Anycubic Photon M3 Premium Resin 3D Printer Review
Best Medium Format Resin 3D Printer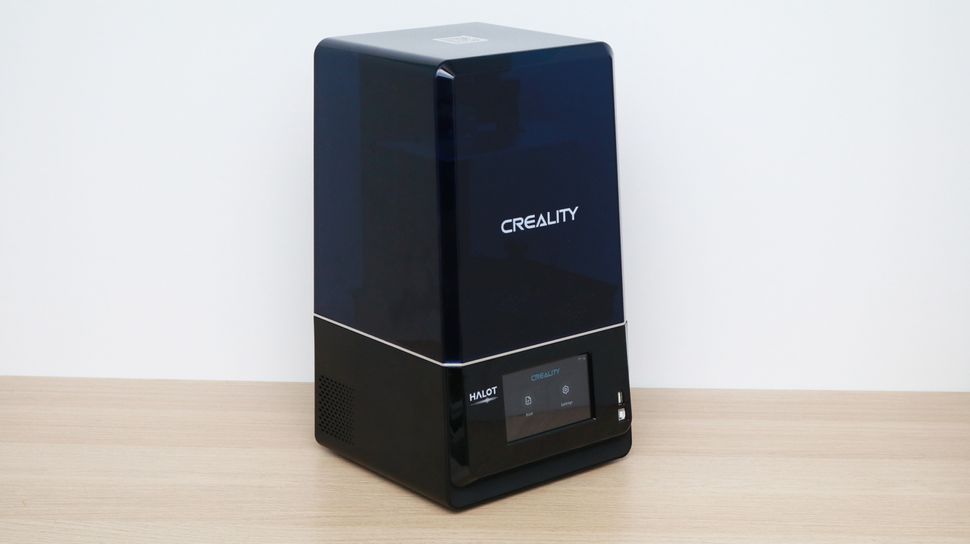 The Creality Halot-One Plus is the flagship of the Halot line of MSLA resin 3D printers, offering an impressive set of features while still coming in at a prosumer-friendly price of $399. Unlike other printers in this price range, the Halot-One Plus includes Wi-Fi connectivity and a slicer app that allows users to quickly process models and prepare them for printing almost effortlessly.
The large 7.9-inch Mono LCD provides 4K resolution (4320 x 2560), fast per-layer cure times (3 seconds per layer), and a solid dual linear rail Z axis to allow for fast and accurate printing. The Halot-One Plus also includes an integrated air filtration system which reduces the amount of odor when printing, a surprising addition not typically seen at this price point. Finally, the 5-inch LCD interface allows users to adjust settings mid-print (including exposure time), and also provides an accurate estimate of remaining time during a print.
With a retail price of $399.99, the Creality Halot-One Plus easily outperforms less expensive printers like the last-generation Creality LD-002R resin printer as well as comparably priced printers like the Elegoo Mars 3. Hobbyists who are looking for the most performance for their dollar should consider the feature-rich Halot-One Plus. Professionals interested in a more streamlined software interface and less concerned about price should consider a higher-end machine like the Prusa SL1S.
More: Creality Halot-One Plus Resin 3D Printer Review
Best Resin 3D Printer for Miniatures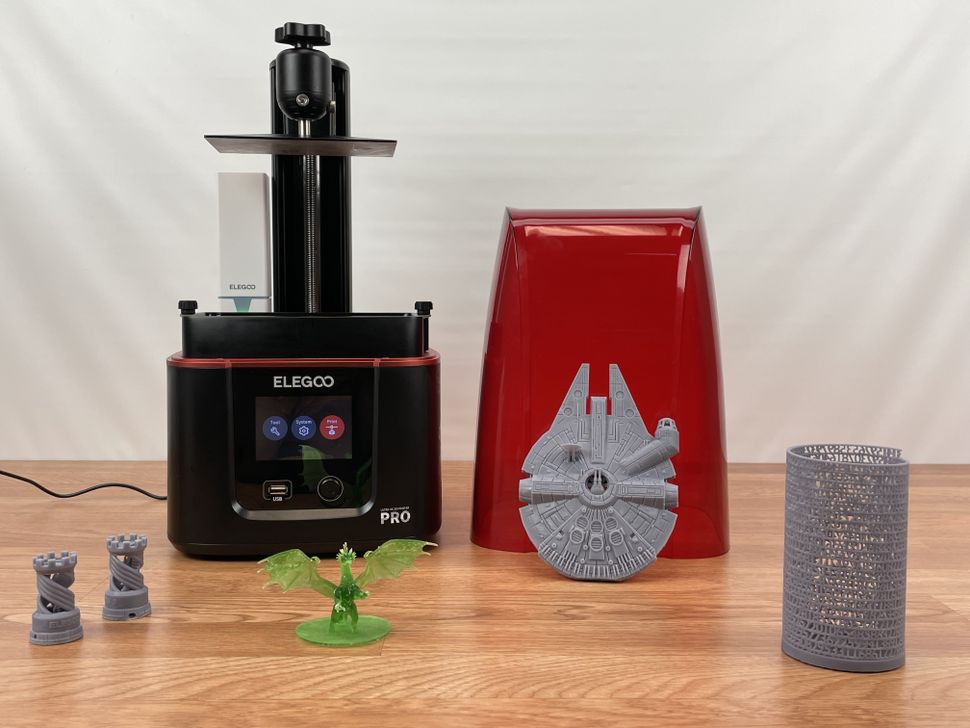 If you're looking to create small models for table-top gaming, or just display, the Elegoo Mars 3 Pro is a great choice, thanks to its great build quality and high resolution. The Mars 3 Pro has an XY resolution of 35 microns (0.035mm) which allows you to show intricate details in even small objects.
When we printed mz4250's Red Dragon model, fine ridges on the tail and bones in the wing were sharp, without any visible splotching or errors. Even the spines and beard on the head were crystal clear. Its LCD screen provides a 4098 x 2560 resolution for prints, which is higher than the 4K resolutions of competitors like the Phrozen Sonic Mini 4K and AnyCubic Photon Mono 4K.
Unlike the Phrozen Sonic Mini 4K, which is very competitive in this area, the Mars 3 Pro doesn't suffer from any build quality issues.It's easy to level and even has a built-in air purifier that, in our tests, mitigated but did not completely remove the resin odor that all MSLA printers emit. With a price in the $300 - $350 range, this isn't the cheapest resin printer on the market, but it offers great quality output and strong usability for the money.
Read: Elegoo Mars 3 Pro Review
Shopping Tips for Best Resin 3D Printers
What you Need to Know When Buying a Resin 3D Printer
🤔 Mono or RGB LCD? The type of masking LCD on your resin 3D printer can have the single largest impact on your overall print speed. Because they are commonly used in other electronics, RGB masking LCDs are cheaper, but slower because they don't allow UV light to pass through efficiently and need more exposure time per layer. For example, the RGB LCD on the Creality LD-002R requires 9 seconds per layer, while the Mono LCD on the Elegoo Mars 2 Pro requires only 2.2 seconds per layer.
🤔 How much build volume do you need? Most resin 3D printers have smaller build volumes than FDM 3D printers, so you may find yourself limited by this relatively small build volume. If you are interested in printing large parts, you'll want to look at a large format resin 3D printer such as the Elegoo Saturn or the Anycubic Photon Mono X.
🤔 2K, 4K, or Beyond? A resin 3D printer that uses a 6.08-inch 2K screen like the Elegoo Mars 2 Pro is capable of an XY resolution of .05mm as well as a layer height of .05mm. For context, this means even a relatively low-resolution resin 3D printer is still capable of making extremely fine details that simply wouldn't be possible on an FDM printer. If you need even more resolution, a 4K screen is capable of making finer features, but is typically more expensive.
🤔 Post Processing Equipment? Resin 3D printers create parts that require post-processing before they are completely finished. Typically, this workflow involves rinsing the parts in a solvent to dissolve any excess resin on the surface of the part, followed by a cure cycle that uses UV light to fully polymerize the part. This process can be done manually by submerging the part in a solvent and using an inexpensive UV light for curing, but some manufacturers have created post-processing equipment like the Elegoo Mercury X that automate the process and reduce the mess.