Crucial T700 SSD Preview: Fastest Consumer SSD Hits 12.4 GB/s
Faster PCIe 5.0 SSDs Are On The Way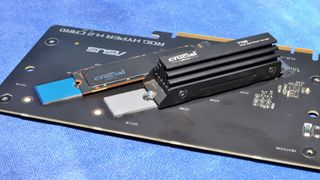 (Image credit: Tom's Hardware)
The Crucial T700 sample we have in the labs today is unquestionably the fastest consumer SSD in the world, at least for now, delivering up to a blistering 12.4 GB/s of sequential throughput and 1.5 million random IOPS over the PCIe 5.0 interface. That's 70% faster than today's highest-end PCIe 4.0 SSDs, and 20% faster than the current crop of PCIe 5.0 drives.

The T700 is slated to be the first of a new set of faster PCIe 5.0 SSDs that offer even better performance than what we saw with the initial PCIe 5.0 SSD we covered in our Phison E26 SSD controller preview. The T700 uses the Phison E26 SSD controller, a robust design used in several other 5.0 SSDs, paired with speedy 232-Layer TLC flash, thus creating the fastest SSD we've ever tested in our labs. Impressively, it delivers this level of performance with passive cooling thanks to its well-designed heatsink, but if you remove the heatsink the SSD will also work well in motherboards with proper M.2 heatsink coverage.

The drive also comes with DirectStorage enabled, which will allow games that support the feature to deliver the utmost in performance. Crucial provided an early T700 sample to us for testing, and the drives will launch in a few months (by the end of the second quarter). Let's see what they'll look like when they arrive.
Specifications
Swipe to scroll horizontally
| Product | 1TB | 2TB | 4TB |
| --- | --- | --- | --- |
| Pricing | TBD | TBD | TBD |
| Form Factor | M.2 2280 | M.2 2280 | M.2 2280 |
| Interface / Protocol | PCIe 5.0 x4 | PCIe 5.0 x4 | PCIe 5.0 x4 |
| Controller | Phison E26 | Phison E26 | Phison E26 |
| DRAM | LPDDR4 | LPDDR4 | LPDDR4 |
| Flash Memory | 232-Layer Micron TLC | 232-Layer Micron TLC | 232-Layer Micron TLC |
| Sequential Read | 11,700 MBps | 12,400 MBps | 12,400 MBps |
| Sequential Write | 9,500 MBps | 11,800 MBps | 11,800 MBps |
| Random Read | 1,350K | 1,500K | 1,500K |
| Random Write | 1,400K | 1,500K | 1,500K |
| Security | N/A | N/A | N/A |
| Endurance (TBW) | 600TB | 1,200TB | 2,400TB |
| Part Number | - | - | - |
| Warranty | 5-Year | 5-Year | 5-Year |
The Crucial T700 delivers up to 12.4 / 11.8 GBps of sequential read/write throughput and 1.5 / 1.5 million IOPS in random read/write workloads with the 2TB and larger models (the 1TB model is slightly slower). The drive will be available in 1TB, 2TB, and 4TB capacities, with pricing yet to be determined. Crucial backs the drive with a five-year warranty and endurance of 600TB of writes per 1 TB of capacity.

The drive supports AES-256 encryption and TCG Opal 2.01, including for crypto erase (TCG OPAL was not implemented at the time of testing). Crucial also has other optimizations in the works, but the drives we're testing are considered Engineering Samples (ES), so the firmware is not final. Crucial expects that performance in random write workloads will improve in the future.
Software and Accessories
Crucial offers its own Crucial Storage Executive SSD toolbox with the typical features you would expect. The utility includes drive information, SMART attributes, firmware updates, secure erase/sanitize, overprovisioning, and other features related to encryption. The T700 is not explicitly supported per Crucial's website, but this will likely change when the drive arrives at retail. Third-party software like CloneZilla is recommended for cloning and imaging.
A Closer Look
Image 1 of 3
The T700 comes with or without a heatsink, depending on your needs. If your motherboard already has a substantial M.2 heatsink, or if you want to install your own solution, the bare drive is an option. In that case, the drive has a copper thermal label that is not intended to be removed. This SSD is not intended to be used without a heatsink, such as in a laptop or PlayStation 5.

The default model comes with a pyramidal, central T-pose heatsink designed to keep the drive cool without any (direct) active cooling. The heatsink is constructed of multiple materials and has air channels to maximize heat dissipation via airflow in the case. The SSD components — SSD controller, NAND flash, power management integrated circuit (PMIC), and voltage regulators — have good contact with the heatsink via thermal material. The back side of the heatsink is nickel-plated copper that provides support and heat spreading, while the top is aluminum with a significant amount of surface area for heat dissipation.

All T700 models are double-sided with two NAND packages per side, for a total of four. The top of the SSD has the requisite SSD controller package and a single DRAM package.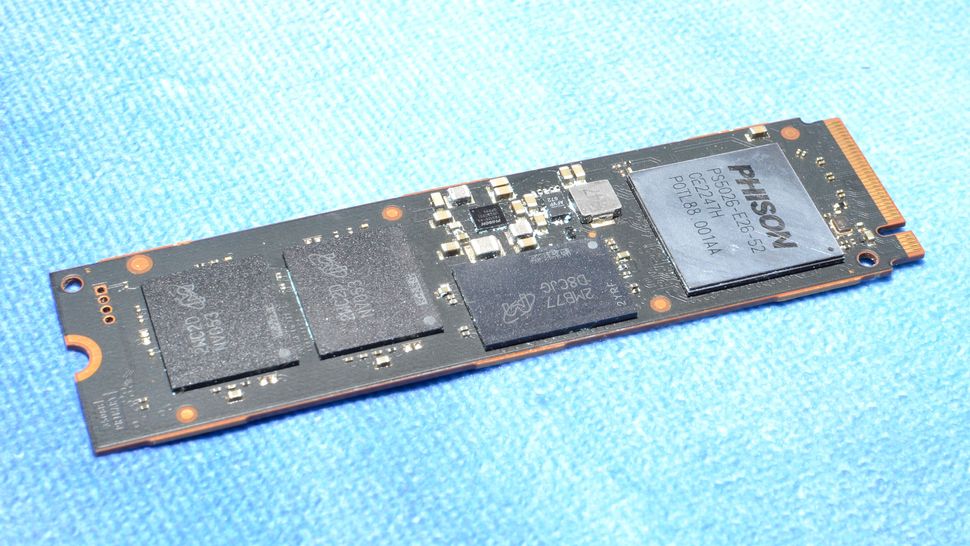 The Phison E26 is the first consumer PCIe 5.0 SSD controller to hit the market. We previously conducted preview testing of an engineering sample, and now a whole host of drives are arriving with this controller on board. This controller has DirectStorage-optimized firmware, which we also previewed before its official release. That firmware has already found its way into one PCIe 4.0 SSD, the Sabrent Rocket 4 Plus-G.

The T700 is not the first PCIe 5.0 SSD on the market, as the Inland TD510 has been out for a while. The T700 is also not the first to be announced by a big brand name, as we can see with the Corsair MP700. However, the T700 is the fastest implementation of the E26, as it can reach up to 12.4 GBps in sequential read workloads thanks to its speedier flash with an I/O speed of 2000 MT/s. This is in contrast to the 1600 MT/s flash used in the earlier E26 SSDs, limiting them to around 10 GBps. The E26 controller supports up to 2400 MT/s flash, which would put a cap of around 15 GBps. But for now, the T700 is the fastest around.

The T700 has DRAM identified as D7CJG, meaning this is LPDDR4 in a 1G x 32b configuration. LPDDR4 is more power efficient than DDR4 memory (we saw the benefit of LPDDR4X in our Lexar Professional NM800 Pro review). In this configuration, we have 4GB of DRAM for 2TB of NAND, the same as in our E26 preview. There may be reasons for such a high memory-to-flash ratio, but we'll have to review the amount used with other capacities.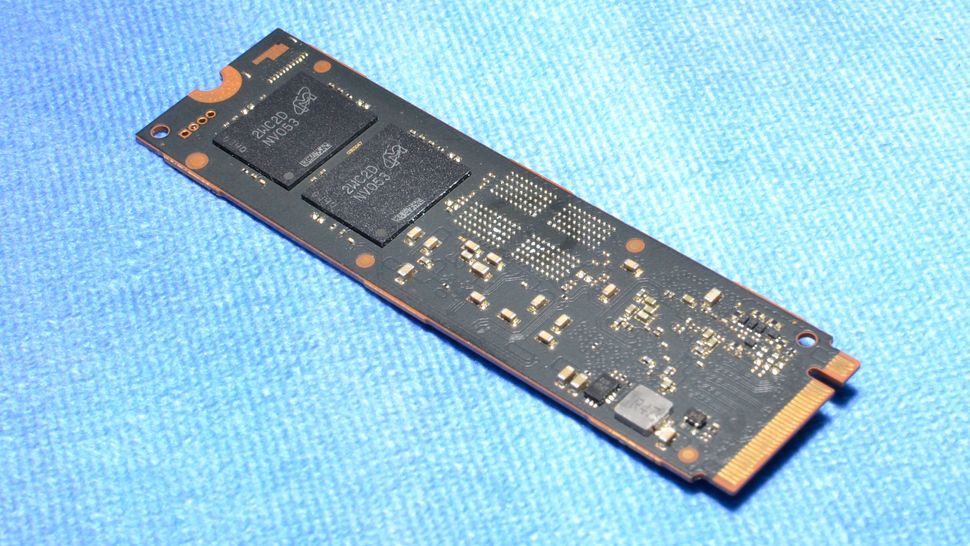 The 232-Layer Micron TLC (B58R) flash takes up the mantle from Micron's very successful 176-Layer TLC (B47R). Micron has gone from four planes to six and has made other improvements that make multi-planar operations faster for superior internal parallelization. The move to 1Tb (128GB) dies over 512Gb (64GB) is also an important consideration for capacity: bigger dies, more storage.

Denser dies also mean less relative parallelization for the same capacity because fewer dies are required. This is mitigated to some extent by the increase in internal parallelization, or planes. The T700 can still reach peak performance at 2TB like older PCIe 4.0 SSDs, but has the opportunity to be better at 4TB as well, depending on multi-planar optimizations. The performance of TLC flash during sustained write workloads could also improve without a corresponding improvement to read latency, although read performance as a whole should improve due to independent plane advancements.
MORE: Best SSDs
MORE: Best External SSDs and Hard Drives
MORE: How We Test HDDs And SSDs
MORE: All SSD Content
Join the experts who read Tom's Hardware for the inside track on enthusiast PC tech news — and have for over 25 years. We'll send breaking news and in-depth reviews of CPUs, GPUs, AI, maker hardware and more straight to your inbox.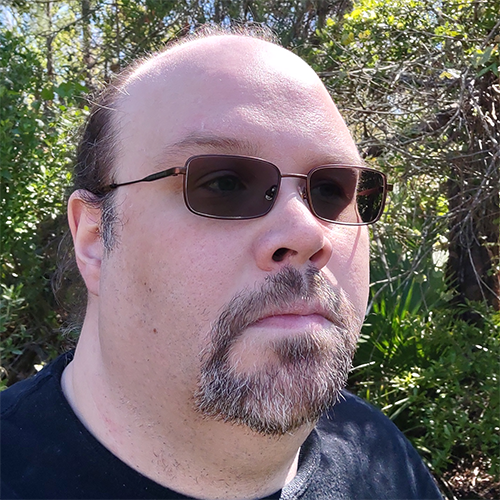 Shane Downing is a Freelance Reviewer for Tom's Hardware US, covering consumer storage hardware.