We Turned an Intel 13th Gen Laptop Into an AMD System in Under 30 Minutes
Switching from one platform to the other was easy with the Framework Laptop and its AMD 7040 Mainboard.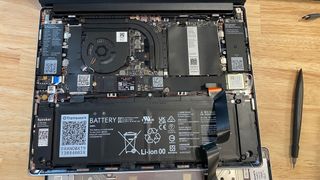 (Image credit: Tom's Hardware)
Laptops are usually pretty fixed. There have been the occasional monster gaming laptop with socketed CPUs. But typically when you buy any of the best ultrabooks, you're committing to your most important specs, including your processor and graphics.
Or at least, that used to be the case. Framework is now shipping its first AMD mainboards, and they work with the company's existing laptops. Whether you're looking to upgrade one of the company's first laptops or you just want to switch platforms, it's possible to move from Intel to AMD and back again.

This also lets us compare an AMD Ryzen 7 7840U to an Intel Core i7-1370P in the same chassis – at least, to a certain degree. Framework's AMD board supports some advancements that the Intel versions don't yet have, including DDR5 RAM, which may give it an edge in some benchmarks. The AMD board also requires a different, AMD-compatible Wi-Fi card, which brought some fun issues during setup.

Framework also sent along a different, faster SSD this time around, which again gives AMD an edge in some tests. But since you bring your own drive, your mileage may vary.

As of this writing, Framework is only selling its AMD 7040 series mainboards as upgrade kits, starting at $449 for an AMD Ryzen 5 7640U board and $699 for the Ryzen 7 7840U board we tried out. Framework also lent us 16GB of GB of DDR5-5600 RAM (2 x 8GB) and the AMD RZ616 Wi-Fi 6E wireless module, which brings the cost of this upgrade to $797 before the SSD Framework added in.
Making the Switch
All upgrades should be this easy. Taking the Intel board out and putting the AMD board in didn't take me very long at all, especially with Framework's instructions handy.

I used the latest, Intel-based Framework Laptop 13, so I didn't need to make any changes to get the latest hinges, 61 WHr battery, or matte display. So my biggest issue was actually in the fact that Framework lumped every single possible upgrade, mainboard included, into the instructions. That meant that there were some steps I could skip.

It seems Framework was tweaking the instructions as I worked, though they should be finalized by the time you read this. That meant I had to reinstall the original parts to install some drivers that hadn't previously been listed. There's also mentions of steps you can skip, but they weren't always clear. It said I could skip the battery-related steps if I wasn't swapping that part out, but it ends up that the part where you unplug the battery from the mainboard is a bit of a requirement if you're swapping the motherboard.

But once you sort that out, the process itself isn't too bad. You can read (and potentially follow) the instructions for yourself, but here's the short version.
Before even starting, I had to grab the AMD driver bundle. Framework says to install this bundle twice — once with the Intel platform installed, and again after the AMD mainboard is in. But since I used a new SSD with a fresh Windows install for the AMD system, that may not have been necessary.

"When Windows detects a hardware change from swapping the Mainboard, it will typically reset the users [sic] PIN," a Framework spokesperson told me. "At that point, if they normally log in using a Microsoft Account, they need network access in order to log back in. Running the driver bundle before swapping the Mainboard pre-installs the RZ616 WiFi driver to ensure the user is able to perform that login step."
I started by shutting down the system, flipping it over, and removing the expansion cards from the system. From there, there are five T5 screws to loosen, not remove, from the laptop (if you kept the tool Framework included in the box with the system, this and many further steps will be a cinch). From there, you can lift the lid, and the "input cover" (with the keyboard and mouse) will pull off magnetically. Just be careful not to rip the ribbon cable connecting them.
Image 1 of 2
I removed the touchpad cable (with its helpful finger loop) and set the whole input cover aside.

Next, I disconnected the battery. Framework is very cautious about people disconnecting the battery if they don't need to, as the connector has sensitive pins. That being said, you can grab the connector from the side and pull it straight out.
From there, the display and webcam can be disconnected by carefully pulling up cables at the top of the mainboard. No tools are necessary; just use your fingers.
What you will need tools for is the Wi-Fi module. You can use a spudger to remove the antenna cables from their guides, and then you need to unscrew the bracket holding down the Wi-Fi card. Since we're switching to the AMD Wi-Fi module, it makes sense to remove the cables from the module, too.
I didn't bother removing the RAM or SSD — I put the whole Intel system in the Framework/Cooler Master desktop case. So all that was left was to remove the five T5 screws holding the motherboard to the case (these are not captive, so I put them in a magnetic tray). From there, I was able to grab the mainboard by the edges and, with a lift, Intel was no longer Inside.
Image 1 of 4
From there, I put the DDR5 RAM and the new SSD into the AMD mainboard and inserted it into the laptop. It's the same shape and fills the chassis the same way. I could tell you I followed Framework's instructions exactly here, but I didn't. They involved replacing most of the system, so I skipped most of it and simply performed the previous steps in reverse, including adding the new AMD Wi-Fi module.
Installing Windows and Fun with Drivers
Fun fact about the AMD RZ616 Wi-Fi 6E wireless module: It's not yet included in the regular Windows driver bundle. Because Windows 11 requires a network connection and a user login to get started, that's a bit of a non-starter unless you're using Framework's Ethernet expansion card. In theory, the AMD driver bundle should help here.

But Framework has an alternative set of instructions: Use a piece of software called Rufus to write the Windows 11 ISO to a USB stick in a way that bypasses the login requirement. It's kind of wild to see a laptop manufacturer directly provide these instructions, which also have options to bypass Windows 11's TPM and minimum specifications (HP or Dell would never), but here we are. (To be clear, we taught you how to bypass Windows 11's installation restrictions last year. It's not exactly a secret.)

So with a large USB stick with the altered ISO and the boot order prioritizing my new installer, Windows was installed.

Then, from the desktop, I had to install Framework's AMD driver bundle. Voila, working Wi-Fi (and everything else, for that matter)!
AMD Ryzen 7 7840U vs. Intel Core i7-1370P
With the Ryzen mainboard in the Framework Laptop 13, we were able to run a few tests to see how it compares to the Intel model the company already sells. Since this has the same chassis, display, battery, speakers, and expansion port options, you can see our Framework Laptop 13 review of the Intel model for those details.

Note these few differences: The AMD version had 16GB of DDR5 RAM, while the Intel version had 32GB of DDR4 RAM. So we're seeing more versus faster. Additionally, the Intel version came with the WD SN740 Framework uses for its prebuilt laptop. For our AMD mainboard though, it shipped a WD_Black SN770.

With those out of the way, the scores:
Swipe to scroll horizontally
| Header Cell - Column 0 | Intel Core i7-1370P | AMD Ryzen 7 7840U |
| --- | --- | --- |
| Geekbench 5 Single-core | 1,958 | 1,874 |
| Geekbench 5 Multi-core | 11,317 | 10,356 |
| 25GB File Transfer Test Rate | 1,697.07 MB/s | 1,694.93 MB/s |
| Handbrake | 5:49 | 5:30 |
| Battery Test | 11:39 | 11:38 |
On Geekbench, the Core i7-1370P won out, possibly due to a larger number of cores in the multi-core test. The speed test was a bit of a surprise — I expected the SN770 to make an easy win. Instead, these results are pretty similar. In Handbrake, the Ryzen 7 pulled ahead with a 19 second lead when transcoding a 4K video to 1080p. Perhaps most surprisingly, the difference in mainboards basically had no effect on battery life (remember, everything else, like the display and battery, are the same!).
We also ran our Cinebench R23 stress test. The system fans whirred noticeably, just like the Intel version. The Ryzen 9 7840U averaged 3.29 GHz and measured 75.08 degrees Celsius. The Ryzen version ran consistently higher than the Intel model, starting in the mid 13,500's and evening out in the high 12,000's. The Intel version peaked at 12,250.95. This chassis isn't really designed for Cinebench rendering, but if that's what you're doing, consider the AMD mainboard.

So both Intel and AMD are good choices here. If you prefer one platform over another, that's really what should guide your choice. And it's really cool to see one laptop where you can switch — or upgrade — between them.

If we were to give this a score, it would likely be the same 4.5 / 5 stars as the Intel version.
What to do with extra mainboards?
Part of Framework's repairability ethos, in general, is one of sustainability. So it wouldn't make much sense if people upgraded their laptops and just threw out the old mainboards.

With the AMD board, Framework also sent along a case designed for the Framework Laptop 13 mainboard. It was designed in conjunction with Cooler Master, and with an extra Wi-FI antenna (or Ethernet expansion card — I used the antenna), you can put the board in the case and give it new life.

Of course, this case costs $39. And you'll need another power adapter to keep it plugged in all the time (no batteries here!). But it let me make an extra computer with the Intel mainboard I was using. I don't think this will appeal to everyone , and we'll see some e-waste, but it's a cool idea. Ours will all end up going back to Framework anyway, but having an extra desktop for something like testing Windows Insider builds is always helpful!
Bottom Line
AMD or Intel? that's really your preference. Both had their strengths, with AMD showing off on our hardest stress test. What's really important here was that I had an Intel-based laptop sitting in our review closet, and that now it has an AMD chip in it. And if I wanted, I could go back the other way around. After doing it once, I am sure I could do it again in about 20 minutes. And the Framework Laptop is really the only laptop where I could make that happen.
Swapping mainboards in the Framework Laptop isn't exactly a new thing. The company has released three generations of Intel boards. But by offering both Intel and AMD, and the opportunity to move between the two, the people willing to buy this repairable laptop have a significant amount of choice. Of course, that's assuming Framework continues to support this mainboard shape and size, and it keeps putting out boards from both vendors. But so far, the signs are positive.
Join the experts who read Tom's Hardware for the inside track on enthusiast PC tech news — and have for over 25 years. We'll send breaking news and in-depth reviews of CPUs, GPUs, AI, maker hardware and more straight to your inbox.
Andrew E. Freedman is a senior editor at Tom's Hardware focusing on laptops, desktops and gaming. He also keeps up with the latest news. A lover of all things gaming and tech, his previous work has shown up in Tom's Guide, Laptop Mag, Kotaku, PCMag and Complex, among others. Follow him on Twitter: @FreedmanAE