Two newly published slides allegedly reveal possible Intel Arc desktop GPU roadmap through Q3 2024 and the company's plans regarding its codenamed Battlemage family of graphics processors. If the slides published by RedGamingTech are correct, then Intel's family of desktop graphics processors based on its next generation Xe2-HPG microarchitecture will include two units designed to offer different levels of performance.
Intel's Arc Battlemage family of desktop graphics processors featuring the company's Xe2-HPG microarchitecture will resemble the company's Alchemist lineup. It will still contain two GPUs — the BMG-G10 and the BMG-G21 — targeting <225W and <150W power envelopes, but this time around Intel will go after the enthusiast-grade market segment as well. According to the slides, Team Blue plans to roll out its higher-end BMG-G10 graphics processor in Q2 2024 and follow up with its performance mainstream BMG-G21 GPU later in the quarter. Both are expected to rank among the best graphics cards.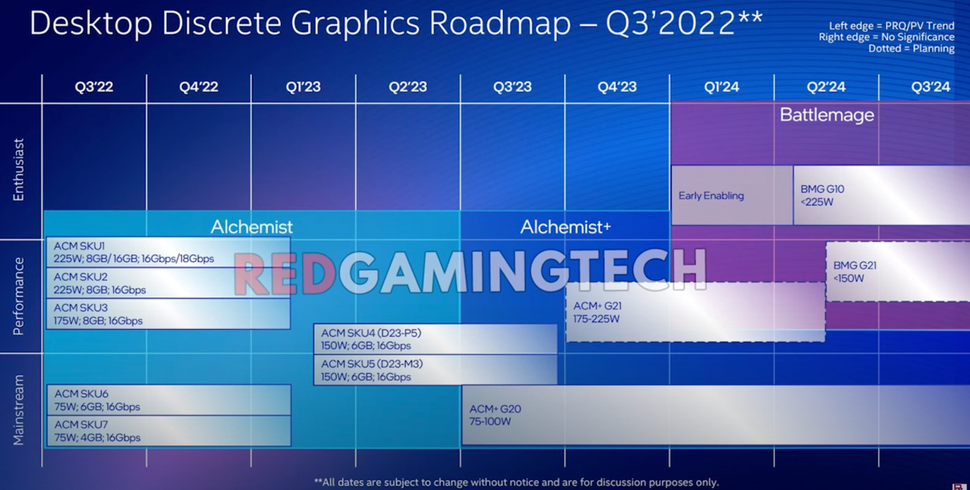 Power targets for Intel's Arc Battlemage GPUs correspond with Intel's recently revealed plans to build GPUs for relatively low-power yet fast graphics cards rather than target the ultra-high-end market segments occupied by AMD and Nvidia. Yet, we are speculating.
In a bid to address enthusiast and performance market segments, Intel will significantly revamp its Xe2-HPG microarchitecture. From what we can gather, the new microarchitecture will offer improved ray tracing performance, a next generation memory subsystem supporting new compression technologies, and new machine learning rendering technology. The description on the slide is vague to say the least, but since we are a year away from Xe2-HPG and Arc Battlemage, this is expected.

The slides published by RedGamingTech cover Intel's plans through the third quarter of 2024, though they are dated Q3 2022, which means that they are pretty ancient at this point as plans tend to change rapidly. In fact, we cannot even verify authenticity of the slides, so they should be taken with a grain of salt anyway. Q3 2022 means these likely predate the actual U.S. launch of the various Arc Alchemist graphics cards, and a lot of things have likely changed in the past six months.
One thing that looks rather odd is that Intel apparently plans (or at least planned) to refresh its Arc Alchemist lineup with new "Alchemist+" ACM+ G20 and ACM+ G21 graphics processors in the second half of 2023. This doesn't make a lot of sense as in H2 both AMD and Nvidia will likely introduce their next-generation entry-level and mainstream GPUs that will leave Intel's Arc Alchemist offerings behind, and investing a lot of money in a refreshed Alchemist+ lineup might be a losing proposition. Instead, engineering and other resources could be used to bring Battlemage forward — and that may have already happened in the ensuing months.
Furthermore, companies tend introduce refreshed offerings that either noticeably improve performance or are based on re-spun versions of GPUs that offer higher yields and/or improved frequency potential. Since re-spinning of a modern GPU is an extremely expensive task, chip designers take advantage of continuous process improvements (CPI) to increase yields and reduce performance variations by the means of statistical process control (SPC) since this is considerably cheaper. In most cases, GPUs with improvements enabled by CPI and SPC are not even launched as separate products. Meanwhile, Intel's ACM+ G20 and ACM+ G21 seem to be new chips.
In any case, the published slides confirm that in Q3 2022 Intel intended to release its Battlemage lineup of products in 1H 2024. We do not know whether the company still intends to roll out these parts at that time, or if it may have shifted forward now. This unofficial information at best provides a snapshot of what Intel was thinking in mid-2022. Hopefully, it can continue to iterate on its Arc GPUs and bring more competition to the dedicated graphics card space.